Using Sonos with a Line-In
One of the best features about the Sonos Play:5, Port and Amp is their line-in connection. Connect any audio device with an audio out cable directly into the back of a line-In equipped Sonos component to explore this feature.
Play the line-in audio out loud on the connected speaker or group this audio wirelessly to any other Sonos speaker you have in your home. Whether you're into vinyl, tapes, CDs, it doesn't matter, listen to them all in every room of your home with Sonos.
How does it all work?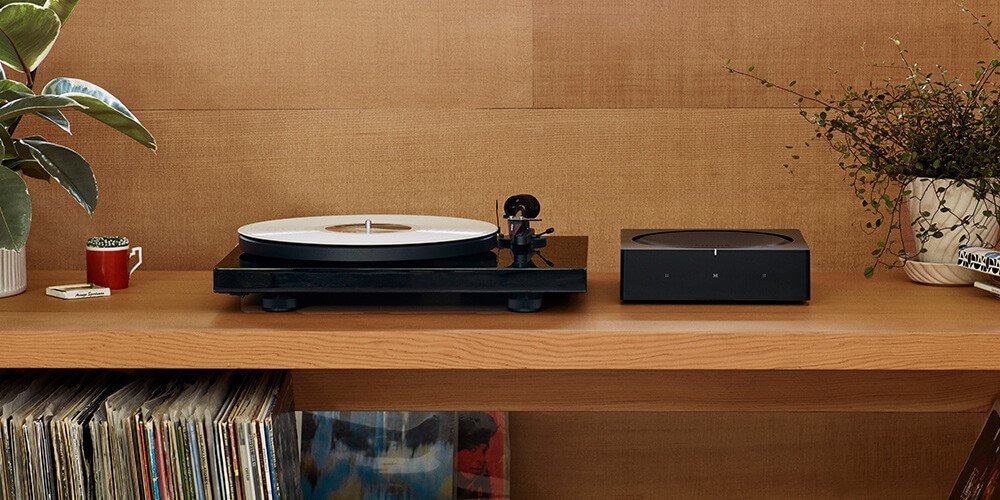 Firstly, identify which source you'd like your music/audio to come from. Is it from your TV, turntable, CD player, tape deck or is it audio played from an app such as YouTube from your phone or tablet?
Connect your device into the back of your Sonos line-in component (Port, Amp or Play:5) using either a 3.5mm mini-stereo cable for the Play:5 or standard RCA or RCA Y-cable for Port and Amp. Then select Line-in on the Sonos app by going to Browse > Line In > Select the room.
Once you've done this, the source becomes available on your entire Sonos system. That means you could group your vinyl audio to every Sonos speaker in your home for full party mode!
Changing the Sonos line-in level volume
All audio devices are different, so when you connect Sonos to different audio components, the resulting volume will vary. That's why Sonos allow the line-in level input to be changed on the app allowing you to preset the level of the volume that will play out of your Sonos speakers from your chosen device.
That means it won't sound too quiet or too loud. Each volume level will be ideal for a certain audio device, e.g. 8 for an analog component like a turntable. This is a very common question from our customers who report their turntable audio level is too low. Follow the easy steps below to rectify this.

Enabling Autoplay on Sonos
Autoplay is a useful tool on the Sonos app that automatically switches the source of your Line-In device to play on any selected speaker in your Sonos system.
For example, if you had a turntable wired to the line-in port on a PLAY:5 with the Autoplay option enabled, as soon as you start your playing your turntable, the audio will play out of the PLAY:5 at your previously defined volume level, all without touching the Sonos App.
Another great feature of Autoplay is you can select the audio to play on any Sonos speaker in your system, not just the Sonos device the Line-in device is connected to. Please see the steps below to set this up.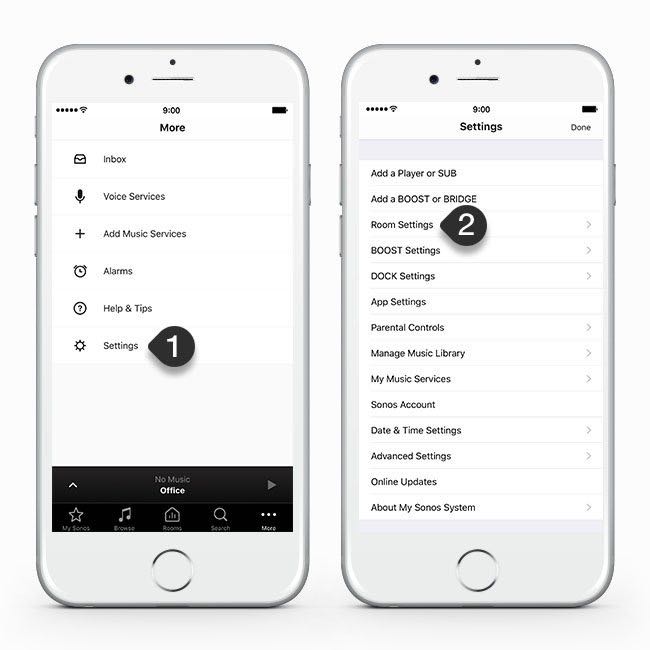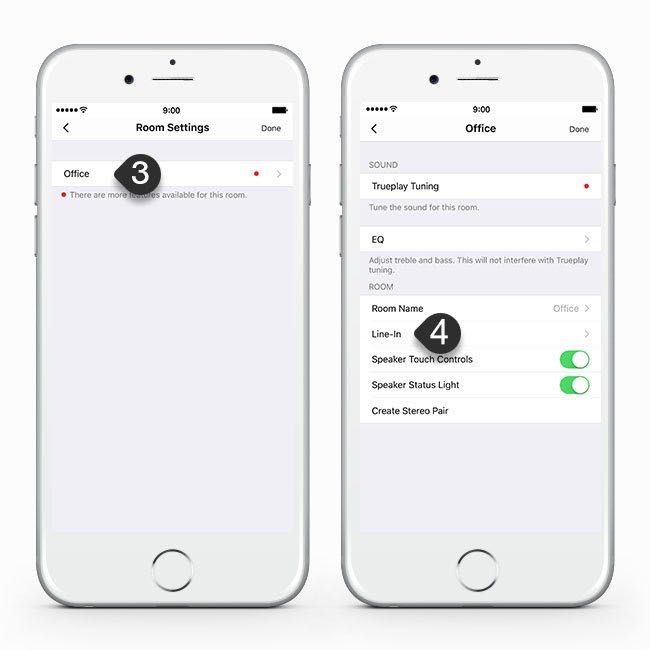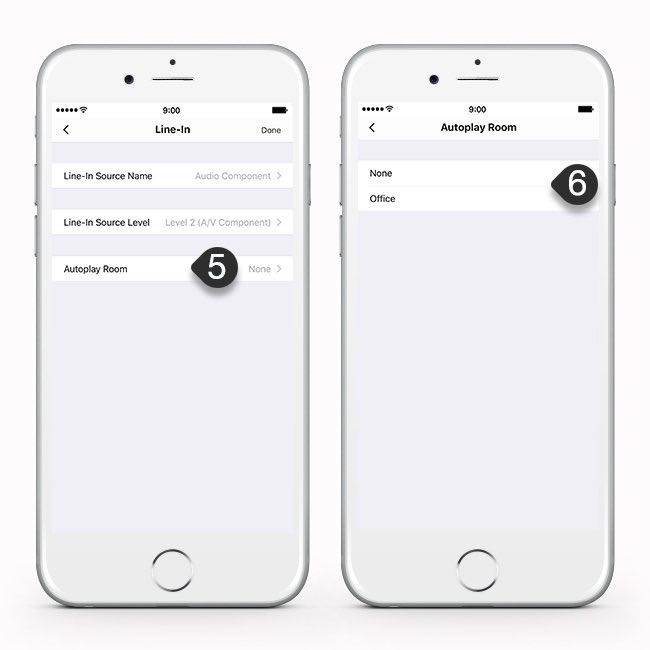 If you have any questions about your line-in connection, feel free to get in touch and chat with one of our specialists.
---
Learn More
How to use a Turntable with Sonos >>
The Best Sonos Turntable Bundle for Vinyl-lovers >>
Get to know the Sonos AMP in under 3 minutes >>
ABOUT SMART HOME SOUNDS
Smart Home Sounds is a UK Sonos specialist dedicated to filling homes with the joy of music, one room at a time!
We provide expert advice on the full Sonos range, from the voice-controlled Sonos One to a Sonos wireless home cinema system with PLAYBAR, SUB, and 2 x PLAY:1s all with free next day delivery and a 6 year extended warranty.
Exclusive Sonos Deals!
Get exclusive SONOS deals you won't find anywhere else straight to your inbox:
We'd love to send you exclusive offers and the latest info from Smart Home Sounds by email. We'll always treat your details with the utmost care and won't share them with any third party. You can, of course, opt out of these communications at any time! See our Privacy Policy for more info.
Sours: https://www.smarthomesounds.co.uk/blog/faqs/sonos-line-connection
The portable $399 Sonos Move is like having two great speakers in one
Sonos has released their first-ever portable speaker with a built-in battery: The $399 Sonos Move, which starts shipping to customers on September 24. After spending a few days with the Move, I can confidently say that it offers everything that's great about the Sonos wireless audio system, but with all the added advantages of a speaker you can freely move around the house — or take with you on the road.
Size and sound
The Sonos Move is not a small speaker — it's about 6.61 lbs, and nearly 10 inches tall by 6.3 inches wide and just under 5 inches deep. If you were expecting it to be around the size of the Sonos One, you're in for a shock, because it's quite a bit bigger, as you can see from the photo below.
Nor is the Sonos Move just a Sonos One stacked on a big battery and wrapped in a new exterior shell — the company tells me it's a brand new design in terms of the internals, too. The company set about designing a different speaker because the Move will suit different uses versus the One, as it's designed to be used in all environments, including outside in open air.
The result is a speaker that can get a bit boomier than the Sonos One, with deeper lows that seem to anticipate it having to compete with a lot more ambient noise. The sound profile is also helped by a downward-firing tweeter, which is used to create a wide sound stage for the Move, which, in practice, means it does a very good job of evenly blasting music at a spread out group at, say, a picnic or a camp fire.
Indoors and out, the Sonos Move provides the kind of quality audio you can expect from any Sonos device, and it seems nearly equally impressive on both Wi-Fi and Bluetooth modes in my testing, though Wi-Fi does seem to have the edge in terms of quality. You also can pair two of the Move for true stereo sound, though because I only had one review device on hand I wasn't able to test this.
Wireless and weather-resistance
The Move's highlight feature is its ability to move around and operate on battery power, and that's why it offers two different connection modes. You can use it as a standard Sonos Wi-Fi speaker, connecting it to your Sonos account and having it show up in your Sonos app the same as any other speakers made by the company, which you can group and control as usual.
In Bluetooth mode, you pair it just like you would any Bluetooth speaker, directly to the device from which you want to play music. A button on the back switches modes, and the first time you switch to Bluetooth the Move will automatically enter pairing mode, making it super easy to connect your phone. I was set up on Bluetooth within just a couple of minutes.
A convenient built-in handle is located on the back of the Move just above the pair, power and Sonos system connect buttons. It's one of the highlights of the design, and because it's part of the exterior shell, it should be rock solid in terms of durability. Overall, the device feels like it's incredibly sturdily built, also, and Sonos advertises it as a weather and shock-resistant speaker that isn't afraid to take a tumble or handle a little light rain.
In Bluetooth mode, you won't have access to either Alexa or Google Assistant, even if you've set those up on the Move to work with your home system. Nor will it work in a stereo pair with another Sonos if you'd done that, or show up in the Sonos app for multi-room control. But at home, you can just use the Wi-Fi mode as you move it around the house or to the backyard and still take advantage of all those. While you're out and about, you're much more likely to just want a basic wireless speaker anyway, so not having access to these features on Bluetooth really doesn't have any impact on usability.
During my testing, wireless connectivity was solid on both Wi-Fi and Bluetooth modes, with no dropouts or stutters. Even leaving aside the Sonos aspects of the speaker, it's also likely the best-sounding Bluetooth weather-resistant speaker I've ever tried, at this or any other price range.
Voice assistants and Auto Trueplay
The Sonos Move also features built-in support for Amazon Alexa and Google Assistant, both the virtual assistants that are also available on the Sonos Beam and the Sonos One. Built-in far field mics do a great job of picking up voice commands, and if you've used either of these assistants before on other Sonos hardware, you'll get the same great experience here — provided you're on Wi-Fi and not Bluetooth, as mentioned above.
Sonos has added a new trick to the Sonos Move using the mics it includes for use with these voice assistants, too: Auto Trueplay. This is a version of its Trueplay sound tuning feature, which it includes in other Sonos speakers. Normally, however, you have to do the process manually using your smartphone's mic to evaluate the sound. The Sonos Move uses its own mics to adjust automatically — and it does it constantly, changing the sound profile to match your space as you move it room to room, or even outside.
In actual use, the effect is subtle, which it should be, as the sound is adapting over time. But I found that it undeniably made a difference, and that listening to the same song initially upon switching the Move's location, and then after a period of time (I tried an hour or so), produced obvious benefits in terms of the sound of the second listening.
Charging and battery
Sonos has done a great job with all things related to their first battery-powered speaker. The built-in power source is rated for up to 10 hours of continuous playback according to the company, and in my testing, I actually got north of that, but of course your mileage will vary depending on what kind of connection you're using and at what volume you're playing music.
Charging is handled two ways, which is a very welcome bit of adaptability that suits the Move's dual nature as both a Sonos network speaker and a portable audio device. There's the charging base that comes in the box, which you can see above. This has metal contacts that provide power via connection points on the back of the Move, while providing an attractive and stable base for use in your Move's more permanent "home" location.
Then there's a standard USB-C port located on the base above the charging contacts, which is perfect for use when you're taking the Move on the road, or if you're just using it outside but near an external outlet and don't particularly feel like moving the charging base. It's another example of how the Move can do double duty with smart design elements that don't require any compromises on the user's part.
Where it fits in the Sonos line
The Sonos Move is unlike any other speaker in the Sonos lineup. It plays nice with the rest, but only to a point: The Move can't act as rear satellite speakers or pair with the Sonos Sub, for instance, something which the rest of the lineup can all manage. Sonos says this is because the speaker was designed to move around the house, so it doesn't make sense for it to be tied to a more permanent installation, as in a home theater or Sub-supplemented arrangement.
That said, it's a solid choice as both an addition to an existing Sonos network or as your first Sonos device. In the first case, it's the best way to add a patio-friendly Sonos-compatible speaker to your setup without having to drill into your walls or call home installers; in the second, it's a great all-around wireless speaker if all you really need is one, as it can follow you around the house, adapt its sound and even pack in the car for road trips or a day at the beach.
Bottom line
At $399, the Sonos Move is definitely expensive for either a Bluetooth speaker or a wireless home smart speaker. But when you consider that it's both, and that it delivers all-day battery life on a single charge, intelligent adaptive sound to ensure it sounds best wherever you're using it and the ability to stereo pair and work with other Sonos devices if you want to expand your setup later, it starts to seem a lot more economical — especially when sized up against equally priced speakers that lack half those features, like Apple's HomePod.
Sours: https://techcrunch.com/2019/09/18/the-399-sonos-move-is-like-having-two-great-speakers-in-one/
Use Line-In on Sonos
This article provides information about Line-In and how to use it on your Sonos system. Line-In is an audio input available on some Sonos products that allows you to connect a device with an audio output (such as a CD player or turntable) to play out of your Sonos system.
Sonos products with a Line-In port
Choose the Sonos product you'd like to use with Line-In from the options below: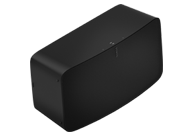 Five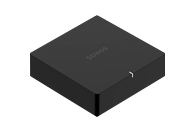 Port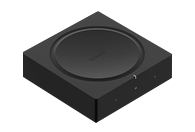 Amp
Play Line-In
Once you've connected a device to the Line-In port on your Sonos product, you can start playing Line-In audio using the Sonos controller.
iOS or Android:
From the Rooms tab, tap the room or group that you want to play Line-In audio.
From the Browse menu, tap Line-In.
Tap the source device to start playback.
macOS or Windows:
From the System panel, click the room or group that you want to play Line-In audio.
From the Select a Music Source panel, click Line-In.
Click the source device to start playback.
Adjust Line-In settings and Audio Compression
See our articles on adjusting your Line-In settings and Audio Compression to learn how to configure your Line-In setup.
Sours: https://support.sonos.com/s/article/1080?language=en_US
Sonos Move Lowdown: All You Need To Know In Under 5 Mins
Sonos Move review
Sonos is more than a brand: it's a Jay-Z line. Not many brands have crossed over into pop culture so successfully. For years name Sonos has been the company to beat when it comes to home audio. Not necessarily because its products sound the best but rather because Sonos products are easy to use, look good, and—let's be honest—are just popular. If you're looking into home audio and don't want to do a ton of research then Sonos is the default. But how does that apply once you leave the house? The Sonos Move is the company's first take on a Bluetooth speaker but is it worth it?
Editor's note: this Sonos Move review was updated on April 20, 2021, to expand the list of buying options.
Who should get the Sonos Move?
People who live within a Sonos ecosystem will appreciate the portable Sonos Move which can be picked up and brought into the yard whenever you want.
Anyone with a flexible budget can enjoy the Move's portable form factor; though, for the price, it's hard to recommend to anyone who just wants a simple Bluetooth speaker. There are plenty of those that won't cost you this much. If you're getting the Sonos Move it's because you're not too worried about the price tag.
How is the Sonos Move built?
The Sonos Move looks great and will blend into the design of any situation.
Sonos isn't known for making tough speakers, but that changes with the Move. Sonos stepped up the durability factor for the Move speaker: it has an IP56 weatherproof build and the company claims it's shockproof, too. While I didn't go around dropping it all over the place to test this, I did accidentally knock it off my bedside table (a three-foot drop), and the speaker still works perfectly fine. That said, I wouldn't feel comfortable dropping this on something like concrete, since even if it does survive, I'm certain the soft plastic finish will get scuffed up. Most of the speaker is made up of the grille which wraps around the entire thing, but the top, bottom, and back are all made of plastic. The bottom of the speaker is more of a rubberized plastic, which is nice as it won't scratch too easily and provides extra grip.
On the back of the speaker are three buttons: the power button, the Wi-Fi/Bluetooth toggle, and the Sonos connect button.
This Sonos speaker also takes advantage of touch-sensitive controls on top that work very well. I didn't have any accidental pauses or plays while using the speaker, and even when using the top of the speaker as a platform for my phone, playback wasn't disturbed by me picking up my phone. The only critique I have is that it's difficult to see the playback controls in a dark environment. There is a small LED light that provides status information for the speaker, but it isn't bright enough for you to see the controls.
The icons are also not my favorite. The play/pause icon is fine but the volume icons on either side are identical. Not a big deal as I'm sure you know which one will raise the volume, but it's a weird choice since it seems to me that + and – signs are universal. Playback is completely controlled by touch: tapping the play symbol does just that, and swiping across all three icons from left to right will skip to the next song, while swiping from right to left will return to a previous song. The only buttons can be found on the back of the speaker. You'll get the power button, and connect button, and a smaller button in between them to switch between Wi-Fi and Bluetooth.
The Sonos Move logo keeps it minimal with just simple branding on the front.
The Sonos Move can be moved because of the Bluetooth capabilities but I didn't too much moving around while using this speaker. For the most part, it stayed in the included charging bracket throughout the day. I bring it up here because this is my favorite part of the Move. It's a feature that I wish every Bluetooth came with and it reminds me of how the charging cases for true wireless earbuds not only store them, but also charge them. Having a minimal charging stand that holds the speaker while it isn't in use is a great touch that meant I never worried about whether the speaker was charged when taking it to another room. If you're out and about and don't have access to the charging cradle, you can also charge it with any USB-C charger which is great.
See: What makes a good Bluetooth speaker?
As far as the portability of the speaker, I found that it's good enough for use around the house and the yard, but I would definitely hesitate to bring this to the beach or on a hike. Sure, it's technically weatherproof and shock-resistant, but it's also pretty heavy at about 3kg. While the handle is great for short distances the combination of the weight and awkward shape of the built-in handle makes it less than ideal for longer treks. If you're looking for a speaker to bring with you on your next adventure you might want to check out the Flip 3 or the UE Boom 3 instead, but if you're looking for a speaker to use in your living room throughout the day that can transfer seamlessly to the yard this might be for you.
Is the Sonos Move waterproof?
No, the Sonos Move is not waterproof. The speaker has an IP56 rating that Sonos claims is "weatherproof meaning that if you forget to bring it back in from the yard it should survive a rainstorm or two. We have an entire explainer on the IP rating, but what you need to know is that it's the last number in the rating that designates water resistance.
Water-resistant
Waterproof
Can withstand
IPX0
Not water-resistant
IPX1
✓
Dripping water (1 mm/min)
Limit: vertical drips only
IPX2
✓
Dripping water (3 mm/min)
Limit: Device max tilt of 15° from drips
IPX3
✓
Sprays
Limit: Device max tilt of 60° from sprays
IPX4
✓
Splashes, omnidirectional
IPX5
✓
Water jets (12.5 L/min)
Example: Squirt guns
IPX6
✓
Strong water jets (100 L/min)
Example: Powerful water guns
IPX7
✓
Complete submersion
Limit: 1 m. for 30 min
IPX8
✓
Complete submersion
Limit: 3 m. for 30 min
How to connect to the Sonos Move on Android or iOS
While the Sonos Move can connect via Bluetooth, I figure most people will be taking advantage of the Wi-Fi connectivity as that's what Sonos is known for. Whether you're adding this speaker to an existing ecosystem or starting with the Move, Sonos is best when you're on Wi-Fi. The range is much longer than Bluetooth and the speaker doesn't need to rely on your source device for the audio. Instead, it pulls the audio straight from the internet. To take advantage of this though you're going to need the Sonos app.
The Sonos Move sounds good at regular listening levels, but at high volume clarity takes a hit.
Usually, I avoid using any proprietary app like a plague but the Sonos app is genuinely useful. Not only does it walk you through the process of connecting the speaker to your Wi-Fi step-by-step, but it also integrates with my music streaming service of choice (Spotify) perfectly. Plus, it's available on both Android and iOS and the process is more or less identical.
As someone who switches between iOS and Android all the time, I appreciate the attention that Sonos gives to making sure both apps are fully capable. As soon as you open the app, it prompts you to identify which speaker you would like to set up. It then walks you through the process of connecting to your Wi-Fi. If you have a password-protected Wi-Fi (which you should), make sure you have your password on hand as you'll need it in order to connect the speaker.
The Sonos app acts as a hub for all of your audio content and it works great.
Once you have your speaker properly connected, then you can begin adding your streaming services. As a Spotify user, logging in with my Spotify account gives me complete access to my library, all my playlists, and even the custom playlists made by Spotify. Of course, this works with other services too and I was able to connect not only my Spotify account, but also my Apple Music, YouTube Music, Pocket Casts, and Audible accounts as well.
The app acts as a hub for all my audio content and works perfectly.
If you pay for an audio streaming service of any kind chances are it connects with Sonos. The app acts as a hub for all my audio content and works so perfectly that I've found myself opening up the Sonos app more than the dedicated apps in order to access my music or podcasts. The Sonos Move is also AirPlay 2 compatible so if you prefer to use that when you're in your app of choice you can easily do that. As far as Bluetooth codecs go there isn't much to see here. You'll only get SBC which is the standard codec for all Bluetooth devices and AAC which is fine for iOS users, but can be an issue for Android users.
Does the Sonos Move have Dolby Atmos?
The Sonos Move unfortunately does not support Dolby Atmos. Sonos is notorious in the home theater community for not having Dolby Atmos compatibility and the Move isn't any different. That said, if you're looking for a Sonos product that supports Atmos there is hope as the company just announced the Sonos Arc which is compatible with Dolby Atmos. However, we can't recommend it at this time as we haven't had a chance to review it ourselves and it's currently on backorder for the next few weeks at least.
Does the Sonos Move have an aux input?
Unfortunately, the Sonos Move does not have a 3.5mm input. If you have a non-Bluetooth device that you were hoping to play music from you're out of luck. The Sonos Move was intended to be used completely wireless. whether you go Bluetooth or WiFi is up to you, but an audio cable is not an option here.
Can you pair the Sonos Move with a sub?
If you already have a sub and want to connect it with the Sonos Move you're out of luck. The Sonos Move can not be paired with a subwoofer by itself. That said, if you already have a Sonos 5.1 setup you can group it with that system and take advantage of the existing subwoofer.
Can Sonos Move connect to the TV?
Yes, you can but it isn't as simple as it sounds. The only way to connect the Sonos Move directly to your TV is to connect via Bluetooth. The problem is that this depends on your TV. Not all televisions let you select a Bluetooth speaker as an output. However, some (like newer Samsung TVs) do let you choose a Bluetooth speaker as an output. Even if your TV does let you play audio via Bluetooth it might not be the best experience due to audio lag over Bluetooth.
If you don't want to go the Bluetooth route, then the only other way to connect the Sonos Move to your TV is to add it to a Sonos ecosystem that is already connected to the TV. For example, if you already own a Sonos soundbar for your TV then you can simply add the Sonos Move to the same group via the Sonos app.
Does the Sonos Move have Amazon Alexa?
The Sonos Move has multiple microphones on top to work with your preferred assistant, but you can toggle it on or off.
Yes you can use the Sonos Move with Amazon Alexa, but that's not the only assistant that the Sonos Move is compatible with. If you want, you can also connect the Google Assistant and control the speaker with just your voice. I only connected the Google Assistant in my testing and found that the microphones on the top of the Sonos Move did a better job at recognizing my voice while music was playing than the actual Google Home speakers do. If you're not a fan of the speaker constantly using its microphones to listen to the hotword, you can do what I do and just toggle the microphone off when you're not using it. Then, when I know I'm going to be using it and listening to music, I'll unmute the microphones and use them as intended. I was able to skip songs, play albums, set timers, and anything else that Google Nest speakers can do.
How long does the battery on the Sonos Move last?
The Sonos Move comes with a super simple charging cradle but it also has a USB-C input on the back for charging on the go.
Sonos claims a battery life of 10 hours of constant playback when you're not docked on the charging cradle. In our testing, we got 6 hours, 24 minutes of constant playback which is fine if you don't plan on being out all day, but not great if what you're after is a truly portable speaker. We did our testing at a constant output of 75dB at a distance of three feet which is loud enough for most situations but if you play the speaker at max volume it likely won't last as long.
Still, considering that I think most people will use this around the house anyway I don't see the battery life being too much of a problem. If you're going out for the day and feel like bringing the Sonos Move along with you, it should last long enough for you to get good use out of it before returning home. If you're after a super long-lasting speaker for your next multi-day hike, then you're probably not looking at something like the Sonos Move anyway.
Does the Sonos Move come with the charging cradle?
Yes, you won't have to shell out extra money for a charging cradle since the Sonos Move comes with one in the box. If for whatever reason you need to get a new one, then you can always just buy a replacement separately from Sonos or Amazon for about $79 USD.
How does the Sonos Move sound?
The Sonos Move has a slight emphasis on the lows which helps when listening to music outdoors.
While the Sonos Move can be hooked up with the rest of your speakers if you're in the Sonos ecosystem I used this speaker more as a portable Bluetooth speaker during testing since that's what it was made for. If you want dual speakers to complete your surround sound setup you can always just go with the Sonos One or the One SL. The Sonos Move definitely sounds like it was meant more for enjoying music with friends than a movie in your living room.
There's a slight bump in the low end of the frequency response that gives the bass some extra push which comes in handy when you're outdoors. The thumping drums and bass throughout the song projector by EDEN have just the right amount of power, though there were times where some vocals were masked due to the lower volume of notes in the mids.
The Sonos Move sounds fine for listening to music with your friends, but it loses its quality at higher volumes.
Highs were similarly de-emphasized which meant that there weren't too many times when the speaker became harsh. That said, this was not my favorite sounding speaker at higher volumes. Music sounds fine at regular listening volumes anywhere between 40-70% volume, but once you max it out the Sonos Move just can't seem to keep up with the output. In the song So Many Details by Toro y Moi, it sounded almost as if the music was getting louder but further away. Clarity took a nosedive and it was only resolved when the volume was lowered again.
Should you buy the Sonos Move?
The Sonos Move can be hooked up with the rest of your Sonos speakers, but it stands out as a Bluetooth speaker that you can bring with you into the yard.
The Sonos Move is a great speaker that most people shouldn't buy. If you want to find your way into the Sonos family, you're better off going with something like the Sonos One which only costs $150. You can get one of those for the house and still have enough money left over to buy a great Bluetooth speaker. I'm not saying that isn't a good speaker because it is. It's just also a very expensive speaker. It sounds good, has an IP56 rating that makes it durable enough for outdoor use, and also has seamless Wi-Fi connectivity so you can use it in the house with your other Sonos speakers. If you already have a Sonos setup and want a speaker that you can pick up from the living room and bring with you into the yard then this speaker might be perfect for you. Plus, it has a solid Bluetooth connection so if you're going to be away from your home internet you can still listen to music.
All prices listed in USD unless otherwise specified. Prices may change over time, and vary by region. Unfortunately, we cannot list Amazon prices on the site, as they vary greatly by currency.
That said, as a portable speaker, the Move is just a tad too heavy at 3kg for what I would consider portable. If you're going to the yard it isn't a problem but any trip to the beach or somewhere remote is going to be a hassle. Plus, the handle isn't ergonomic at all; so unless you have a bag or a trunk to throw this in, it's going to be tough carrying it around. If you're looking for good sound in a portable speaker, there are plenty of other options you can choose from. None of those other speakers are made by Sonos, which is the big selling point here if we're being real. The Sonos Move is a great speaker that might not be for you, but if it is then you won't be disappointed at all.
Sours: https://www.soundguys.com/sonos-move-review-31346/
In line sonos move
Sonos Move review: house shaker, not road warrior
For the past week or so, I've been listening to music on a wireless speaker in my living room, in my kitchen, in my home office, on my patio, and even at the park. While some people might do this with a variety of different speakers, I've been using the same speaker in all of those places: Sonos' new $399 Move.
The Move is a milestone product for Sonos, a 17-year-old independent company that sells popular wireless home audio products. It's the first model from the company with a battery and support for Bluetooth audio, which means it's the first Sonos speaker you can easily transport — or move, if you will — from place to place. It's more than a typical Bluetooth speaker, though, because the Move also supports the classic Sonos Wi-Fi system and integrates seamlessly with Sonos' other speakers. It's also a smart speaker with always-on microphones that you can use to speak to Amazon's Alexa or Google Assistant.
As the first portable Sonos product, the Move has a lot riding on it. For the most part, it shoulders that burden well. It is an excellent speaker. But you might want to read on if you're thinking of dropping nearly $400 to replace that cheap Bluetooth speaker in your travel bag with a Move.
Good Stuff
Loud, full sound
Reliable wireless connectivity
Seamlessly integrates with other Sonos products
Amazon Alexa and Google Assistant on board
Sounds great indoors or out
Bad Stuff
Pricey
Some significant setup bugs and headaches
Too big and heavy to travel with
10-hour battery life is shorter than other Bluetooth speakers
Buy for $399.00 from AmazonBuy for $399.99 from Best Buy
The first thing to notice about the Move as you take it out of the box is just how big and heavy it is. This isn't your typical portable Bluetooth speaker. The Move is a substantial thing that weighs over 6.6 pounds and towers almost 10 inches tall. As a result, it's not really well-suited for light travel. Dragging it to the playground for some tunes while my kids played wasn't trivial, unlike the typical UE Boom I just throw in a bag while walking out the door.
Instead, it's best to view the Move as a speaker that you can easily move from place to place in your home or from inside your house to your outside patio, as opposed to something you'll really want to travel with. Sonos designed a handle into the speaker's molded plastic shell, making it easy to quickly pick it up and place it down in a new location, but it isn't something you'll want to carry the Move around by on long trips.
Compared to the popular Sonos One speaker, the Move is a bit taller and has an oval shape instead of a rounded square. Most of that size difference is due to the battery in the base of the Move. The actual drivers (one woofer and one tweeter) in the Move aren't much larger or more powerful than the One's. It's also considerably taller than Apple's HomePod, though it doesn't take up any more shelf space. The Move's size isn't much of an issue inside the home — you'll need about as much space for this as you do for a HomePod or Sonos One — but it's definitely noticeable when you bring the Move on the go.
In a pleasant surprise, the battery in the Move is replaceable, so when it eventually stops holding a charge, you can swap it out for a new one. Sonos says the battery should last for 900 charge cycles (or roughly three years of use), and it will be selling replacements at a later date for a to-be-announced price. The company says the Move will last about 10 hours off of a charger, and I was able to hit that mark listening to music at 50 percent volume. While 10 hours is plenty of playtime for hanging out on my patio, it is far less than what popular Bluetooth speakers provide, though you can run the Move off of a USB-C power bank if you need even longer playtime.
Charging the battery takes about three hours and is done via the oval "dock" that comes with the Move. There are two contact points on the back of the speaker that line up with contacts on the dock, so you just have to place the speaker down on the dock to start charging. I love this design. I didn't have to fumble with plugging in a wire to charge the speaker, and it provides a home for the Move to live in when I'm not using it in other locations. The experience is just like the wireless chargers I have on my desk and nightstand for my phone.
Sonos is selling the Move in just one color: a grayish-black that's not as dark as the black Sonos One. It's also not any more resistant to fingerprints than the One, even though this is a speaker that's meant to be handled and moved around, not just sit in one place. I'd love to see a white option, as most Sonos speakers are available in two colors, so perhaps this is something the company will offer in the future.
The design features are all appreciated, but what really matters with the Move is the sound, and that's where Sonos really delivers. The Move gets surprisingly loud and is able to fill even large rooms without sounding like it's struggling or overwhelmed. Its sound output is closer to a Sonos One than a Sonos Play:5, with perhaps just a little more volume than the One. You can hear the bass coming from the Move, but you can't feel it the way you can with a Play:5. But you can't take that Play:5 outside with you, either.
The Move has a downward-firing tweeter, which is designed to provide an omnidirectional soundstage, so you can hear the music regardless of where you're positioned in relation to the speaker. Compared to the One, which has a front-firing tweeter, the Move does envelop a room with sound a little better, and it doesn't rely on you being in the "sweet spot" for the best experience quite as much. Overall, the sound output between the One and the Move is very similar, with a punchy bass, clear highs, and warm mids.
It sounds great across a wide variety of genres and at both low and high volumes, so you don't have to crank it to 11 to really enjoy it. I really appreciate this versatility when I just want some background music in my home office or during dinner and still want to be able to carry a conversation over the music. Sonos speakers all have a similar sound signature, which is not quite clinical but very pleasing to listen to. And the Move fits right in with the rest of the lineup.
I also compared the Move to Apple's HomePod, and I was surprised by how much louder the Move was able to get. At 70 percent volume, the Move easily outgunned Apple's speaker at the same settings and was able to maintain clarity just as well. The HomePod is a great-sounding speaker, but the Move actually sounds clearer and crisper to my ears and is able to maintain a louder volume to boot.
Impressively, the Move doesn't lose any of its punch when it's running on battery, as opposed to being plugged into the wall. Outside, the Move is able to hold its own, projecting a lot of sound without losing it all to the atmosphere or degrading into distortion. It was surprising how similar the Move sounded no matter where I placed it, which is due in large part to Sonos' new automatic TruePlay tuning that uses the speaker's onboard mics to tune its output to whatever environment it's in.
Apple does a similar thing with the HomePod, and I'm glad that Sonos is finally enabling it automatically, without the need to go through a convoluted setup process that involves waving a beeping iPhone around the room to acoustically map the space. The company says it's likely that automatic TruePlay will be added to other Sonos speakers that have microphones in the future.
The Move also sounds almost exactly the same whether I used it over a Bluetooth connection to my device or via the usual Wi-Fi setup. Switching between Wi-Fi and Bluetooth is done by a button on the back of the speaker, and the Move will try to connect to the last device it was paired to when you switch modes. It's just as loud and enjoyable to listen to on Bluetooth versus Wi-Fi, though the automatic TruePlay tuning is only available when using the speaker on Wi-Fi. Due to the Move's large size and weight, I don't think most people will use it over Bluetooth very often, and it had no problem hanging on to my Wi-Fi network's signal when I took it outside to my patio.
If you want even more volume, you can pair two Moves together in a stereo formation, much like Sonos' other speakers. But I'm not sure why you'd use the Move for this kind of setup, as the stereo pair will get broken whenever you move one of the speakers from its base and use it in a different location.
Like the Sonos One and Beam soundbar, the Move has onboard microphones and support for either Amazon Alexa or Google Assistant for voice controls. I was able to bark commands to adjust the volume, skip tracks, or control other smart home gadgets even while the Move was playing music at high volumes, and it responded without issue.
It's not possible to run Alexa and Google Assistant at the same time, but the Sonos app does make it easy to switch between the two platforms whenever you want. On battery, the speaker will go to sleep after a few minutes of not being used, and it took a couple of attempts to "wake" it with a voice command when it's in this power-saving mode. Voice commands are also not available over Bluetooth; you have to use the Move on your Wi-Fi network to take advantage of them.
Because the Move is a Sonos speaker, it's compatible with almost every streaming music service available, plus services like Audible and Pocket Casts. You can play music on it through voice commands, via Sonos' app, directly through Spotify using Spotify Connect, or via AirPlay 2 on an Apple device. If you have a receiver or turntable plugged into other Sonos devices, like a Connect or a Play:5, you can play that music through the Move, too. As you'd expect, you can also group the Move with other Sonos speakers in your home for simultaneous whole-home listening. If you're paired to the Move over Bluetooth, whatever audio app you have on your phone will now play through the Move, just as you'd expect with any other Bluetooth speaker.
While most of my experience testing the Move was positive, it wasn't all perfect. I had some significant problems getting Alexa and Google Assistant to play music through the Move due to some apparent incompatibilities between the Move and my mesh router system, which I was able to eventually resolve by forcing the Move to connect to the main router node during setup. Sonos says the problems I encountered were out of the ordinary, and other reviewers I spoke to said they had no issues getting the Move up and fully operational on their networks, so your mileage may vary here. When everything did get set up correctly, the experience was great. But it took a lot of time and work with Sonos' support team to get there, and the app wasn't very helpful when troubleshooting the problems. I also have not encountered any issues with other Sonos speakers on this network, so something must be different with the Move's Wi-Fi hardware or configuration.
The biggest question that most people seem to have about the Move is about whether it's worth the nearly $400 price tag. Frankly, it's a tough price to swallow for what largely amounts to a $200 Sonos One with a battery bolted to the bottom of it. It's also a lot more money than the typical Bluetooth speaker costs. But the Move also does things that no other Sonos speaker nor any other Bluetooth speaker can do, and it does it all without compromising on sound quality, volume, or features.
If you're looking for a truly portable Bluetooth speaker to take to the park or the beach, the Move is not the right solution. But if you've been wanting the ability to take your Sonos speaker out to the patio, down to the basement, in the garage, or anywhere else where you don't need a full-time dedicated speaker but where you want to occasionally listen to music, then the Move is exactly the thing you've been looking for.
I have a feeling a lot of people have been wanting just that kind of speaker. I'm one of them. We're just going to have to pay $400 to get it.
Photography by Dan Seifert / The Verge
Vox Media has affiliate partnerships. These do not influence editorial content, though Vox Media may earn commissions for products purchased via affiliate links. For more information, see our ethics policy.
Sours: https://www.theverge.com/2019/9/18/20871409/sonos-move-wireless-bluetooth-speaker-review-alexa-google-assistant-wifi-price-specs-sound-quality
Sonos Move: Portable Speaker Hands-On
.
Similar news:
.
587
588
589
590
591