Firefighter and Fire Safety Activities, Lessons, and Crafts
Firefighter Theme and Activities
Free Firefighter and Fire Safety Printables, Activities, Lessons, and Rhymes
To begin the fire safety unit, ask children what they know about fire, firefighting, and fire safety. Use chart paper and a large black marker to record their responses. This initial discussion will help you best use the materials in the theme to meet your group's needs with respect to information that is confusing, missing, or vague. At the end of the unit, you can ask children to tell you what they know about fire, firefighting, and fire safety a second time.
View our Keeping Safe Twiggle Magazine Edition for firefighter snacks, and book suggestions.
Plan and practice home or school fire alarm safety drills:
Educate children about the following topics:
Smoke alarms warn about fires
Practice stop, drop and roll
Get low and go under the smoke
Get out of a burning building and stay out
Don't be afraid of firefighters -- Firefighters rescue people
Hot things burn and don't play with fire
Plan and practice a home fire escape plan
Designate a meeting place outside
Stop, Drop, and Roll
Explain to children that if their clothes ever catch on fire, they should "stop, drop, and roll."  Demonstrate the proper technique in the classroom and place some felt flames on their clothing and let children practice stopping, dropping, and rolling until the flames are off the clothes. Crawl below the smoke. Use a bed sheet and let some children hold the sheet on each side. Have children "shake" the sheet up and down to make pretend smoke. The other children practice crawling under the sheet on their hands and knees to escape the smoke.
Smoke Chant
If you don't want to choke
Crawl under the smoke.
Get down on the floor
And head for the door.
Author Unknown
Fire Safety Game:
Smoke, Smoke, FIRE!
Played like "Duck, Duck, Goose," but instead a child goes around the circle, and says "smoke, smoke, fire."
Firefighters and Fire Safety Rhymes and Songs
Wheels on the Fire Engine
(Tune: The Wheels on the Bus)
Sing the song but use the sound and movement of: siren, ladder, seatbelts, fire dog, hose, water, etc.
Five Little Firefighters
Five little firefighters sleeping in their bed
The first one said, "Put your helmet on your head!"
The second one said, "Down the pole we'll slide."
The third one said, "Get ready to ride!"
The fourth one said, "Put your gas mask on your nose."
The fifth one said, "I'll grab the hose!"
Then "woooo" went the siren and out went the fire
And the five little firemen could finally retire!
Never Play With Matches
(Tune: Frere Jacques )
Never, never play with matches.
If you do, if you do,
You might burn your fingers,
You might burn your fingers,
That won't do!  That won't do!
Never, never play with matches.
If you do, if you do,
You might burn your clothes,
You might burn your clothes,
That won't do!  That won't do!
Firefighters and Fire Truck Book Suggestion: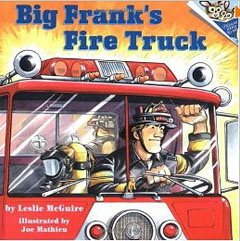 Big Frank's Fire Truck (Pictureback(R))
Sours: https://www.kidssoup.com/activity/firefighter-and-fire-safety-activities-lessons-and-crafts
One of the emergency service workers we have had fun learning about in our Community Helpers Theme are the Fire Men and Women.
We've put together our favourite firefighter activities and crafts for you and your preschoolers and older toddlers to do together.
So here you go some fun Firemen Inspired Crafts and Activities for preschool.
What You'll Find on This Page
Fire Fighter Activities for Kids
The Fire Fighter is one of the characters in our Emergency Services Roll and Cover Maths Games.
You can also find them featured in our other community helper printables, just click on the images below to be taken to the activities.
More Community Helper Printable Activities for Preschoolers
These activities to go alongside the book Flash the Little Fire Engine by Pam Calvert and illustrated by Jen Taylor are fantastic for preschoolers we love the fire patterning.
These write and count fire trucks are great to make and use with your preschooler as you work on counting and learning about the fire fighters and their work.
Work on some fine motor skills with this fun putting out the fire game for kids.
We love this week of activities that include a couple of crafts to celebrate Fire Safety week. They are great for younger preschoolers and older toddlers.
Another putting out the fire activity for kids is this solo cup fire game. We love this and would add in counting and some simple addition and subtraction with how many cups we've knocked down.
Fire Fighter Crafts for Preschoolers
Hand prints and foot prints are great for using in craft projects with your preschoolers. They will love squishing and squeezing the paint in the hands or coating there feet.
Why not make a fun handprint fire truck or a footprint fire engine with your kids.
A little more time and some materials from the recycling box and you can make a fun egg carton fire truck. I love how it's even got pretend hoses.
Extending the FireMan Crafts and Activities
If you would like to extend this further and focus on fire safety.
Why not teach your kids fire safety and prevention with these top tips.
If you are looking for even more fire safety resources check out this collection of activities including free printables to do with your preschoolers.
Cerys Parker
Cerys is a marine biologist, environmental educator, high school teacher and mum. Realising that life doesn't have to be put on hold and you don't just have to survive whilst the kids are young she shares ideas to inspire you to LIVE with the kids, with activities to do together, recipes to cook and enjoy and family travel to make memories to last a lifetime.
Sours: https://rainydaymum.co.uk/fun-firefighter-crafts-and-activities-for-preschoolers/
Free Firefighter Printables
This post may contain affiliate links.
Free firefighter printables for preschool kids! Focus on community helpers and fire safety with these printable learning activities.
Grab these free preschool printables that focus on early math and literacy skills. Print out the activity pages for additional fire fighter fun!
These free firefighter printables will be a great addition to your firefighter, fire safety, community helper, and Letter F preschool units.
Free Firefighter Printables
Print out this Fire Station printable book, and help your kids practice counting to ten. Growing Book by Book
This pack of fireman preschool printables contains beginning math, writing, and more. Living Life and Learning
Have fun talking about fire safety and some wonderful community helpers with this printable pack about firemen! Homeschool Cretions
This F is for Fire Truck pack focuses on the letter Ff. Royal Baloo
This Fire Fighter Do a Dot pack focuses on letter recognition, number recognition, and fine motor skills. Gift of Curiosity
Preschoolers will love to match letters while putting out fires in this hands-on alphabet matching game! Totschooling
This free fire truck do a dot printable is easy to download and easier to prepare! Living Montessori Now
These fire safety lettering matching cards are a great fine motor activity. Pre-K Pages
Talk about fire safety and community helpers with this printable pack about firemen. These free firefighter printables feature early math and literacy activities. Homeschool Preschool
These fire fighter worksheets will help kids learn valuable skills such as letter sounds, pre-writing practice, matching, pattern making and visual discrimination.
Free firefighter-themed printable nonfiction books are a great way to help young readers learn sight words. The Measured Mom
Here you can check out more than twenty firefighter coloring pages your preschooler will love! Mom Junction
This fire truck tot packis perfect for toddlers and young preschoolers. Royal Baloo
These free firefighter paper dolls will keep kids busy and entertained for hours and hours. Kiddy Charts
This printable firefighter craft comes with a template to make it easy for young crafters to make. Learn Create Love
Kids can practice visual discrimination and counting with this Fire Safety I Spy game. Parenting Chaos
Teach kids this fun Five Little Firefighters poem, and let them color some firefighters to go with it. JDaniel4's Mom
Must Have Resources:
When completing these crafts and activities at home, I find that the following resources are very helpful to have on hand.
Round Out Your Unit with These Activities:
This set of four fire truck crayons is perfect for your little fireman and this firefighter pack. They are also great party favors. Party crayons are a wonderful candy alternative for bag fillers.
This set of wooden firefighter-inspired memory matching discs are perfect for helping kids build visual discrimination skills.
Tara is a Southern girl at heart and mother of 3. As a longtime homeschool momma, she is passionate about equipping and encouraging mommas in their efforts to educate their littlest learners at home. Tara loves to crochet and read in her downtime. She is also a self-proclaimed planner addict and shutterbug!
Latest posts by Homeschool Preschool (see all)
2 Comments
Sours: https://homeschoolpreschool.net/free-firefighter-printables/
5 Fireman Crafts - Fire Fighter Crafts and Activities for Kids
This post may contain affiliate links meaning I get commissions for purchases made through links in this post.
Read my disclosure policy here.
It's Fire Safety Week this week! It is awesome to have a special week where we focus on and highlight the importance of fire safety. But teaching about fire safety is an every day, anytime kind of topic.
So in this post, we will make fire safety fun to teach, learn and practice anytime with these fireman activities for preschool.
Younger and older kids can definitely join in! We are bringing you a very comprehensive list that will make teaching this important skill fun and easy to remember.
Awesome Fireman Toys
Play with your favorite firefighter toys as they pretend to put out little fires.
Liberty Imports Kids Pop Up Play Tent – Foldable Indoor and Outdoor Playhouse for Toddlers, Boys and Girls (Fire Truck)
10 pcs Fireman Toys for Kids fireman Costume – Fire Toys Role Play Accessories great for Halloween,Dress Up,Pretend Play,indoor and outdoor,Pool,summer or all year fun for Toddlers and kids
FUNERICA Toy Fire Truck with Lights and Sounds – 4 Sirens – Extending Ladder – Powerful Friction Rolling – Firetruck Fire Engine for Toddlers & Kids
Click N' Play CNP30640 Urban Firefighting 12
Fireman Preschool Activities
Fireman Preschool Printables
Learn new fireman vocabulary with 3-part cards, tracing, dot coloring pages, math and writing with these adorable firefighter printables.
ABC Game: Fireman Spray – Playdough To Plato
Combine literacy with firefighters in this fun interactive way to teach spelling! You could also use the same principal to practice addition or subtraction facts.
Five Little Firefighters – Tippy Toe Crafts
With a handprint, make five little firefighters in this adorable little craft!
Free Fireman Printable For Preschool – Homeschool Preschool
Enjoy 35 pages of fireman themed printables for preschool including a letter maze, ABC and number charts, graphing, and much more!
Fireman Lapbook – Homeschool Creations
Create an interactive lap book with cardstock paper, with firefighter facts, and other preschool learning skills such as numbersand colors.
Fire Fighter Paper Craft – DLTK
Create and glue a paper firefighter, with this free printable. It's great for putting fine motor skills to use.
How To Make A Fun (And Super Easy) Firefighter Hat – Momstown Toronto
Make a simple firefighter hat out of a paper plate. Due to its simplicity, it's great for classrooms or for when working with multiple kids.
Homeschool Unit Studies: Firefighter Unit Study – Look We're Learning
What do firefighters do all day? How high does a ladder truck extend? How long does a firefighter's air supply last? Learn the answers to thee questions and more with this unit study!
Free Printable Firefighter Play Dough Set – Life Over C's
Use this free printable to create a firefighter themed play dough set. You'll need a laminator, so the printables won't tear when they touch the play dough.
Fun Fireman Books
Pair a great firefighter book with any of the activities found here.
Big Frank's Fire Truck (Pictureback(R))
Richard Scarry's A Day at the Fire Station (Pictureback(R))
Good Night Fire Engines (Good Night Our World)
DK Readers: Jobs People Do — A Day in a Life of a Firefighter (Level 1: Beginning to Read) (DK Readers Level 1)
The Berenstain Bears Visit the Firehouse
When I Grow Up
Fire Truck, Dog and Hydrant Activities for Preschool
Who doesn't love seeing the fire truck fly by when it's on its way to a fire? Fires can be a huge danger and those people put their lives on the line each day. I'd sure be proud if I had a little fire fighter in my home.
Fire Truck Craft with Easy Shapes – Sugar Aunts
Make a fire truck with basic geometric shapes – such as circles, squares, and rectangles!
Fire Hydrants: Recipe – My Pretend Place
For a fun firefighter snack, make these fire hydrants from pretzels, fruit leather, gummy Life Saver, gum drop, Cheerios, and icing sugar to put it all together.
House on Fire! Made from a Cardboard Box – Teach Me Mommy
Teach recycling and creativity by making a house on fire from a cardboard box! (no real fire is used) You can teach how to get out of the house safely, how to crawl to get out, etc.
Make An Easy Fire Dog Pet Puppet – Momstown Toronto
Dalmations are a classic symbol of firefighters. Create a simple fire dog pet puppet with a toilet paper tube.
Fire Truck Craft With Flame Painting For Kids – JDaniel4's Mom
In this child-led art project, strengthen fine motor skills and sensory skills with this messy flame painting.
We hope you enjoyed this list and now have many great ideas to implement throughout the year with your kids.
More Preschool Activities
Preschool Human Body Activities
Outdoor Preschool Activities
Preschool Activities for Learning Fun
More Fire Safety Activities
Fireman Preschool Printables
Fire Safety Worksheets for Kids
Sours: https://www.livinglifeandlearning.com/fireman-activities-preschool.html
Fireman craft preschool
.
Project 31: Paper Plate Firefighter Hat - Arty Crafty
.
Similar news:
.
367
368
369
370
371