Poly Shinsou + Kaminari HCs
Request: Poly Shinsou and Kaminari headcanons?
Note: This was so cute to write but it's like 1:30am here so sorry if they suck
I feel like this relationship goes one of two ways
You and Shinsou trying to stop Denki from doing stupid stuff or Shinsou trying to stop you and Denki from doing stupid stuff
Either way, it's so chaotic both to be in and to witness
I can imagine Hitoshi taking you shopping or something and picking up a whole different basket because he knows you're going to end up in the trolley while Kaminari pushes you around
He also has ice and plasters in his pocket for when one of you inevitably gets hurt
Both you and Kaminari know how secretly soft he is for you two and will sometimes pretend to get hurt just so you can see Shinsou totally-not-a-tsundere Hitoshi look after you
Kami is the one to give kisses to booboos though, no matter what it is
You could get a papercut or be in the hospital and Denki will burst in to give you magic healing kisses
You swear they work…Hitoshi less so but he still whines if he doesn't get them when he gets hurt
The cuddles are god tier honestly
Most of the time it's Hitoshi in the middle with you and Denki sprawled across him like starfishes
But sometimes they put you in the middle and take it in turns to give you little kisses on either side while both spooning you
To be honest you are the catalyst of most cuddle sessions
Both Denki and Toshi are suckers for cute things and the moment you do something remotely cute one of them scoops you up and plonks you onto the nearest sofa or bed for some cuddles
And trust me they last hours on end and finish with sleeping or…other things
Denki has very fidgety hands so they are constantly playing with Shinsou's hands or running his nails over your scalp
Your bag at all times has a bright yellow power bank and a cable plus a bottled iced coffee cause you take care of your boys
They're always so grateful though and Shinsou has this amazing ability to just pull your favourite snack from out of nowhere
Kami likes to give you kisses as a thank you because, if he needs the power bank, he's usually a bit too far into melted brain mode to do much else
You and Kami being around him so much and dragging him to bed for cuddles actually makes Shinsou begin to sleep a little better
And it's not until a mutual friend pointed out his reducing eye bags that you two even notice
You were both very smug to the point where Hitoshi refused to cuddle with you if you were talking about his eye bags
Date nights!
They're an experience let me tell you that
I feel like Shinsou would prefer at-home date nights and Denki wouldn't care so it would often be you guys sitting at the table with a little electric candle (you and Shinsou were no longer allowed fire according to Aizawa)
Shinsou had cooked because he didn't trust Denki in the kitchen and he shows his love through actions like this
It usually ended with you guys ugly laughing at the table because that's just what you guys were like
Denki and Shinsou are very protective of you, especially if you're not in the hero course
Anytime anyone is staring at you too long or making inappropriate comments Shinsou is death glaring them with an arm wrapped around your shoulder while Denki is mouthing off, holding your hand the entire way
You best bet you are not escaping the impending hugs on the way home
You stay like that the whole walk home but you're used to walking like that, you're dating two touch starved guys who have to have a body part touching you at all times
Even with the protectiveness, you're so wholesome together and people love seeing your dynamic
They both just love you and each other so much, even if they have different ways of showing it
You keep them grounded and happy and they adore you for it
You couldn't ask for better boyfriends
If you guys want the ns-fw version just request okie?
Requests are open!
Sours: https://squishytenya.tumblr.com/post/626110785953890304/request-poly-shinsou-and-kaminari/amp
a weeb's safe place — Shinkami Fics Rec
Shinkami Fics Rec
Pickup Lines for the Soul - 3.9k - Denki is twelve when he is flicking through the TV channels and lands on an old RomCom movie about soulmate marks – specifically the same type that he has. "I can't believe I've had to walk around with a cheap pickup line written on my ankle my entire life because of you!" The leading lady yells at the leading man as he stares at her in awe. Denki laughs. "Oh no." His mother says, watching him. "Oh no, indeed." His sister repeats quietly.
Kaminari's Declassified Coming Out Survival Guide - 37.4k - Local disaster bi, Kaminari Denki, is yanked right out of the questioning stage of his life and now has to navigate the process of coming out.
He decides to do it step-by-step, with each step taking more courage than the last. And if coming out equates to slaying the dragon, then perhaps by the end of this he'll get the guy, too.

Kiss Me Through The Screen - 70.4k - Shinsou remembers when he first saw the ad for Ch4rgeb0lt's services. He was just messing around online when a pop-up appeared with his smiling face, one eye winking and the other brightly flashing with happiness. "Lonely? Tired of coming home to an empty apartment? Can't find anyone to listen to your problems? Say no more! For the low cost of $10 per stream, you can have all the company and love you ever wanted. Get a best friend for the best price!" His first reaction was, "what kind of depressing loser needs to buy a boyfriend?" before he looked around at his empty home and realized he might be that depressing loser.

purple haze - 7.8k - "Would you use your quirk on me?"
Shinsou's eyes snapped up to Denki's. They were bright violet in the middle, right around the iris.
"Never," Shinsou breathed, eyes intent on Denki's flushed face. They stopped moving together. "Never, ever unless you-"
"What if I asked you to?"

Thus With a Kiss, I die - 96k - Kaminari finds himself head over heels for the newest addition to their class, Shinsou Hitoshi. Normally the flirty blonde would just present himself with open arms but there's a major problem with his infatuation. There's unspoken rules in 1-A and Kaminari is part of the Bakusquad… whereas Shinsou is a part of the Dekusquad. The two can't be together. It's just not possible. There's no way Bakugou would ever allow one of his extras to date Deku's friend. There's only one thing left to do, give up and move on. Too bad Kaminari can't seem to escape Shinsou. Aka the fic where Kaminari is Romeo and Shinsou is Juliet and they have to secretly date so their squads don't fall into an all out war.

How to save a life - 2.7k - Shinsou doesn't expect to find Kaminari on the roof of UA.

paging dr. oblivious - 2.9k - Hitoshi, slowly, delicately, puts his fork down and squints. Denki regrets maintaining eye contact, but, also, he doesn't because damn, Hitoshi has pretty eyes – and focus, Denki, focus! "I'm sorry," Hitoshi starts, quietly, almost threateningly, and tilts his head. "Would you like to repeat that? People think we're what?" "Pining," Denki bursts out, almost too loud in the hospital gardens, and then he hunches forward and continues much more quietly, but no less heatedly: "They think we're," he swallows and finishes, almost lamely, "pining." Hitoshi says nothing. Waits. "They have a betting pool," Denki practically wails.(or: the entire hospital staff has a betting pool on when Denki, resident trauma specialist, and Hitoshi, the neuropsychologist, will start dating. The punchline is that they are married.)

See more posts like this on Tumblr
#shinkami#kaminari denki#shinsou hitoshi#mha#mha fanfiction#bnha#bnha fanfiction#shinkami fics#shinkami rec fics#shinkami fanfiction#mha fics#bnha fanfic recs#bnha shinkami#my hero academia fanfiction#kaminari icons
More you might like
There is no in between.
MR. HORIKOSHI SIR OPEN UP I JUST WANT TO TALK WHY ARE THEY SO ✨ P R E T T Y ✨
See this in the appShow more
Sours: https://bts-ing.tumblr.com/post/643754934276325376/shinkami-fics-rec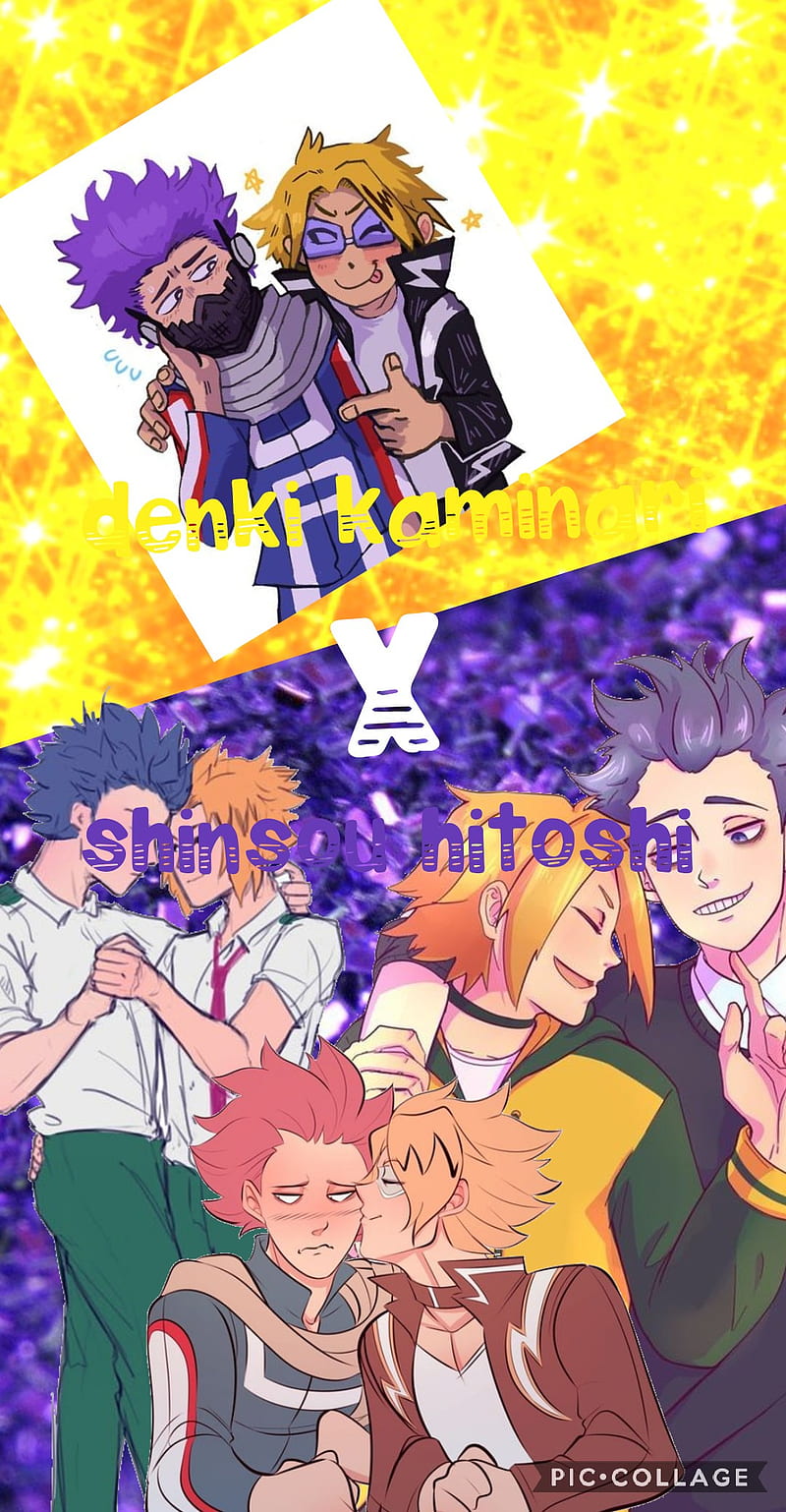 Tags:
Choose resolution & download this wallpaper
PC(720P, 1080P, 2K, 4K, 5K):
iMac:
iMac 21.5" LED-backlit:
1920x1080
iMac 21.5" Retina 4K:
4096x2304
iMac 27" Retina 5K:
5120x2880
MacBook:
MacBook Air 11.6":
1366x768
MacBook Air 13", MacBook Pro 15.4":
1440x900
MacBook Pro 13.3":
1280x800
MacBook Pro 15.4" Retina:
2880x1800
MacBook Pro 16":
3072x1920
MacBook Pro 17":
1920x1200
MacBook Pro 13.3" Retina, MacBook Air 13" Retina, MacBook Air 13.3"(2020, M1):
2560x1600
Dual monitor:
Triple monitor:
Quad monitor:
iPhone:
iPhone 2G, iPhone 3G, iPhone 3GS:
320x480

iPhone 4, iPhone 4s:
640x960

iPhone 5, iPhone 5s, iPhone 5c, iPhone SE:
640x1136

iPhone 6, iPhone 6s, iPhone 7, iPhone 8:
750x1334

iPhone 6 plus, iPhone 6s plus, iPhone 7 plus, iPhone 8 plus:
1242x2208

iPhone X, iPhone Xs, iPhone 11 Pro:
1125x2436

iPhone Xs Max, iPhone 11 Pro Max:
1242x2688

iPhone Xr, iPhone 11:
828x1792

iPhone 12 mini, iPhone 13 mini:
1080x2340

iPhone 12, iPhone 12 Pro, iPhone 13, iPhone 13 Pro:
1170x2532

iPhone 12 Pro Max, iPhone 13 Pro Max:
1284x2778

Android phone:
iPad & iPad mini:
iPad, iPad 2, iPad Mini:
768x1024, 1024x768

iPad 3, iPad 4, iPad Air, iPad Air 2, 2017 iPad, iPad Mini 2, iPad Mini 3, iPad Mini 4, 9.7" iPad Pro:
2048x1536, 1536x2048

10.5" iPad Pro:
2224x1668, 1668x2224

11" iPad Pro:
2388x1668, 1668x2388

12.9" iPad Pro:
2732x2048, 2048x2732

10.9" iPad Air:
2360x1640, 1640x2360

10.2" iPad:
2160x1620, 1620x2160

8.3" iPad mini:
2266x1488, 1488x2266

Android tablets:
Relevant HD wallpapers
animeDenki KaminariMy Hero AcademiaBoku no Hero AcademiaMy hell AkademiaKaminari Denkihitoshi shinsohitoshi shinsoushinsou hitoshishinsoushinso hitoshidenkihero
720x1280px

720x1280px

1920x1200px

720x1403px

3840x2400px

720x1280px

1080x2220px

1080x2076px

2560x1600px

1000x1500px

720x1280px

720x1280px

736x2115px

1080x2220px

3543x2362px

2880x1800px

1080x1902px

720x1280px

809x1440px

1920x1200px

720x1391px

1080x1762px

1215x1700px

1080x1467px

1920x1200px

720x1280px

820x1398px

1340x2490px

736x1514px

1080x2220px

720x1280px

720x1280px

757x1345px

720x1280px

1080x2335px

1080x1920px

720x1280px

1181x1748px

1080x1920px

1920x1080px

720x1280px

720x1280px

750x1334px

720x1280px

2289x2289px

3000x2000px

3840x2160px

720x1280px

720x1600px

1920x1080px

1080x2160px

720x1280px

1078x2278px

1080x1920px

720x1280px

1950x1082px

3000x1744px

736x1308px

720x1280px

1080x1496px

720x1280px

720x1280px

1080x1921px

2906x2000px

837x1361px

1920x1080px

720x1402px

1057x1879px

1773x1773px

1640x2464px
Sours: https://www.peakpx.com/en/hd-wallpaper-desktop-vtphz
Everyone Forgot.. // Shinkami skit // HAPPY BIRTHDAY DENKI!! //Read desc.
KamiShin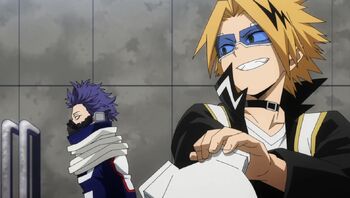 Status of Relationship
Former Teammates/Allies/Friends
Also Known As
ShinKami, Shinari, KamiSo, HitoDenki, DenkiToshi, ZappyCat, EraserMic 2.0, 5-Hour Energy
"I know you said you weren't planning on being friendly, but I like you"
— Denki to Hitoshi.
KamiShin is the slash ship between Denki Kaminari and Hitoshi Shinso from the My Hero Academia fandom.
Canon
Denki and Hitoshi do not interact until the Joint Training Battles, in which they team up. Despite his distant and cold attitude, Denki tries to strengthen ties with him, even defends him when Katsuki describes him like a dead weight for the exercise due to his lack of experience.
After the initial clash with the 1-B team, Hitoshi is well aware that his inexperience in battle and apologizes for his slowness in capturing Jurota Shishida, but Denki points out that what he was able to stop Jurota, avoiding the total defeat of 1-A team, and tells Hitoshi that he likes him and he's rooting for him to become a great hero some day. Denki compliments Hitoshi a lot during this time.
At one point, Denki casually states, "You have the face of a popular guy. I'll bet you're popular with the ladies, yeah? Trust me, I can tell.." This line easily, if not directly implies that Denki finds Hitoshi to be rather attractive.
Fanon
Their friendship is often compared to SirMight, EraserMic, MiriTama, and KiriBaku, thanks to the introverted dark-haired (with the exception of Katsuki's blonde) boy/man x loud blond extrovert trope. Kaminari commenting on his looks has caused many fans to think he is bisexual.
There is a considerable amount of content for KamiShin, especially on Tumblr and AO3. There is also a lot of memes and fanfictions that mention Present Mic, Kaminari, Kirishima, Mirio, and Deku becoming friends with Eraserhead, Shinso, Bakugo, Tamaki, and Todoroki respectively, due to the parallels. Prior to meeting the first five listed characters, the latter five had no close friends but warmed up after meeting them.
Many see their relationship in a sweet and innocent light. Usually with Kaminari being one of the rare people who do not fear or shun Hitoshi for his powerful quirk, and interacts with him despite of the dangers of being brainwashed. Shinso's cold exterior slowly crumbles the more he hangs around Kaminari. In fan works like these, Hitoshi has already transferred to the hero course and is in Class 1-A, where he is quickly befriended by Kaminari and his friends.
There are also AUs where Shinso gave up on his dream of becoming a hero due to his quirk being so frowned upon and ends up becoming a member of the League of Villains. But he falls in love with someone who accepted him for who he is (Kaminari) and betrays the League for the heroes.
On AO3, KamiShin is the most written ship for both Hitoshi and Denki.
Fandom
FAN FICTION
Denki/Hitoshi tag on AO3
Denki & Hitoshi tag on AO3
TUMBLR
KamiShin posts on Tumblr
Gallery
Anime/Official Art
"I know you said you weren't planning to be friendly, but i like you"
From Denki to Shinso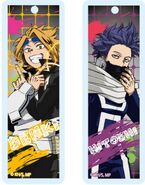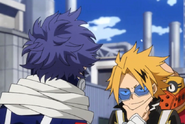 Manga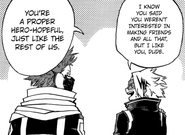 Navigation
Sours: https://shipping.fandom.com/wiki/KamiShin
X shinso denki
Aizawa Shouta remembers Bakugou at the beginning of the year, clearly stating that all he came to do was win, and would gladly step on anyone who got in his way.
Now he has a 'squad' named after him.
Aizawa Shouta remembers Todoroki declaring war on Midoriya, making it clear that he was here to be the best and didn't give a damn about anyone or anything, besides getting to the top.
All but five minutes later, he risked his life without hesitation to help Izuku and Iida.
So, when Hitoshi's first day in class A arrives, and he tells his Dads that he's not joining the hero course to make friends, Aizawa and Yamada share a look, and then laugh right in his face.
OR
Shinsou Hitoshi has finally joined Class 2A. He's not here to make friends. He's here to be a hero. If only these weirdly nice people would just leave him alone.
Sours: https://archiveofourown.org/tags/Kaminari%20Denki*s*Shinsou%20Hitoshi/works
Shinkami/kamishin comics //part 1\\\\//bnha\\\\[requested]
.
You will also be interested:
.
341
342
343
344
345