Medium Length For Maximum Impact: The Best Men's Haircuts for Mid-Length Hair
Nestled somewhere between the buzzcut and Braveheart's William Wallace lies a happy compromise of medium-length haircuts.
For men, medium length hairstyles can flaunt a healthy head of hair. If you're well-endowed in the hair department, a medium-length hairstyle can be a serious head-turner. However, even if your hair is slightly on the thinner side, there are plenty of ways to craft a convincing impression of ample tresses.
While shorter haircuts can be tremendously easy to style, medium haircuts provide freedom and flexibility with which short hair just can't compete. Paving the way for quiffs, pompadours and textured crops, medium-length men's haircuts open up a Pandora's Box of possibilities.
Medium-length hair is typically defined as a style that's 5 to 10 centimetres long (2 to 4 inches). Of course, these are guidelines only, and your barber can help you create the perfect cut for your specific hair properties.
While all-over medium-length hair can look youthful and handsome, an equally popular approach is to have a shorter back and sides while keeping the length on top.
Whichever style you prefer, we've tailored the ultimate list of the best men's haircuts for medium-length hair, plus helpful tips on communicating your vision to your barber.
If you need a little help styling your hair, these are the most popular hair care products for men right now:
The 31 best mid-length hairstyles for men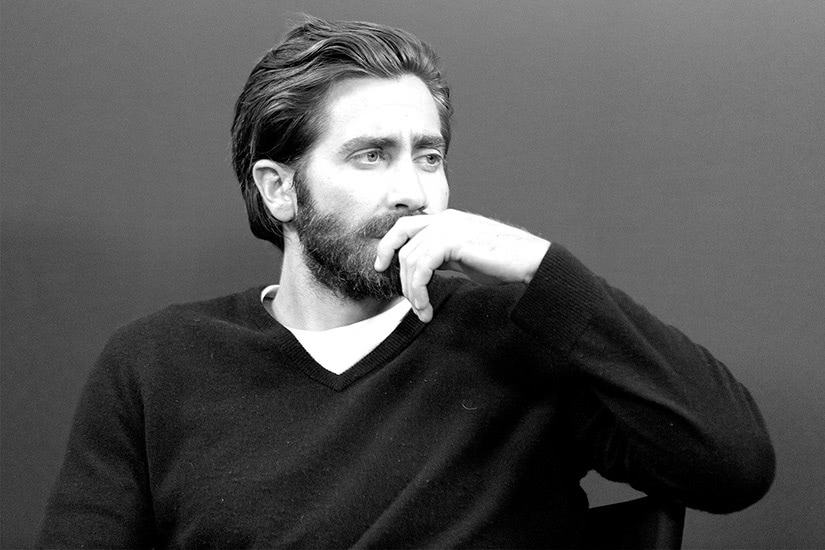 How to style medium length hair for men: 6 expert tips
Styling time:
If you're pressed for time in the mornings and prefer to minimise your mirror minutes, there are plenty of low-maintenance styles for medium length hair that'll see you looking polished from the get-go.
Though the buzzcut is considered a great no-fuss style (the very short nature of this cut means there's no possibility for kinked up bed-hair in the mornings), there are still a number of minimal effort styles for medium-length hair which allow more freedom with different styling.
If you prefer a longer top, the crew cut could be a good choice. Much like the buzzcut but with a slightly longer top, this trendy style requires little effort in the mornings. Simply comb your hair over to one side, and set in place with a little hair gel. Done.
Otherwise, try a casual quiff or let loose with a fringe to make the most of a good, medium-length cut and minimise styling time.
Barbers: treat or chore?
While some of us love a visit to the barber, for others, it can be a necessary evil. If you've got the time and inclination, you have more freedom to pick a cut which demands more maintenance.
If you fall into the former category, styles like the square-fade could be perfect. The fade is cut slightly higher on the sides, resulting in a clean, polished look. This will require regular upkeep to prevent bushiness. Buzzcuts are hugely popular, but usually mean a fix-up every few weeks, too.
However, if regular barber-trips are your idea of hell, there are plenty of low-maintenance styles to choose from. The crew cut could be a happy medium. With the signature style being longer on top, you have more leeway with letting this one grow out a little before dragging your feet to the barbers.
The Ivy League may be an even better choice. Essentially a long buzzcut and possibly the most low-maintenance of medium haircuts, the Ivy League can stand to grow out a little longer than other cuts, before a barber visit becomes necessary.
Messy or structured:
If you're blessed with a mop of wavy or curly hair, a medium-cut taper-fade will accentuate it. Play on the volume by spraying with a good sea-salt spray and running a coin-sized amount of gel through to emphasize a messier, trendy cut. Messier cits tend to demand a little more styling, but the end result is worth it.
The modern bowl cut (think Leonardo DiCaprio in Titanic, but shorter and choppier) is back en vogue, albeit modified. A nice option for those with a penchant for effortless, the modern bowl cut falls somewhere in between messy and structured. What's more, it requires little styling and just a quick trim every now and then.
Structured cuts are definitely a good choice if you prefer no-fuss. While buzzcuts, crew cuts and fades mean more visits to the barber, the upside is they tend to need less daily styling.
Texture and thickness:
The natural texture and thickness of your hair will play a big part in deciding which style is best for you.
For thin and fine hair, short-back-and-sides with a long-top can be an effective way of making hair appear fuller. Blunter cuts also tend to give the illusion of thicker hair.
Blessed with medium textured hair? Lucky you. You're free to experiment with most cuts and styles. Medium-textured hair responds well to voluminous styling, so a pompadour could be a good choice.
Coarser hair can be as difficult to manage as fine hair (yes, thick hair can be problematic, too!). Fortunately, a clean, high fade with a round top could be the ultimate rescue for coarse hair. Using a good conditioner is crucial as coarser hair tends to be drier.
Face shape:
While any barber worth his salt will be able to identify your face shape and advise you accordingly, it never hurts to familiarise yourself with the most common face shapes.
For rectangular face shapes, you would do well to avoid elongating your face further. Avoid high volume styles, and focus on balance. Slicked-back styles and side parts usually work here.
More of an oval shape? Congratulations, you've won the genetic lottery. Oval faces are proportioned evenly and can handle most styles. The world's your oyster.
If you're on the square side, you'll want to accentuate that nice, angular jawline. An undercut could be flattering, or a more voluminous style like a blow-over. Softer, longer styles will make for a nice balance.
Oh, have a heart (shaped-face). You'll want to balance your features, particularly your chin. A textured fringe that's not too heavy should do it.
Slightly spherical? Rounder faces demand angles. Side partings are great for faces on the rounder side, as are styles that elongate your face. Think pompadour or all-out quiff.
Age:
Contrary to popular belief, any style can work at any age— it all depends on the attitude of the wearer. Seriously.
Whether you prefer to channel your inner 'silver fox' by keeping your grey hair, or decide to go totally bald, there are plenty of sharp haircuts for the mature man.
If you're naturally wavy and still retain a veritable head of hair, a short wave-cut could be perfect while quiffs and pompadours are a classic choice for the mature gentleman. On the other end of the spectrum, a clean, shaved head is often preferred for those with less enthusiasm for daily styling.
Younger, more hirsute men? It probably goes without saying: make the most of that luscious head of hair. Experiment with styles based on your hair texture and face shape.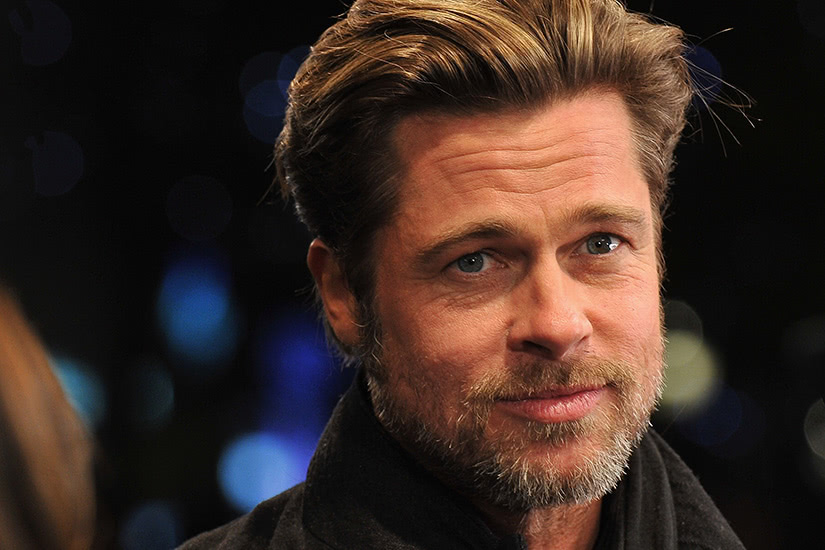 Terminology: How to explain the medium length haircut you want to your barber?
You don't have to study barbering to gain a basic knowledge of the industry terms. Knowing a little jargon can save frustration and miscommunications at your next barber appointment. When you have medium-length hair, you will come across different terminology than those opting for shorter cuts.
Texture: When your barber asks if you want choppy, layered or thinned hair, make sure you know what he (or she) means by these terms.
A 'choppy' cut is when the barber cuts your hair unevenly, at different lengths and a 45-degree angle. This is the go-to method of creating volume in finer hair.
'Layered' is when your hair is cut shorter near the top of your head, again resulting in a more voluminous appearance.
'Thinned' hair is a method used to tone down a heavy mass of thick hair by using thinning scissors. For those with this hair type, 'thinning' is a superb way of reducing heaviness while retaining length.
Arches: As you may have guessed, the 'arches' of your haircut denotes the area above your ears. Attention to this area is totally underrated: the careful clipping of higher 'arches' can elongate the ears for those on the smaller side, whereas requesting 'natural arches' will result in tidying the area (unruly hair around the ears is never a good look).
Know your nape: The way hair around the nape of your neck is cut can create a range of differing effects.
A 'blocked nape' is where your hair is cut straight across in a blunt style. This works as an optical illusion to actually make your neck appear broader. Regular trims are required to maintain the shape, however.
A 'rounded nape' has the opposite effect by forming rounded edges as opposed to blunt right-angles, this technique can make a thicker neck appear slimmer. Who knew?!
If your neck is neither too wide, too slim, but just right, a 'tapered nape' results in the hair graduating smoothly into a natural stoppage at the skin of your neck. This style requires less upkeep than the former two.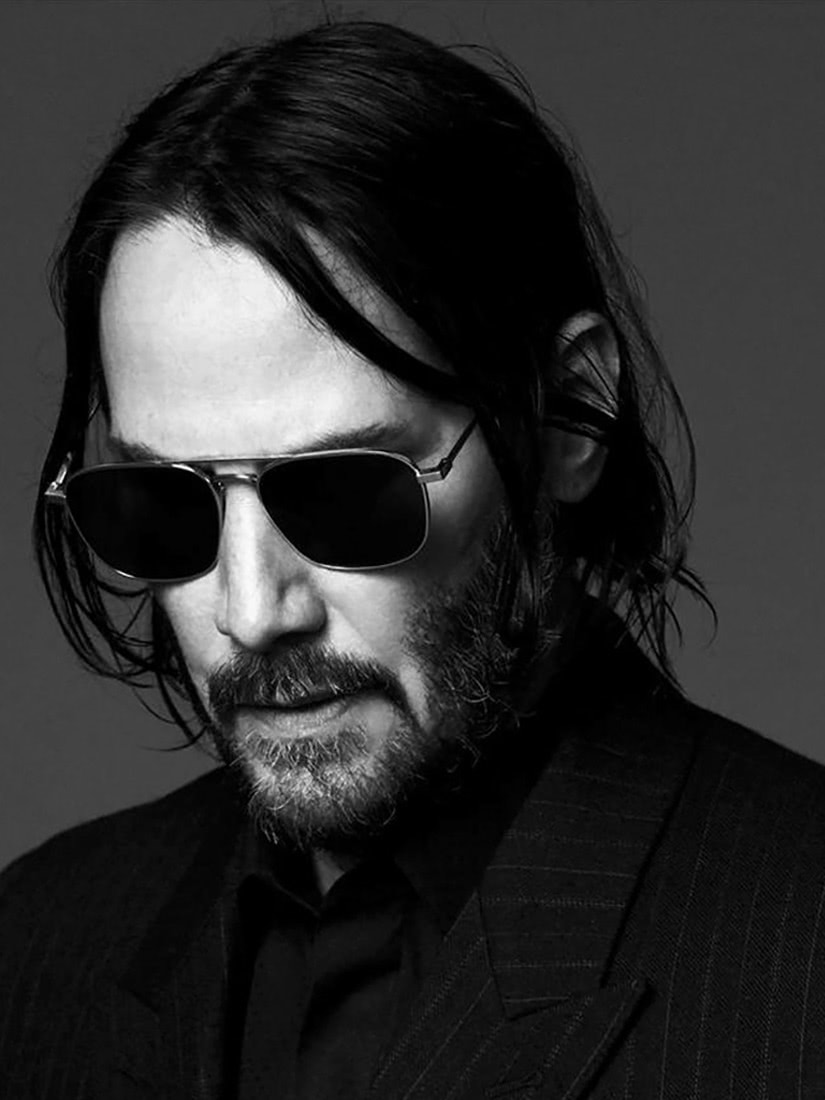 Medium hairstyles for men: Frequently asked questions
What can men do with medium long hair?
One of the most attractive qualities of medium hair is the variety of styles you can adopt. From neat combover styles to messy textured surf-style hair and even ponytails, the options are endless.
What is medium hair length for men?
Medium length hair is usually defined as hair that is between 5 and 10 centimetres in length. Although of course, this can vary. Your barber will help you find the most aesthetically-pleasing and manageable medium-length for your hair.
How do you style medium length boys' hair?
Medium-length hair on boys is no longer a one-way ticket to looking like a pre-Raphaelite cherub.  Medium length hair on younger boys looks great with some wax ran through it, creating texture and making the most of youthful locks.
How long should men's hair be?
The ideal length of any man's hair is entirely his decision. However, there are some factors to consider which will help to accentuate your existing features: the natural thickness of your hair, your face shape and desired styling time can all affect your decision.
Sours: https://luxe.digital/lifestyle/style/men-medium-haircuts/
80 Men's Hairstyles Every Guy Should Look At For Inspiration 2021
Modern men's hairstyles are very inclusive. There isn't that ONE hairstyle that is the most popular and trendy that everyone has, like in previous eras.
In 2020, men's hairstyles take on all forms and shapes which is a great thing because previously, if what's popular is a style that doesn't suit you (be it your face shape or head shape) you kind of feel left out.
Nowadays, we have so many styles to choose from, from longer hair, medium length hairstyles to classic short hairstyles, there is something that's going to work for you.
In these 80 modern men's hairstyles, I tried to include hairstyles of all lengths and styles so that you find something you'll like.
I also tried to include hairstyles that would be work friendly, to crazy hairstyles that the younger guys that really want to stand out can get.
Also be sure to check out our exclusive list of the best men's hair styling products to help you achieve these styles.
We'll start with…
Men's Short Hairstyles
If you like keeping your hair short, if you like a clean cut style, these hairstyles are for you. I've included buzzcuts, fades, and classical men's hairstyles.
Medium Length Men's Hairstyles
The following hairstyles are what I consider more 'modern' as in what's trending in 2020.
So what really seems to be popular at the moment is hairstyles that are longer and flowy on top and almost "messy" and asymmetrical in a way, but the sides are tapered or carefully cut short with scissors (not clippers).
There's a ton of different hairstyles here so they might not all fit that description, but these are the hairstyles I see that are really popular among the young and young adults that like to be trendy.
Long Hairstyles For Men
If you like to grow your mane out and want to get something cool, I highly recommend taking a look at these men's long hairstyles.
Sours: https://onpointfresh.com/top-71-mens-hairstyles/
It's easy to forget about lockdown. Or perhaps we're just trying hard to forget. Because, we no longer have the laboured Zoom quizzes, or the perpetual fog of a red wine hangover, or full afternoons spent in our best underwear, or hour upon hour of Successionsprawled out in front of us (OK, so those last two bits were quite good). For many guys, though, something from those dark, weird days has endured. It's one of the best long hairstyles for men.
In the year of Covid, long hairstyles for men have become an ever more frequent sight. Barbers were shut. That forced many to either hack at their own hair under the duress of shouty YouTube tutorials, or simply grow it out. Many in the latter camp looked in the mirror, and found that, actually, long hair suited them. Many in the former did not feel the same way.
To look good – as in really, naturally, early Nineties Interview With A Vampire era Brad Pitt good – you need a few things to pull it off. Length, first and foremost. We're assuming you've already got that. But you also need certain genetics. Finer hair can look even thinner without regular trims, and extra weight will pull everything down. So it's best to only consider one of the best long hairstyles for men if you've still got plenty up top.
If you have that, though, know that the benefits are legion. Longer hair is versatile. But it's also unique in that it packs a certain strain of loucheness that evades almost every other haircut for men. All you do is get up, push back and go outside – or at least that's the illusion. In truth, it takes a substantial amount of effort, but, again, the nice lady on the till at Tesco Express doesn't need to know that – nor will she assume that you summer in Newquay.
Joe Mills, founder of barber Joe and Co, says there's never been a better time to consider a longer hairstyle.
"It's really diverse at the moment with longer hair," says Mills. "You've got guys with hair flowing down past their shoulders through to guys with Seventies Bowie-style cuts with short fringes." Like any trend, he says, "hairstyles are circular", and the current maxim is a pushback to military-grade war-hero cuts that appear on everything from the runways of Milan to Sheesh bar and grill in Chigwell. That means its time for a change.
"People first started moving towards a softer, Stone Roses-style look, and it went from there," says Mills. "You always have a phase where everyone's having sharp, short haircuts, then people buck the trend and it starts to filter through."

No time like the present. Here's everything you need to know about the best long hairstyles for men.
Who can pull off long hair?
"The thing with long hair is that it's an attitude as much as it is a look," says Maxwell Oakley, barber at Ruffians Shoreditch. "If you've got the confidence to break out of the pack, then you're halfway there." That being said, all the chutzpah of a Met Gala Jared Leto won't help if you're without the right starter ingredients.
"Realistically you need medium to thick hair to grow it long," says Mills. "It's better if it's got a slight wave in it too, so that it doesn't just hang. Straighter hair is OK, curly hair can work really well as the locks drop out when hair grows. But, if your hair is too fine then it'll just look wispy."
As well as hair type, you'll also need to take your face shape into consideration. "An oval or square jaw will pretty much work with most haircuts. If you've got a particularly round face, you have to be mindful your hair doesn't accentuate that. Anything mid-length can tend to look a bit Lego-head."
Can I make my hair grow faster?
Growing your hair out is a serious commitment: you can't ghost out when the going gets tough. There will be tricky patches, and times when you want to just give up and shave your hair off. Try to persevere.
"Understand that there are a lot of stops on the journey, and some will seem to last longer than others," says Oakley. He recommends talking to your barber about your long-term goals (and showing them references), so that they can give you a roadmap of how to get there.
In terms of shortcuts, there are, unfortunately, none. As far as miracle products such as caffeine shampoo go, "there's just not enough science," Mills says. "If you want decent hair, skin and nails, just make sure you're eating a balanced diet and if you're out drinking, make sure you rehydrate." He adds that zinc and collagen are said to be beneficial for hair quality, so multivitamins and supplements could be an option. But really, this is a waiting game.
How do you maintain long hair?
As your hair moves south, it's important to invest in a quality shampoo and conditioner to keep it strong and glossy. This means separate bottles (no two-in-ones) and not just resorting to your significant other's wash of choice. Mills recommends using Triumph & Disaster, or Kevin Murphy's Hydrate.Me range, both of which are sulphate and paraben-free and contain hydrating oils and extracts.
"If your hair is in fairly decent nick, you only need to condition your hair every other wash," he says. "If you've got finer hair, you can also use a sea salt spray which coats the hair, making it look thicker."
While shearing off dead ends is important for maintaining a glossy mane, getting a trim doesn't make your hair grow any faster, contrary to popular belief.
"People say you need to come in every four to six weeks to get the dead ends cut off, but you're cutting off what you've just grown," says Mills. "If your hair is really thick and getting out of control, you might want to have it reshaped, but it's not like the short back and sides mentality: you don't need to come in every few weeks."
The other major psychological shift, Mills says, "is getting your head around the fact that you won't look quite as clean-cut as you once did." This doesn't mean resigning yourself to looking scruffy, rather that additional effort is required.
"It helps if you're clean around the edges – the back of your neck and your sideburns if you have them. If you've got a beard, make sure it's blended in. Aside from that, you've got to just put up with it."
How to grow out Afro hair
Afro hair is more brittle than caucasian and Asian hair, meaning you'll need to use a deep moisturising treatment more often as it grows. You'll also need to wash it less (once a week at most) to maintain your natural oils, ideally, again, using a sulphate and paraben-free shampoo.
"The thing with long hair is that it's an attitude as much as it is a look"
"One thing to remember is that afro hair is longer than it appears," says Mark Maciver, owner of SliderCuts. "It tends to be quite curly which can disguise the true length as it's growing, so you have to be patient. If you pull a strand, you'll see how long it really is.
"It's also very important that you don't cover your hair too much by wearing caps, hats or wraps," he adds. "Just like your body, hair needs sunlight and oxygen to keep it healthy and constantly covering it doesn't let it get this which can result in your hair not growing or becoming damaged."
Your long hair inspiration
Follow in the follicles of these well-coiffed men on every step of your short-to-long growing journey
---
Longer Afro Style
What to ask for: Tell your barber that you're growing your hair out, and they'll advise a trim and products designed to enhance curls
Who it suits: Guys who are able to easily grow two to three inches of hair
What it is: A traditional Black hairstyle that results from natural growth and progression, and it's usually styled into a rounded shape using a comb.
Dating back to the civil rights movement of the Sixties, Aaryn Lynch, a producer behind Cambridge's Fitzwilliam Museum 2013 afro comb exhibition, named the afro "a symbol of rebellion, pride and empowerment" in an interview to the BBC.
Due to its voluminous nature, you'll need a little more maintenance too as breakages can frequently occur. Use a wide-toothed comb to style, avoid excessive heat from hairdryers and straighteners and swerve chemical-based relaxers and hair dyes with a full shampoo wash needed every seven to ten days.
---
Longer On Top
What to ask for: A classic scissor taper with square layers on top
Who it suits: Everyone
What it is: Bradley Cooper's current 'do would be a solid end goal in itself, but Oakley says it's also a strong transitional option for anyone who's starting to grow their hair out.
"The great thing about this cut is it can be adapted for pretty much any hair type," he says. "The key feature is the taper. This can be cut with a little graduation, or if you have the length on top the angles can be made more extreme. If your hair is very thick it is better to not go too tight."
Rub a little serum or hair cream (Ruffians does a very good one) through to give the hair a slight hold. If you're looking for something slicker, use a matte clay or pomade through the length and ends.
---
Longer Quiff
What to ask for: Slightly feathered layers, longer on top
Who it suits: Heart-shaped faces, thick hair
What it is: With more length on the sides and slightly feathered layers, Patrick Dempsey's soft quiff is where we start to take a real departure from clipper cuts. "His stylist has point-cut the ends to soften them," says Oakley. "The soft feathering on means that the hair isn't so bulky, making it much easier to style as you gain length."
Oakley says that this style is particularly good for men with heart-shaped faces as the narrow shape around ears and slight flare at the back "gives the appearance of more balance".
"Use salt spray on wet hair before drying to take the shine off. For a little more volume and hold sprinkle in some hair powder, or for a softer look with a demi shine rub some styling paste through the hair while slightly damp."
---
Naped Tidiness
What to ask for: A round layer throughout
Who it suits: Square and oval faces
What it is: The point at which your hair starts falling down instead of growing out in all directions is also when your hair starts to feel purposeful and powerful. Not unlike, say, a Jedi master. This is also the point where you can go for something deceptively simple, like Adam Driver's one-length all-over style.
As Oakley explains: "It may look like this cut is shorter at the back but this is merely an illusion. The hair mimics the lines of your head; the weight on top is actually pushing the lengths at the back to follow the head shape."
If you're aiming for even more length, Oakley recommends you ask your barber to reduce some of the weight from the top while allowing the base length to get longer and heavier. At home, smooth some styling cream into freshly washed and conditioned hair, running your fingers through it as it dries naturally.
---
Mid-Length Longer hair
What to ask for: Mid length layers, slightly longer on the top and shorter on the sides
Who it suits: Medium to thick hair, square and oval faces
What it is: Your reward for about a year's hard work and perseverance – that's how long it'll take you to get Keanu Reeves' grown-up surfer look. but the good news is it's relatively low-maintenance from here on out.
"You need four to five inches of length, with the sides slightly shorter than the back," says Mills. "If your hair is thicker then ask your stylist to take some weight out to give it some movement, and so that it doesn't sit flat to your head."
To style, use a small amount of mousse on damp hair and either blow dry or leave to dry naturally. Then, use a styling cream to finish.
---
The Chalamet
What to ask for: A classic layer cut blended at the sides
Who it suits: Thick wavy or curly hair
What it is: A classic Timothée Chalamet, which Mills says is the ideal starting point for guys who are just starting to embrace longer curls.
The explosion of ceramic hair straighteners around the turn of the millennium convinced us all that curls were something which needed taming. Thankfully, this is no longer the case. Mills recommends that you start by growing the top at first, keeping the back and sides at "an inch to two-and-a-half inches and blended in as much as possible in a classic layer cut."
"The top is probably three times longer than the sides, with the curls pulling the length back in, but if you're growing it out ask your barber to leave as much as possible," he explains. "You can then grow the back and sides gradually." To add sheen and tame any frizz, use a touch of styling cream.

---
Medium Curls
What to ask for: A round layer throughout
Who it suits: Medium to thick hair, square or oval face
What it is: Where you'll be a few months in, when your curls start to elongate and fall down around your face. As Oakley points out, this cut is "pretty much identical in length and in shape to Adam Driver's" – a round layer throughout with some of the weight removed from the top where necessary.
To get Kit Harington's casual swept-back style, use conditioner and hair cream after washing. Leave it dry naturally, being careful not to touch it while your curls set.
"When it is completely dry it might look very shiny and a touch crispy," Oakley continues. "To get rid of that Eighties DeBarge look, rub some Ruffians Matt Clay into the hands and run it through the hair." This will break up any crunchiness while adding hold.
---


Longer And Messier
What to ask for: A universal layer with more length at the front
Who it suits: Medium to thick wavy hair
What it is: Easy maintenance with tonnes of texture.
Dev Patel is cold, hard proof of the magic of grooming (see: his unbelievable glow-up from awkward TV sixth-former to Oscar-nominated heartthrob). If his tousled, textured mop looks effortless, that's because once you've got the required length, it mostly is.
"This is what we call a universal layer," Mills explains. "It's about the same length all over – four to five inches on top and three to five inches on the sides, but with more length towards the front."
The key to this style is movement. "If you've got very thick hair you'll want some of the weight taken out of it, making sure sure it's soft around the edges with the back cut into."
Once you've got the cut sorted, all you need is a touch of curl-enhancing cream before air drying. Mills recommends Kevin Murphy's Motion Lotion, though Patel has admitted he uses facial moisturiser.
---
Short Braids
What to ask for: Box braids
Who it suits: Those with suitable scalps
What it is: A protective style that looks slick
Braids and cornrows are great for protecting afro hair during the colder months, when biting winds wick moisture out of the hair, but they've also made a style comeback in recent years thanks to the likes of A$AP Rocky and the late Nipsey Hussle.
Mark Maciver says: "The first thing to consider is if you have any scalp conditions, such as a tender scalp or alopecia, as a style like plaits could actually cause more damage to your hair".
"Booking a consultation with a hairdresser will help to identify this. They'll also be able to advise whether your hair is capable of achieving the style." If your scalp can handle the tension, ask your stylist for simple box braids all over.
Shannon Currie, who works with Maciver at SliderCuts, says: "Your hair needs to be at least three inches long to achieve a neat plait without the use of elastic bands, and at least six inches long to achieve the A$AP Rocky style." Wear a durag to bed and keep your scalp moisturised with a coconut or avocado oil-based product.
A word of warning: braids on white guys are definitely not fly. If David Beckham couldn't pull it off, neither can you.
---
Jesus Waves
What to ask for: A layered cut, straight across the back
Who it suits: Wavy hair
What it is: Sleek with serious length
This is what you get when you bide your time, follow a dedicated hair maintenance regime, and maybe throw in a few prayers to the hair gods every now and then.
"It's a great haircut," says Mills. "It's cut straight across the back and then through the front it's got some layers to give it that softer textured feel. It's very sleek, very groomed."
Mills adds that this is a style that works for any length of hair once it's past the shoulders, and suits all hair types from fine to thick. To get Jared Leto's signature Seventies folk singer look, use a pomade to define your natural waves. You can air dry, but Mills recommends going for a full blow-out when you want to seriously impress.
---
Long And Natural
What to ask for: One length all over
Who it suits: Thick hair with a strong wave or curl
What it is: The holy grail of long hair.
Jason Momoa's hair is the stuff of legend: sun-kissed and shoulder-length with stronger waves than the ones that toppled Atlantis.
"I've worked with Jason and I know his hairdresser, it's super low-maintenance," says Mills. "This is just a classic one-length haircut, all of the hair is the same length." It goes without saying that this is a style which requires thick hair, preferably with a strong curl. "Then, all you need to use is just a bit of conditioner, towel dry it and whack some grooming cream in there."
Like this article? Sign up to our newsletter to get more delivered straight to your inbox
SIGN UP
This content is created and maintained by a third party, and imported onto this page to help users provide their email addresses. You may be able to find more information about this and similar content at piano.io
Sours: https://www.esquire.com/uk/style/grooming/a31990236/best-long-hairstyles-men/
25 BEST Hairstyles For Young Men To Have in 2021
Men's messy hairstyles have the unique gift of being able to look like you haven't bothered with your appearance at all, while also being incredibly well put together. There is much to be said about nailing the perfect messy hairstyle look, as there is a most definitely a difference between 'just got out of bed' bed hair, and messy hair created using hair styling products.
The great thing about messy hairstyles for men, however, is that they don't discriminate by hair type or face shape. Guys with curly hair, straight hair, wavy hair, thick hair and thin hair can all take advantage of off-duty casual cool messy hair, and every one of the men's messy hairstyles available to guys today will look different to the next. You'll even achieve a different look each day you style your messy hair too, making messy hairstyles the perfect option if you like to change up your look regularly.
How To Ask Your Barber For A Messy Hairstyle
If you've decided messy hair and one one of the many messy hairstyles is for you, then you'll need to let your barber know how you intend to style it once you leave the barbershop. Rather than cut your hair to exact proportions, or in straight lines, they should add texture to your hair by point cutting it. Point cutting is the best way to achieve texture for messy hair, as it sees the hair cut at the tips, but to differing lengths. It's a far better option than using thinning scissors.
You will, however, need to let the barber know the rough hairstyle you're going for. Whether it be a side-part, pompadour, crew cut, or whatever other men's hairstyle you can think of, your barber does still need a little bit of guidance.
How To Style Men's Messy Hairstyles
We may have said it for some other hairstyles, but there really is no right or wrong way to style the array of messy hairstyles featured on this list. The object is, of course, to end up with messy hair. For the vast majority of these messy hairstyles, there is still a degree of maintenance required – you can't just literally wake up and get on with your day, unless you're deliberately going for a bed head look – so arming yourself with a selection of quality hair styling products is still a must.
As a general rule, you'll just want to gather a small amount of your chosen styling product in your hands and work through towel-dried hair from root to tip. If you have slightly thinner hair, you can enlist the help of a texturising spray, or sea salt spray to give some extra thickness and volume. The extent to which your messy hair looks messy is, however, entirely dependent on you. The beauty of messy hairstyles is that they can easily be manipulated throughout the day – if you use a light to medium-hold styling product – without anyone really noticing.
Best Messy Hairstyles For Men
So, what are some of the best messy hairstyles for men? Read on to find out.
Short Messy Hair
A vast majority of men rock short hair. With an abundance of short hairstyles for men available, it's possible to make virtually all of them look messy, as opposed to their traditional sharp and pristine appearance. In fact, short messy hair is pretty much a rite of passage for guys everywhere, with many of us rocking some sort of short messy hairstyle from an incredibly young age.
RELATED: Most Popular Short Hairstyles & Men's Haircuts To Have In 2021
You will still need a good few inches of hair length before you attempt short messy hairstyles – you can't exactly mess up a buzz cut for example – but all you need to do is apply a styling paste or matte-effect styling product through some towel-dried hair and leave to dry to get the messy hair look.
You can choose to finish your short messy hair with a light spritz of hairspray if you wish, to hold it in place, but part of the charm of short messy hair is that it can be played with throughout the day. As we mentioned earlier, you'll want a medium-hold hair product to be able to do this, as a strong-hold product will make the hair too tricky to manipulate.
Medium Length Messy Hair
Medium length messy hair is an incredibly popular choice among messy hairstyles. You'll see medium length messy hairstyles at the beach, in the club, at the office, pretty much wherever you go. Medium length messy hairstyles are the pinnacle of casual cool. The hair can be left to hang free if you wish, or you could even experiment with sweeping it back towards the back of your head – we won't give our opinion on Alice bands, but this is one hairstyle that can suit them – and, as with short messy hairstyles, all you need to do with work some product through it.
Gels, pomades and matte-effect products are all par for the course here, as medium length messy hair can look great with some shine to it, for an effective wet look. Once again, you'll want to avoid styling products that have a strong hold, as they could cause your hair to thicken too much to the point where you can't change your messy hair look throughout the day.
Long Messy Hair
A beach-inspired hairstyle if ever there was one is long messy hair. A men's messy hairstyle that can look incredible when left to its own devices, but even better with the aid of a small amount of styling product such as a mousse or texturising sea salt spray. Long messy hair has the ability of showing people you don't completely care about your appearance, while also indicating you know how to look your damn finest.
RELATED: Men's Long Hairstyles That Will Give You Follicular Envy
If your hair is naturally curly or wavy, you can get away with not doing a lot to make it look messy. If you have long straight hair, however, you'll need to enlist the help of some styling products and potentially a hairdryer to help make things look a little more roughed up around the edges. Spray a liberal amount of texturising or sea salt spray onto your locks and scrunch it through and leave to dry naturally (you can also use a hairdryer to help speed up the process) and you'll have yourself a delightfully disheveled day-long messy hairstyle look.
Bed Head Messy Hair
Ah bed head. The way your hair naturally looks as soon as you wake up, bed head is, for some, the epitome of laidback messy hairstyles. In our opinion, truly great bed head is only enjoyed by those with longer hair, as short hair can easily see your mane look incredibly untamed and a little too out of place for public showing. Therefore, guys with medium-length hair or long hair that reaches their shoulders can get by with waking up and barely doing a damn thing.
RELATED: How To Rock Bed Hair Without Looking Like You've Given Up On Life
Pompadour and Messy Hair
Traditionally, the pompadour is a hairstyle that requires not a single hair be out of place. Dating back to 18th century France when it was first adopted by Madame de Pompadour – yep, it started off as a woman's hairstyle – but when men started seeing its potential as an Uber-stylish hairstyle, with notable alumni including Elvis Presley, it became cemented in men's hairstyle history forever.
But, as we said, traditional pompadours call for precision, making the messy pompadour a men's messy hairstyle for the rebellious rockstar types. Equally as stylish and still exhibiting traits of the classic pomp, a messy pompadour can be styled in a similar way to its classic counterpart. This means using a hairdryer to give your hair some natural volume and lift, before using a styling product to work through and mess it all up. A liquid-based styling product will serve you better here, such as a gel or wax, as it will allow for greater movement through the hair.
Blowout and Messy Hair
A blowout hairstyle by its very nature could already be considered messy, but there are always ways to make it even messier. The aim with a messy blowout hairstyle is to make your hair seem as though its the byproduct of some time spent in a wind tunnel, while still giving off the illusion of 'it's meant to look like that'. You'll need some good hair length to achieve an effective messy blowout hairstyle, around medium-length. This isn't really a hairstyle you can rock if you have hair touching your shoulders, for example.
To style a messy blowout you'll need, unsurprisingly, a hairdryer. Some light to medium hold styling product will be your friend here, work it through your hair and use the hairdryer to set it in place. Experiment using various holding strengths, as you may find a light hold product is best for you so that you can easily restyle throughout the day. Some may prefer a stronger hold so that their hair stays in place. Ultimately, go wild with the look, the messier the better.
French Crop and Messy Hair
The French crop is a men's hairstyle essential. One of the most stylish and popular men's short hairstyles, the French crop is one that can suit a wide majority of face shapes and hair types, making it one you really need to try at some point. While some men like to have their French crop styled oh-so perfectly, being combed forward in dead straight lines and having the fringe blunt cut to millimetre precision, others can opt to have it messed up.
To achieve a messy French crop, you may find you'll need a little bit of extra hair length on top of the head compared to if you wanted to make it much cleaner, as it'll allow you to introduce greater texture. You'll also want to have the fringe point cut instead of blunt cut to help continue the messy trend, with your hair being able to be manipulated and moved in various ways. A matte-effect hair styling product is our recommendation here, as a shiny French crop will look more formal than its messiness would infer.
Side Part and Messy Hair
Despite its highly formal associations, the side part is another men's hairstyle that can be messed up to great effect. Yes, even though it is traditionally a hairstyle formed using a shiny wax or pomade and coupled with the likes of black tie dress, the side part can be given the messy treatment simply by changing the hair product you use.
Matte-effect hair styling products are the best friend of most messy hairstyles, which is especially the case here. Again, it helps if you have a good few inches of hair length here to help exaggerate the messy style, and a great example of how to rock a messy side part would be to introduce a hart part, with the smaller section of hair being cut relatively short. This leaves the larger section of hair to be swept across the head, and the extra length and messy style will create incredible contrast.
Faux Hawk and Messy Hair
The faux hawk is a popular men's hairstyle for good reason. It shows you have a slightly rebellious nature to your personality, being inspired by the punk-tastic mohawk, but it doesn't require you to shave off all the hair around the centred hairstyle. It's the fact this sacrifice doesn't need to be made that makes the faux hawk such an appealing hairstyle. And, while a conventional faux hawk hairstyle doesn't need to be preened to perfection, it can most certainly be messed up.
It definitely suits it too, and as with conventional faux hawks, if you can draw extra attention to the central part of the hairstyle, the better it will look. This means you'll want to consider incorporating a fade of some description. The length, or point where the fade begins, is entirely up to you, although we'd recommend steering clear of a high fade as it'll veer into mohawk territory. Taking the longer section of hair down the middle of your head, use a matte-effect styling product once again to mess it up, while still styling it as forward as possible.
Messy Hair for Thick Hair
Because of its very nature, messy hairstyles for men are easier to achieve for guys with thinner hair. It's easier to work product and your finger through, without the risk of your hair becoming entangled in itself. This is a problem that can be posed by thick hair. If you apply too much hair styling product then your hair can become one thick hairball mess, which nobody really wanted. Instead, to achieve great messy hair, apply a pea-sized amount of product to your hair. If you feel like you need to add more after this, you're free to do so, but you can't take any away.
Applying your hair product to the roots of your thick hair, as opposed to the entire hair strand, will give it some extra volume – the root will be standing proud, while the rest of your thick hair flows naturally – making this a good hairstyle option no matter the occasion.
Read Next
Did you enjoy this story?
If so, subscribe to our daily newsletter to receive our top tending stories.
Sours: https://www.dmarge.com/mens-messy-hairstyles
For guys hairstyles
Haircuts for men can be classic or trendy, depending on the variation and of course how you style it. Whether you want a low-maintenance cut that's truly washed and go, or you seek a flattering hairstyle that's stylish and handsome, we've got you covered.
Take a look at the best haircuts for men that we've lined up. Why not go bold and make head-turning mens haircuts this season?
On-Trend Short Haircuts For Men
Get inspired for a new look this season. The following men's short haircut ideas flatter a variety of face shapes, hair types, and lifestyles. See our gallery and find a cut that suits you this fall.
Crew Cut Mens Hair
Always a striking and classic choice, the crew cut is a cropped men's style that can be left as long or as short as you'd like. Whether you slick it back or spike it, a crew has endless potential.
Featureflash Photo Agency/Shutterstock
Buzz Cut Male Hair
If you're the type that would rather throw caution to the wind and opt for a men's cut that does all the work itself, a buzz cut is for you. No fuss, zero effort, and entirely sexy and cool.
Undercut Guys Haircuts
Pay homage to the skater days with a stylish undercut. This cut has lots of variations and is an excellent choice if you want to leave some length to work with.
Disconnected Undercut
A disconnected undercut is classic and cool. In fact, once you add detailing such as a hard part, this popular style keeps evolving into something more dapper. If you're new to a disconnected style, be sure to visit a talented stylist who specializes in this men's haircutting trend.
Source: @mensworldherenkappers via Instagram
Butch Cut
Men who feel confident in themselves prefer not to hide behind their locks, opting for extremely short men haircuts. If you are one of them, go for a butch cut, which implies trimming almost all of your hair off.
Featureflash Photo Agency/Shutterstock
High Fade Hair Cut Styles For Men
A high fade is considered a popular military cut. The shortest part of the hair is taken high and then blended with just a bit more length on the side. It's all about the fade technique, especially if you have dark hair. Be sure to visit a reputable barber or stylist for a high fade.
Source: @meha_barber via Instagram
Low Fade
A low fade is a versatile take on the high fade style. Instead of shaving hair high and tight, your stylist will leave a weight line that adds interest and shape to the style. You can jazz up this popular haircut for men with lines and unique designs.
Source: @f4fade via Instagram
Mid Fade
If you're seeking a style that can meet in the middle, why not opt for a medium fade cut? This tapered style is a good starting option if you can't decide between long and short mens haircuts 2021.
Source: @f4fade via Instagram
Nothing looks quite as cool as a side part, especially when it's paired with a low fade, medium fade, or high fade men's cut. You can have your stylist make a large line or a fine line, and you can go back as far as you'd like. Keep your hair in place and define your hard part with a wax or styling gel.
Source: @alexthegreatvivar via Instagram
French Crop Men Hairstyle
An attractive hair style for most men's hair types, a French crop is similar in fashion to the iconic Caesar cut. The main difference between the two is that a French crop is left with a little more length on the top, increasing the styling options.
Source: @ryancullenhair via Instagram
Caesar Haircut
A Caesar haircut is a unique choice if you want a crop with a little more versatility. Rather than a full-on buzz cut, the Caesar cut is tapered on the side and paired with horizontal bangs. Seize the day with this cut, it's suitable for most face shapes and guys with big foreheads!
Source: @sirpaulcharles via Instagram
Taper Haircut
To complement a brushed up hairstyle, all kinds of tapers work perfectly. If you want to achieve a sharper look, then go with a high skin taper haircut whereas for a more low-key appearance, you should opt for a low taper.
Asymmetrical Layers Men Hair
Cutting your hair in different levels of asymmetrical layers is highly beneficial for both thin and thick hair men. For guys with thin tresses, it creates an illusion of a fuller and more voluminous mane, whereas men with thick locks will get a lightened hairstyle without sacrificing the body and thickness of their thatch.
Source: @hayden_cassidy via Instagram
Blowout Haircut For Men
There is no doubt that with a blowout haircut you will look stylish and eye-catching. This style gives your look an effortless and relaxed air yet does not seem overly unkempt or careless. To bring more edge to it, you can dye your hair in a contrasting color and complement the sides with an undercut fade.
Source: @sidsottungacademy via Instagram
Military Guy Haircuts
Really cool haircuts for men if you have thin hair are those that can be adjusted to match any ambiance. Thus, you can brush back your long top and end up with a perfect military hair look.
Two Level Haircuts
This contemporary take on the two level haircut guarantees that you will be in the spotlight wherever you go.
Source: @hayden_cassidy via Instagram
Undercut Fade Men's Hair Styles
Guys with thick locks may find an undercut fade a particularly beneficial hair look. As it removes bulk from their hair, it becomes much easier to style and maintain. Though, the thick top still allows you to show off your luxuriant mane. No matter how you style it, you can rest assured that your hair will never go unnoticed.
Source: @ryancullenhair via Instagram
Buzz Cut Fade + Line Up
For a long time, buzz cuts were regarded as rather utilitarian short haircuts for men. But, with the rising popularity of faded mens haircuts has brought us, a buzz cut has transformed from only practical to also attractive. Any kind of fade (drop fade now) can make a buzz cut look edgier and sharper thanks to the contrast it creates.
Source: @sirpaulcharles via Instagram
Skin Fade
Skin fade is another way to add some more drama to your outlook. The truth is that this type of hair fade does not involve much hair at that point since the cut is actually incorporated into your skin. The best way to pair such a fade with would be with a short to medium hair on top and quite sick facial hair.
Source: @sidsottungacademy via Instagram
High Top Fade Haircuts For Men
With the high top fade, you will not only easily achieve a contrasty and bold look but also adjust your facial features. This style will make your face look longer and traits appear sharper. And in general, you will seem taller. As a high top fade gives you such a clean-cut look, you can go for any facial hair style you like. Even a full coarse bead will not be able to ruin it.
Short Crop Top Fade
Short haircuts for men are a popular choice among those guys who value their time, as they do not require much styling or maintenance. Thus, opting for a short crop top will save you a lot of time and effort. Still, if you want to get a pronounced and eye-catching appearance, give the top a textured cut and complement it with a fade on the sides and back.
Source: @glassboxbarbershop via Instagram
Ivy League Men's Haircuts
The Ivy League haircut has been in style for more than a century, not for nothing. Remember the good old crew cut? That's another version of the classic men's haircut. This time, the hair on top is left significantly longer, allowing for sleek and side-parted styles. Such an idea will work for anyone from a college graduate to a businessman, and, needless to say, that's why it's one of the most popular mens haircuts.
Brushed Up
Give your hairstyle a playful twist by brushing it up and spiking up the ends.
Source: @mikes_custom_kuts via Instagram
Feeling like a fashion-forward guy? Then why not try to pull off several trendy hairstyles in one look? Get your sides undercut to provide much contrast for your ample quiff. To give it a stylish touch, sweep the quiff to the side, and rake with your fingers for added texture.
Asymmetrical Haircut For Men
The crop is surely one of the best short haircuts for men. The thing is that out of all mens hair cuts textured crop is that one that grants you trendy look without lots of styling involved. It is certainly a winning option for busy men.
Source: @ryancullenhair via Instagram
Faux Hawk Men's Hairstyle
Edgy men's short haircuts are not that many, but faux hawk fade is undoubtedly one of them. The thing is that with that dramatic hint the cut still remains quite reserved. That means that with one cut you can kill two styles!
Source: @ryancullenhair via Instagram
Flat Top Haircut For Black Men
With the creativity of natural-haired barbers, the world of black mens haircuts is changing with lightning speed. Still, there's one constant haircut that seems to never change or become outdated. The flat top, where the hair on top stands outright, is the calling card of men with a good taste.
Source: @mikes_custom_kuts via Instagram
All Over Curls
If you were blessed with curly hair, then you are extremely lucky. Although this hair type is not particularly easy to maintain, it looks intricate and attractive when styled in a proper way. Yet, should you want to simply embrace your curls, you are very welcome to do so. Go for an all-over curly perm mens style to show off your hair texture at its best.
Although originally a crew cut belongs to short hair cuts for men, you may customize it in any way you like. For instance, you can go for longer hair on the top while tapering the sides. Such a combo will help you create a contrasty and bold look without any ado.
Source: @egobarbers via Instagram
Spiky Mohawk Fade
It is hard to imagine any other haircut paired with a mohawk fade. Not only does it instantly shift the focus to your hair atop, but it also gives you plenty of haircut options. You can get the sides faded to the skin for a sharper look or leave some hair instead to incorporate a hair design.
Source: @shrunknheads via Instagram
Wet High And Tight Haircut For Men
Another short haircut men seem to never stop rocking. Just like the buzz, this cut has a military origin. But when it comes to men's fashion, nothing stands still, and the high and tight idea is no exception. Today, you can pair the cleanly shaved sides with a textured top, thus keeping the look neat yet striking.
Source: @hairraribarber via Instagram
High and Tight Fade Military Haircut
A high and tight is one of the most popular military haircuts for men for good reason. It offers you practicality and low-maintenance teamed with a virile and daring appearance. As it allows you to show off your facial features, it makes a strong fashion statement. If it still seems not edgy enough for you, complement it with a fade on the back and sides then.
Source: @ kevinelezaj via Instagram
Brushed Up And Back Curls Hairstyle
Curly locks can easily be tamed with such elegant and sophisticated hair styles for men as brushed back. Yet, you do not want them to look flat or volumeless. Thus, you should brush your hair up first to amp up and then only brush it back.
Silver Curls & Undercut
One of the best ways to tame your unruly curly tresses is to go for a short cut with silver hair color. It does not mean that you are going to sacrifice your hair texture though. Instead, when you choose a short on the sides, long on top hairstyle, it allows you to make the hair up top the focal point of the whole look, thus keeping your curls in the spotlight.
Source: @ryancullenhair via Instagram
Thick Short Curly Hairstyle
If you want to put emphasis on your curls, then it is hard to think of a better option than a short curly hairstyle. Yet, make sure to choose the right hair product to style it. A texturizing pomade or cream will do the job of accentuating the texture of your hair and keeping it secured.
High Fade Pompadour
A pompadour is a classic hairstyle that will arguably never go out of fashion. Yet, if you want to bring it up to date, there are multiple ways to do it and a fade cut is one of the most popular. Depending on how striking or soft you want it to look, you can opt for different fade haircuts for men. Yet, for the most salient look, go for a high fade.
Source: @hayden_cassidy via Instagram
Although a faux hawk removes much less hair from the sides than its counterpart, a mohawk, you can still incorporate some bald skin there. Just instead of a shadow fade, consider a bald fade, which is achieved by shaving the hair on the sides of your head to the skin.
Source: @alexthegreatvivar via Instagram
Edgar Haircut
Those who have been considering a fringe haircut might want to start with a textured crop. As it only features a short fringe that blends with the rest of the hair on top, it will not be difficult to pull off. However, if you want to emphasize it even more, get the sides faded. For an ultimately edgy Edgar haircut look, a high skin fade will do you a favor.
Source: @ryancullenhair via Instagram
Wet Spiky Quiff Men's Hairstyles
To pull off a quiff, you do not have to grow your hair long. It can actually be as short as you like. Just make sure that your locks in the front are long enough to be styled up and you are good to go. A skin fade is what will give this look definition and contrast.
Source: @alexthegreatvivar via Instagram
Short Textured Haircut For Men
It is hard to think of a better option for guys who choose easy to style and maintain haircuts for men than a short textured cut. For styling, you will just need to apply some texturizing hair product to the top and for touch-ups, you can simply tousle your locks with a hand.
Source: @meha_barber via Instagram
Highlighted Faux Hawk Undercut Fade
There are so many ways to spice up a faux hawk that it can literally make your head spin. So that it will not happen, why don't you start with a haircut that has gained large popularity lately – an undercut fade? While creating a tidy and clean-cut silhouette, it also lets your quiff take center stage.
Source: @ryancullenhair via Instagram
Slicked Back Wavy Men's Hairstyle
If you naturally have wavy locks, then a slick back hairstyle is just made for you. While it will help you to tame those unruly tresses, it will also not take away from their definition and texture. Thus, you will be able to display your waves and look dapper at the same time.
Source: @londonschoolofbarbering via Instagram
Silver Messy Spikes Hair Styles For Men
To give your appearance a daring and ruffian vibe, go for a messy spiked up hairstyle. So that the top becomes the focal point of the whole look, complement it with a skin fade on the sides and back and get the spikes painted in a contrasty trendy color, such as silver gray.
Source: @ryancullenhair via Instagram
Men's Medium Hairstyles
See below the hottest men's medium length hairstyles that popular right now.
Bro Flow Eboy Haircut
A bro flow is one of the most popular mens hairstyles for good reason. It allows you to flaunt long tresses while looking office-appropriate.
Mid Length Curly Hair Fade + Line Up
One of the best ways to show off the curly texture of your hair is to grow it out long. However, long curls may be quite difficult to tame. So that they appear neat and tidy, get the sides faded. A line up will help you to make the look more defined.
Source: @nickthebarber via Instagram
Curly Angular Fringe
One of the best ways to pull off a curly men hairstyles is to make it angular. When cut this way, it does not require much styling, if any. You just can tousle your locks with a dollop of a hair styling product after washing them and leave to air dry.
Textured Bowl
There are many ways of how you can make your bowl cut look more classy and modern. If you are up to drastic measures, then go for a skin undercut fade on the sides and back. In case you prefer to get away with intricate styling, then add some texture to the hair on top of your head using a hair styling product.
Regular Haircut
Whenever you are stuck with the choice of your future cut, go for a regular haircut. Simple and chic, it flatters any face shape and works for any hair type. What is more, it allows for various accompaniments, such as a taper fade on the sides or a hard part hairstyle for men.
Sours: https://menshaircuts.com/best-haircuts-for-men/
40 Hairstyles That'll DOMINATE In 2020 (Top Style Trends For Men)
See The Best Hairstyles and Haircuts for Men in 2021
Men's hair is anything but boring! From pomps to fades, and sideburns to beards, we've got a hairstyle for you!
Are you tired of your same old guy's haircut? Opt for something a little edgier like a fohawk. If you have longer hair and don't want to lose the hair on top of your head, go for a slick back, quiff, comb overs, or pompadour.
If you have thick hair, thin hair, or even graying hair, we've got hundreds of images for you to scroll through to find your next stylish cut and color.
In fact, you'll find the hottest styles (plus product recommendations and styling tips) for all hair lengths and types right here. Men's hairstyles are diverse, versatile, and easy to recreate.
Just be sure you visit an experienced barber when going for certain cuts like high fades because if there are any inconsistencies, they will be noticeable.
So before your next hair appointment, browse our collection of pictures of men's hair.
Sours: https://www.latest-hairstyles.com/mens/
You will also like:
What are the most popular men's haircuts and hairstyles for men? You will find them right here in this newly updated guide.
This is the best collection of men's haircuts and cool hairstyles for men. We have been very careful to select only best examples of all the latest haircuts we are seeing cut and styled by the best barbers in the world. Scroll down, find a new look, and then simply show the photo to your barber. Super easy.
Below, you will find the freshest men's hair ideas including short hair looks, medium to long hair length options, super cool fade haircuts. These are the latest and most popular men's hairstyles and trends that we are seeing in the best barbershops around the world.
In detail, we discuss the haircuts, the best men's hair products to use, and how to style them. And, we show you the most popular types of haircuts for men, as well as all the different types of fades your barber can give you.
These are the newest trends in fade haircuts, modern undercuts, pompadours in different lengths and styles, classic men's haircuts, cool comb-over haircuts, and the most popular quiff haircuts and crop haircuts.
There are more cool haircut styles for guys than ever before. Stay fresh, stay cool. Mix and match features, hair length, part vs no part, or fade vs tapered haircut looks. We are also seeing men's haircuts that show off longer hairstyles with movement and flow. If you have long hair or are thinking about growing it out, check out our ultimate guide to long hair for men.
Current trends are also showing natural-looking men's hairstyles that are styled with lighter hold and matte finish pomades. You can also use a blow dryer to get some exaggerated flow and extra volume to your hairstyle.
Although the trend is leaning towards longer hair and medium-length men's haircuts you will also find our top picks for guys that want short hair. Short haircuts are always popular because they are easy to manage and look clean cut.
Some of these looks below are fade haircuts which means your barber uses clippers to shave the sides and back of the head in a particular style. Other haircuts are entirely scissor cut all over including the sides and back.
If you have curly hair,wavy hair, or thick hair you will also find some great haircuts below. Got curls? Check out our complete guide to curly hair. We show you the best haircuts, and the best products to care for curly hair.
Top 100 Men's Haircuts + Men's Hairstyles
Okay, so let's dive in and take a look at the best haircuts for men and hairstyles for men that we have seen this year. 
Somewhere on this list, there is a brand new haircut and men's hairstyle combination for you to try out.
1. Cool Men's Haircut + Low Fade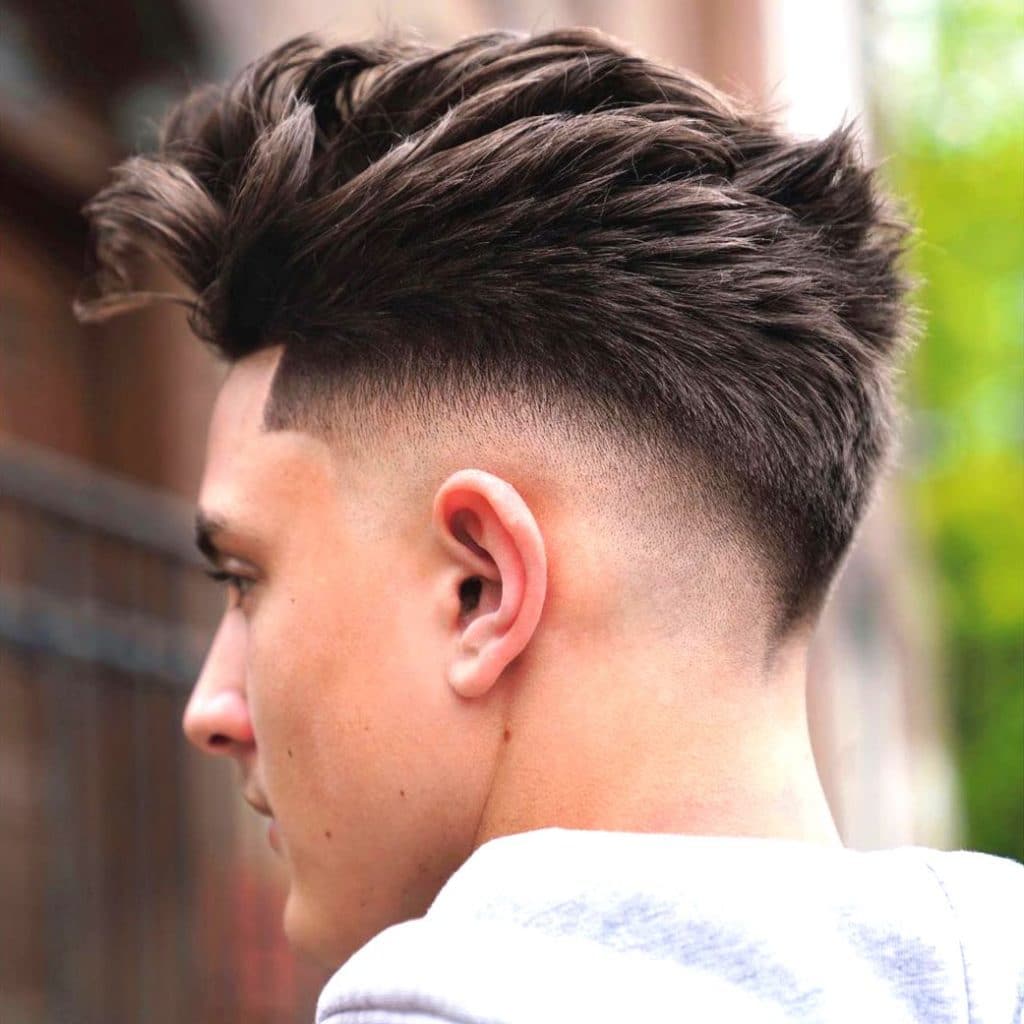 Zach Ramsey
This is a cool haircut for men that features medium textured hair and a low bald fade.
2. Medium Haircut For Men + Bald Fade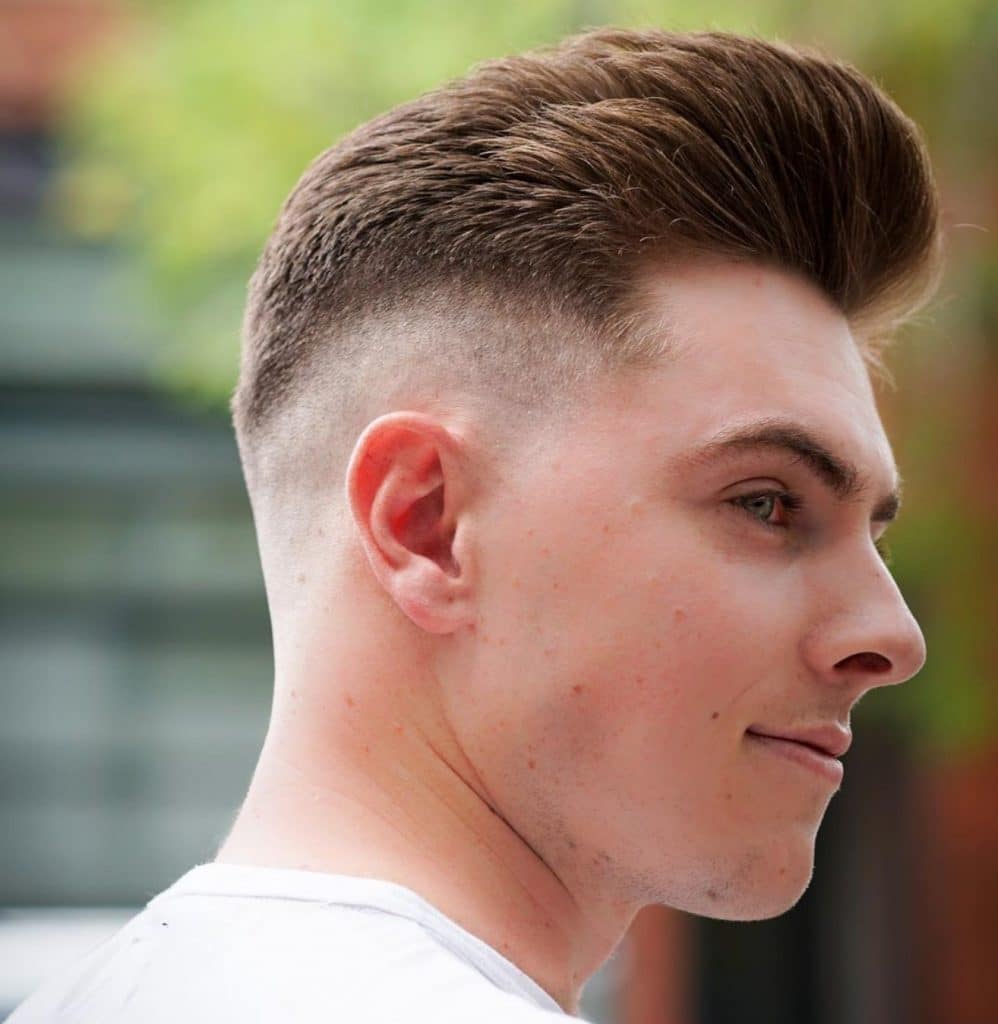 Barber Cole
This haircut features short to medium hair on top with shaved sides. A modern take on the pompadour.
3. Modern Slicked Men's Haircut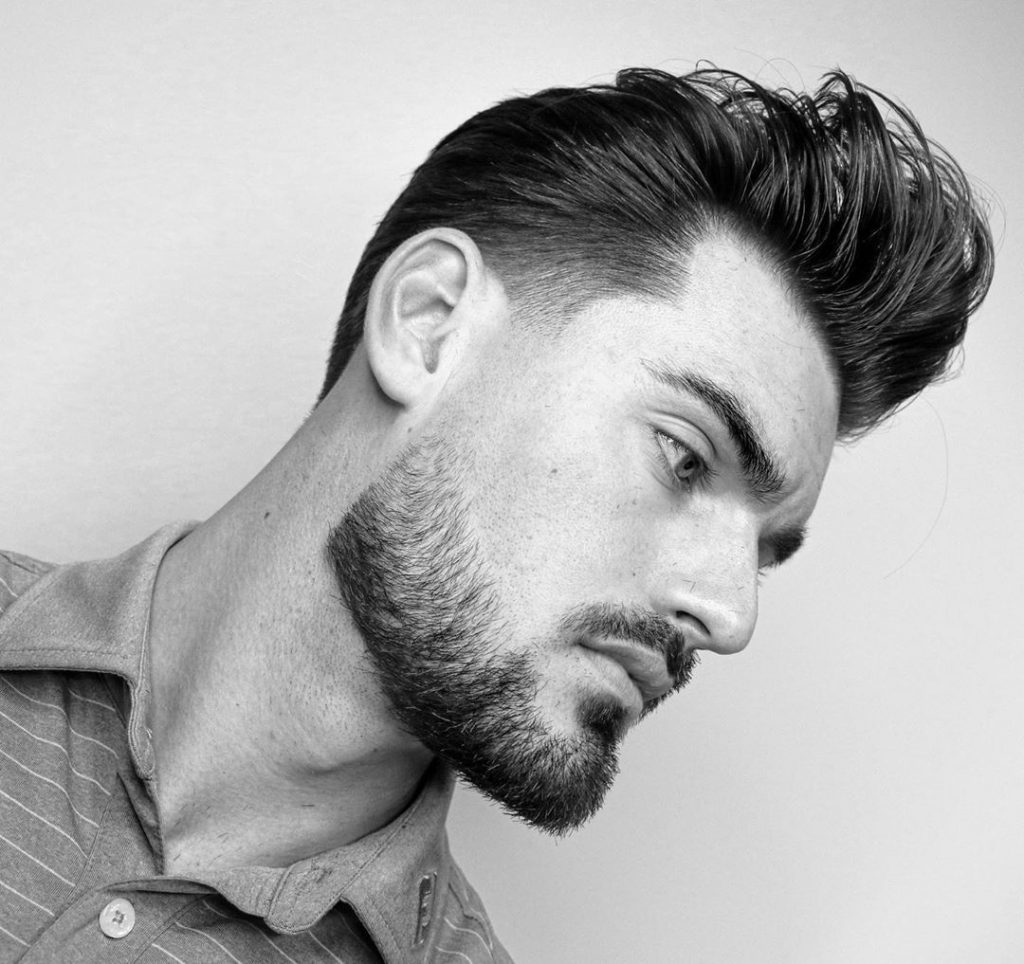 Barber James Beaumont
A great example of a classic slicked back look. But here the hair on top is left a bit more natural looking. This is not the traditional approach of styling with a shiny pomade. Rather the hair has been brushed back and blown dry with a hairdryer to give that natural flow and movement. Use a matte pomade.
4. Side Part Hairstyle For Men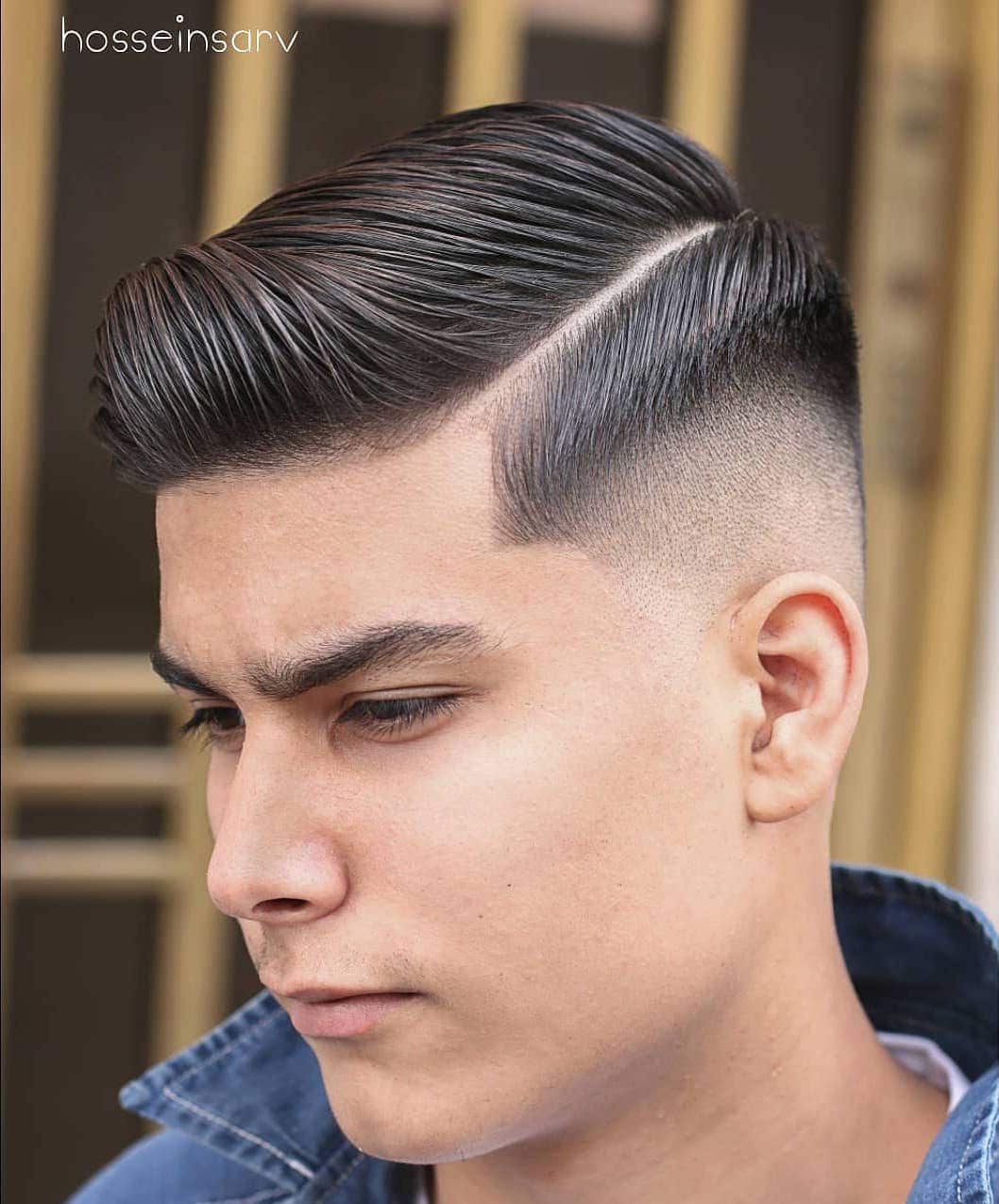 hosseinsarv
A great looking men's hairstyle with a side part. To get this look you will want to use a product that has a bit of shine. Work a small amount of a shiny pomade into damp hair. Comb into place. To get some extra body use a blow dryer.
5. Medium Length Men's Haircut + Bald Fade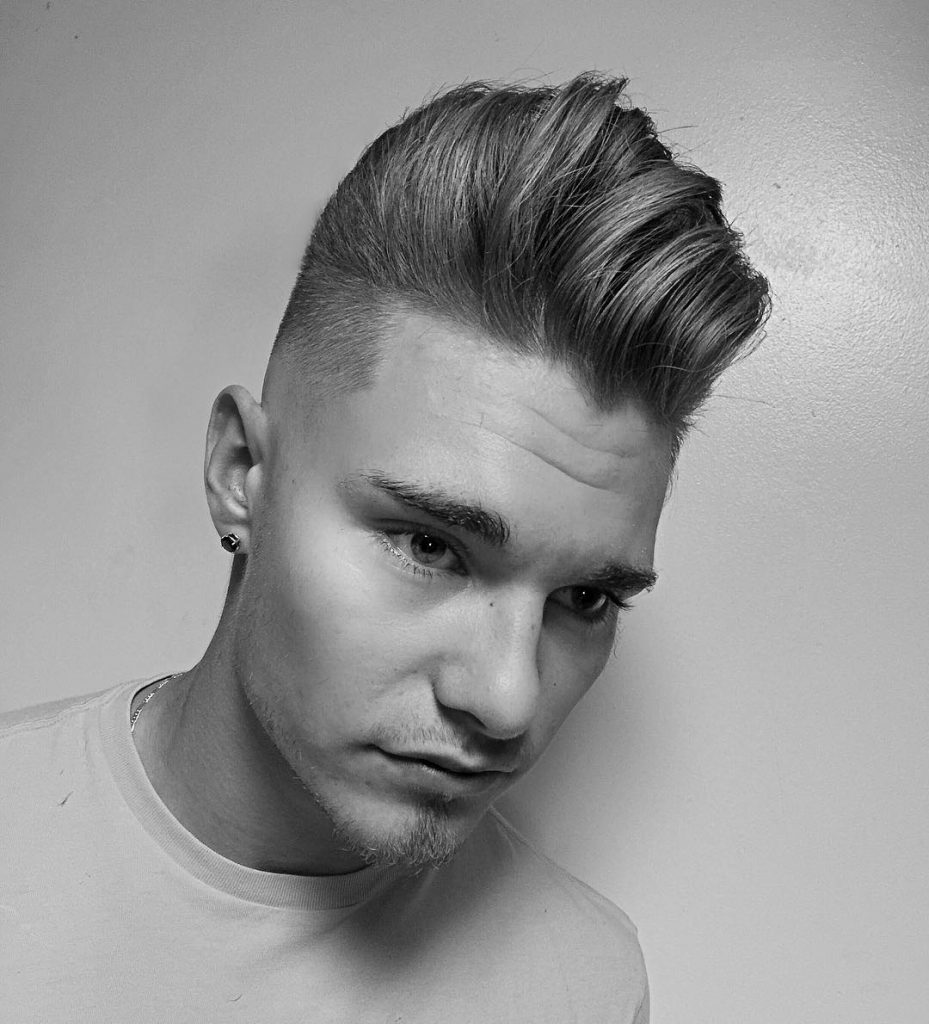 Mikey
This has been one of the most popular men's haircuts for several years. Shaved sides. Long hair on top. You need to use a blow dryer to get the tall big hair standing up on top. A great look for any type but works best with thicker hair types.
6. Cool Flow Tapered Haircut For Men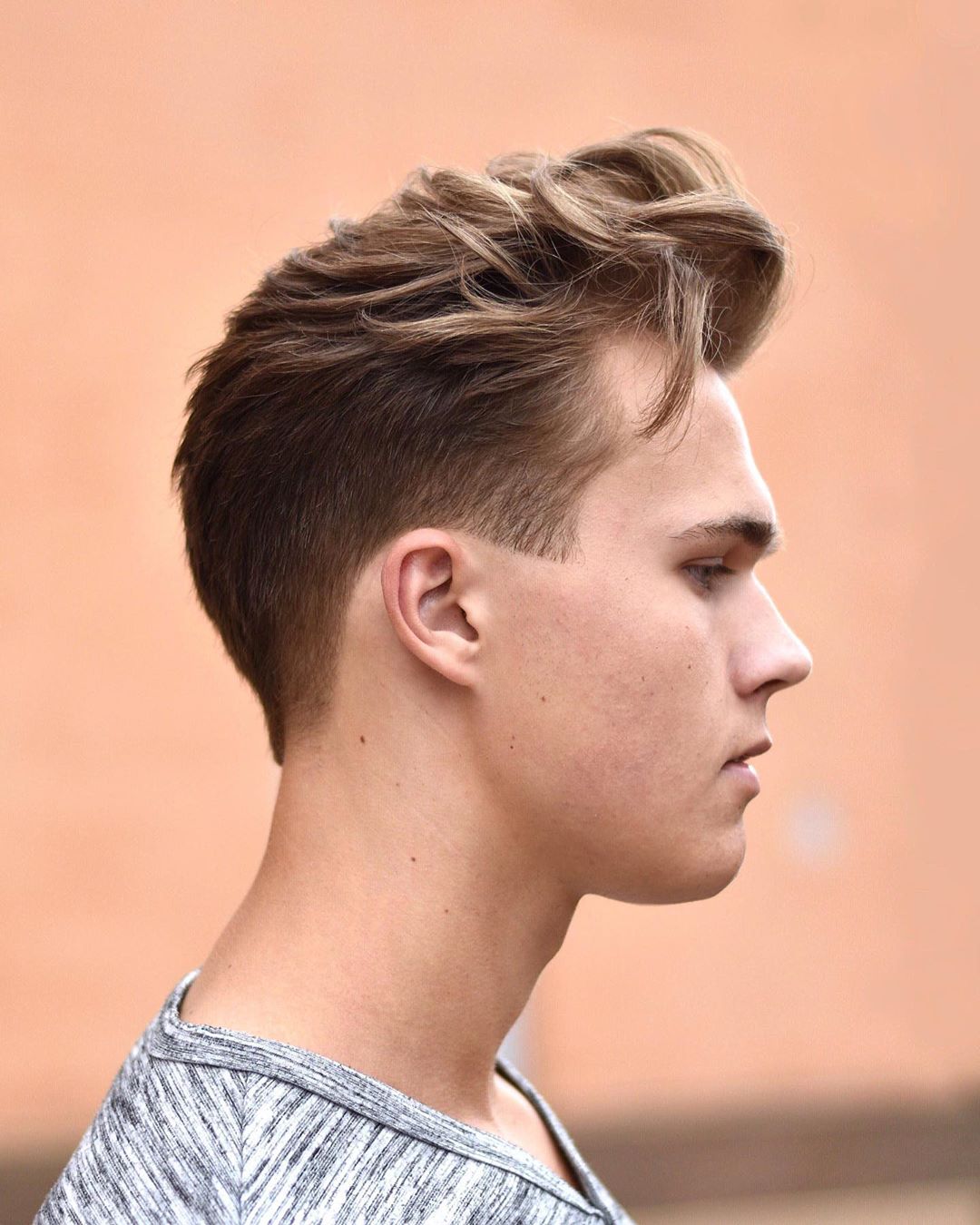 Iisakki Nummi
As we have said longer hair looks are in. More and more guys are growing their hair out longer on top. This is a beautiful scissor cut taper haircut for men with curly hair. It shows off some great looking flow and movement.
7. Short Textured Haircut + High Fade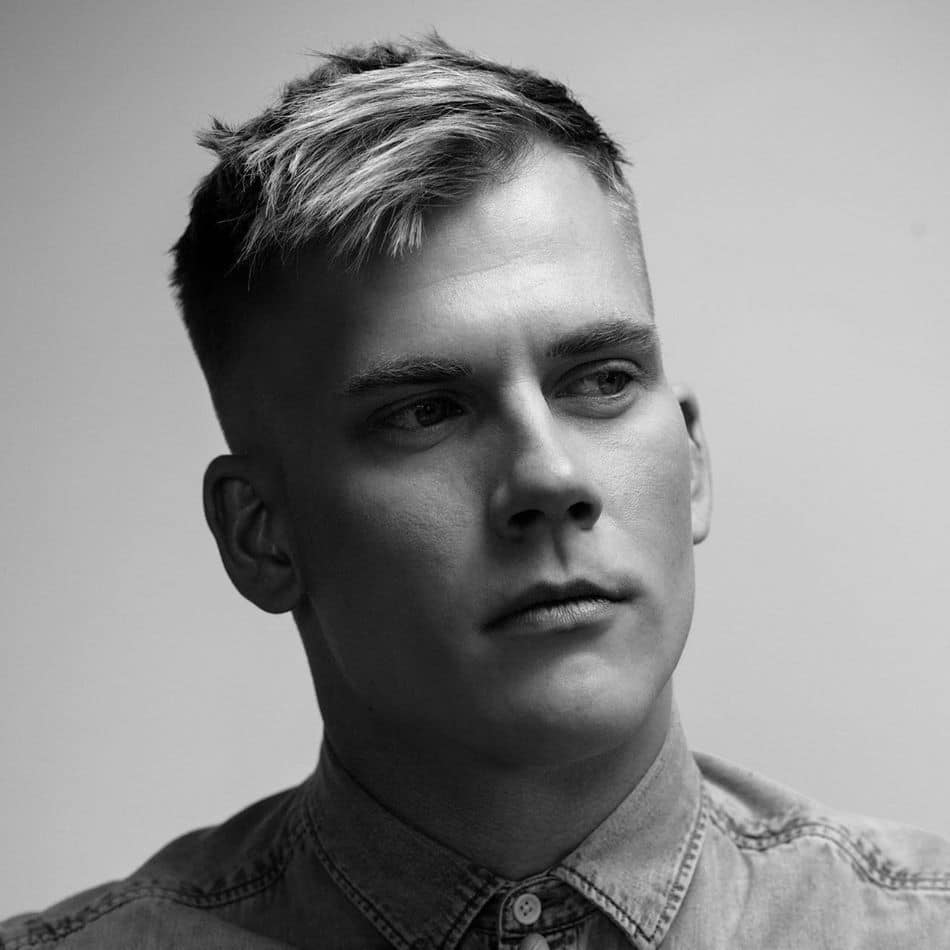 Whitney Vermeer
This is a great short haircut for men that can be styled in a number of ways. You can wear it slicked and neat for the office, or mess it up for a more edgy look when you go out on the town.
8. Long Hair Pompadour Hairstyle For Men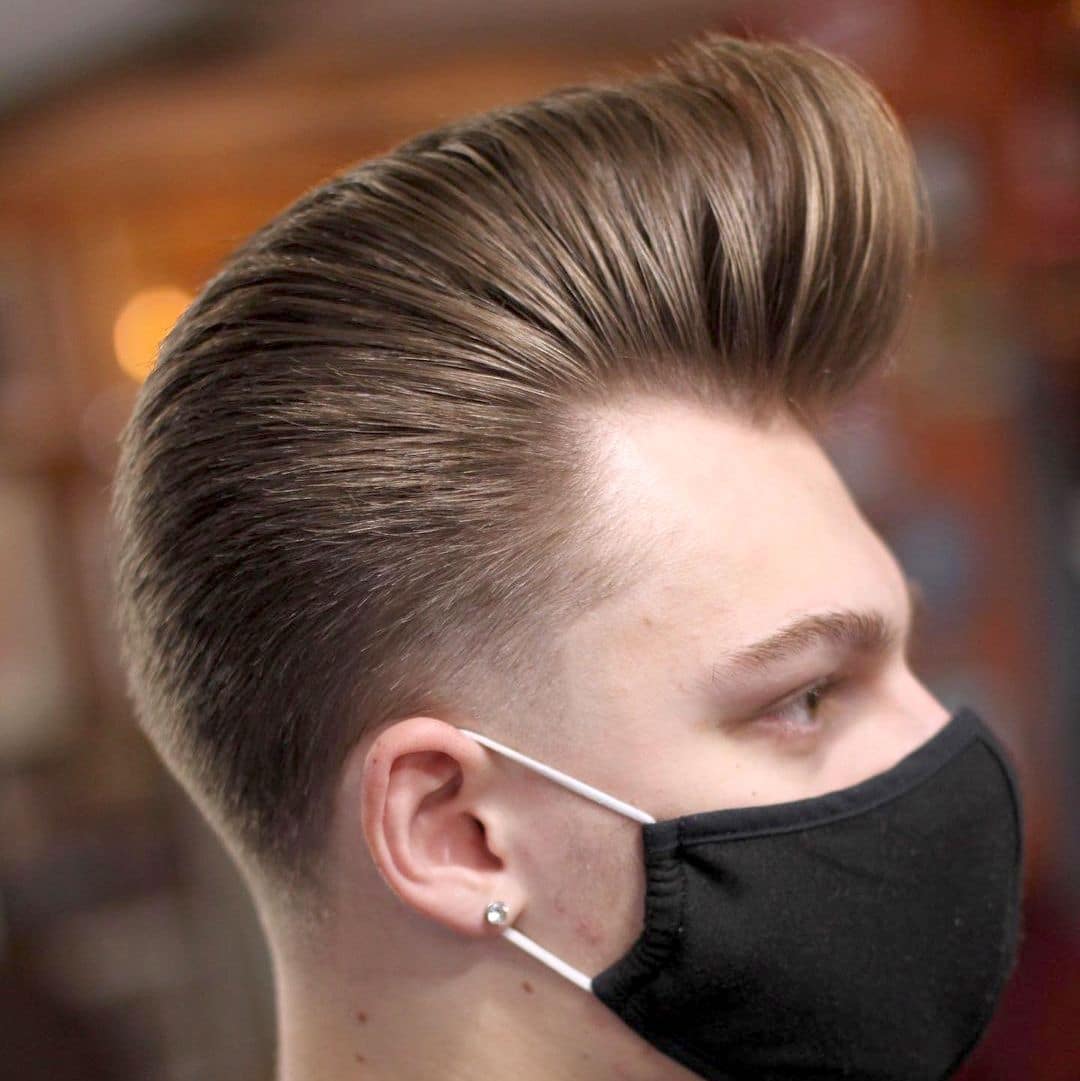 Curran Candage
Another great example of a cool pompadour hairstyle with short sides and longer hair on top.
9. Undercut + Messy Hair On Top + Long Fringe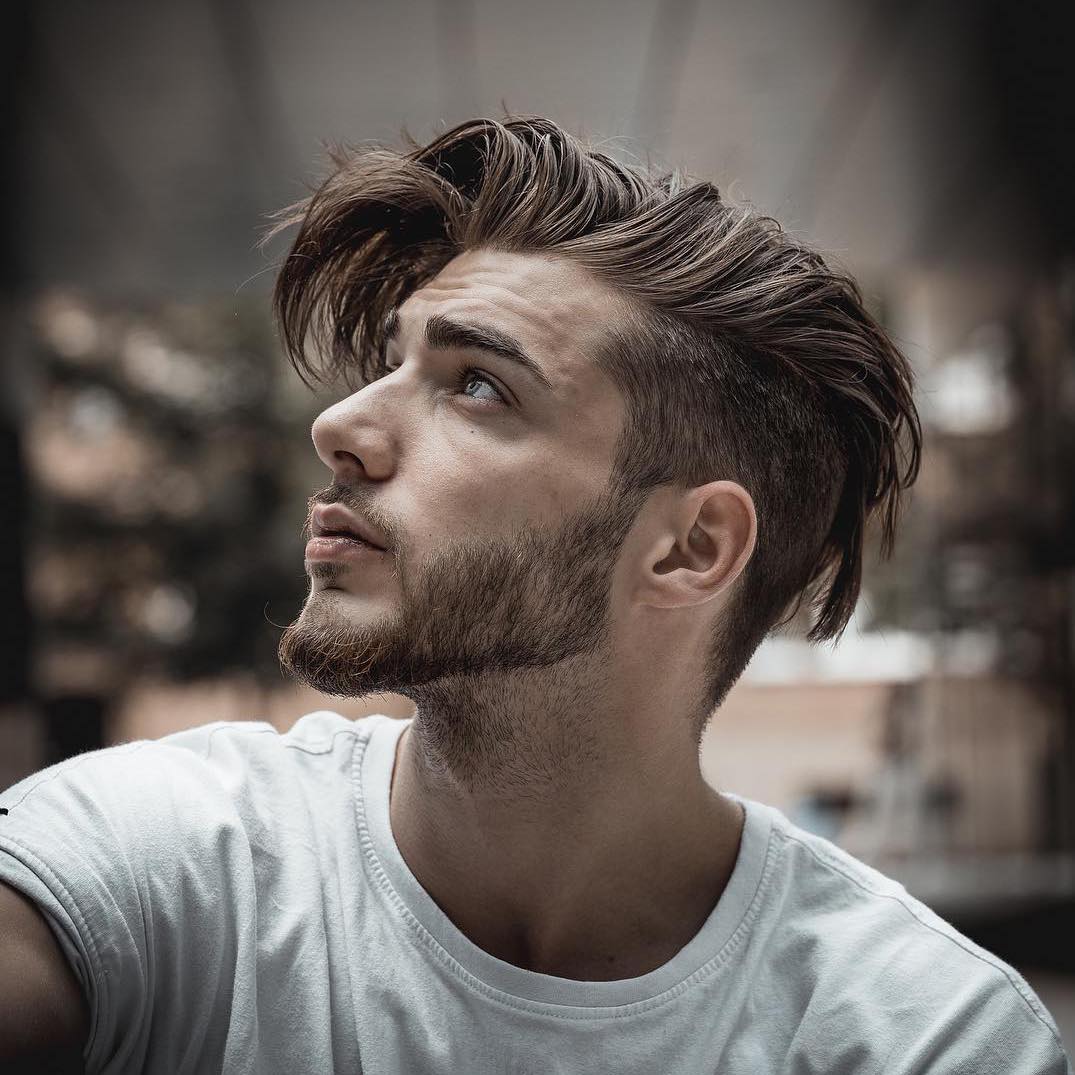 Kristijan Lizačić
This is a super cool undercut. If you have an abundance of thick hair than this might be a good option. The hair on top is left to flow wildly. Undercuts are one of those men's haircuts that continues to evolve into cooler new styles.
10. Haircut With Long Fringe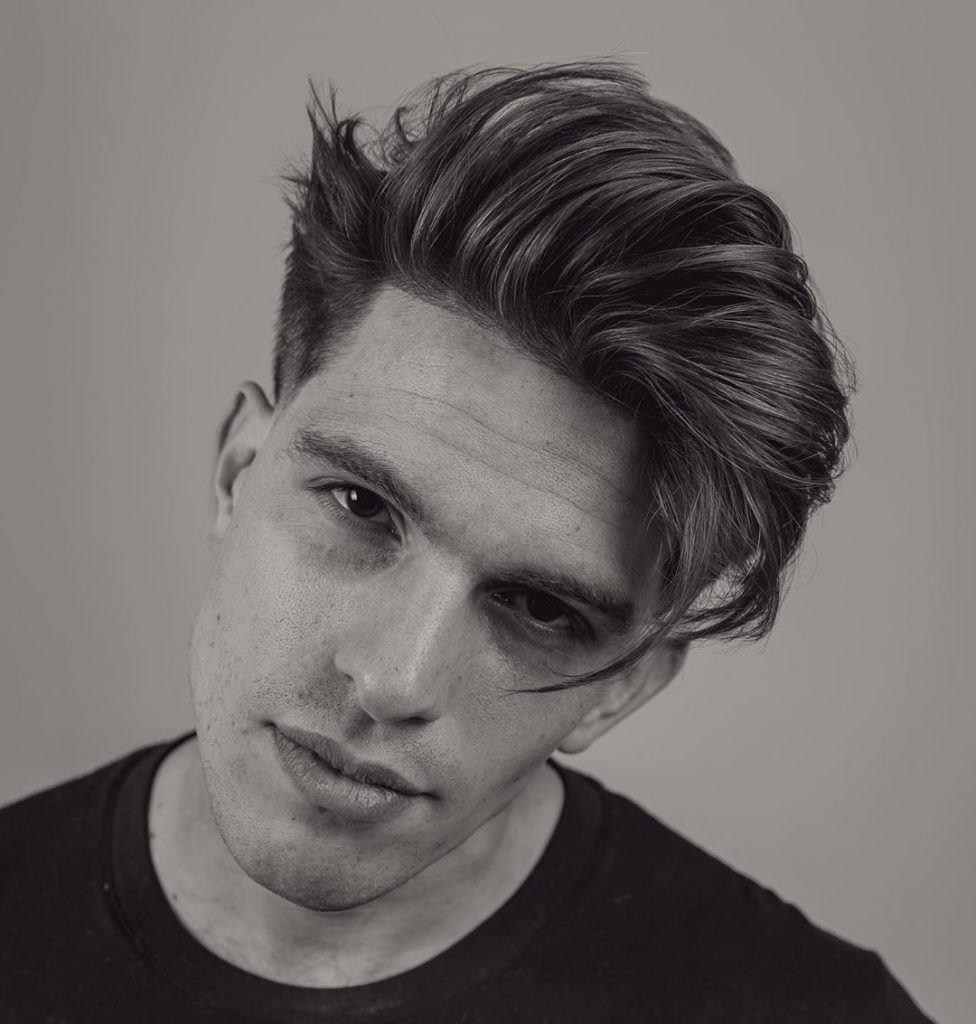 joshlamonaca
A cool modern version of the classic "skater haircut" that features a long fringe in the front, and short sides
11. Tapered Haircut For Thick Hair With Short Sides + Long Fringe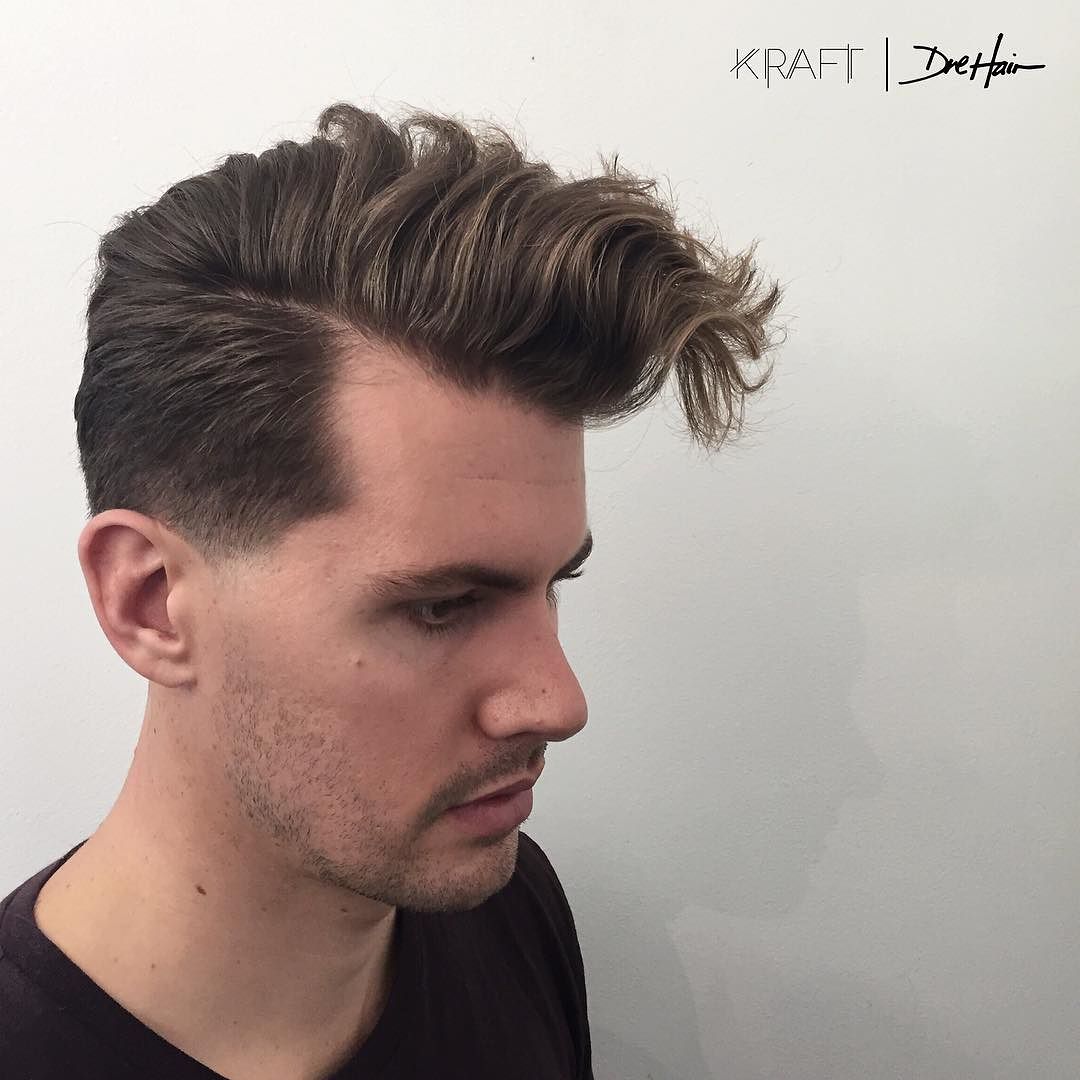 Dre Hair
A beautifully tapered haircut. A great looking side part haircut. Not too much clipper work, mostly scissor cut.
12. Cool Short Haircut For Thick Hair + Bald Fade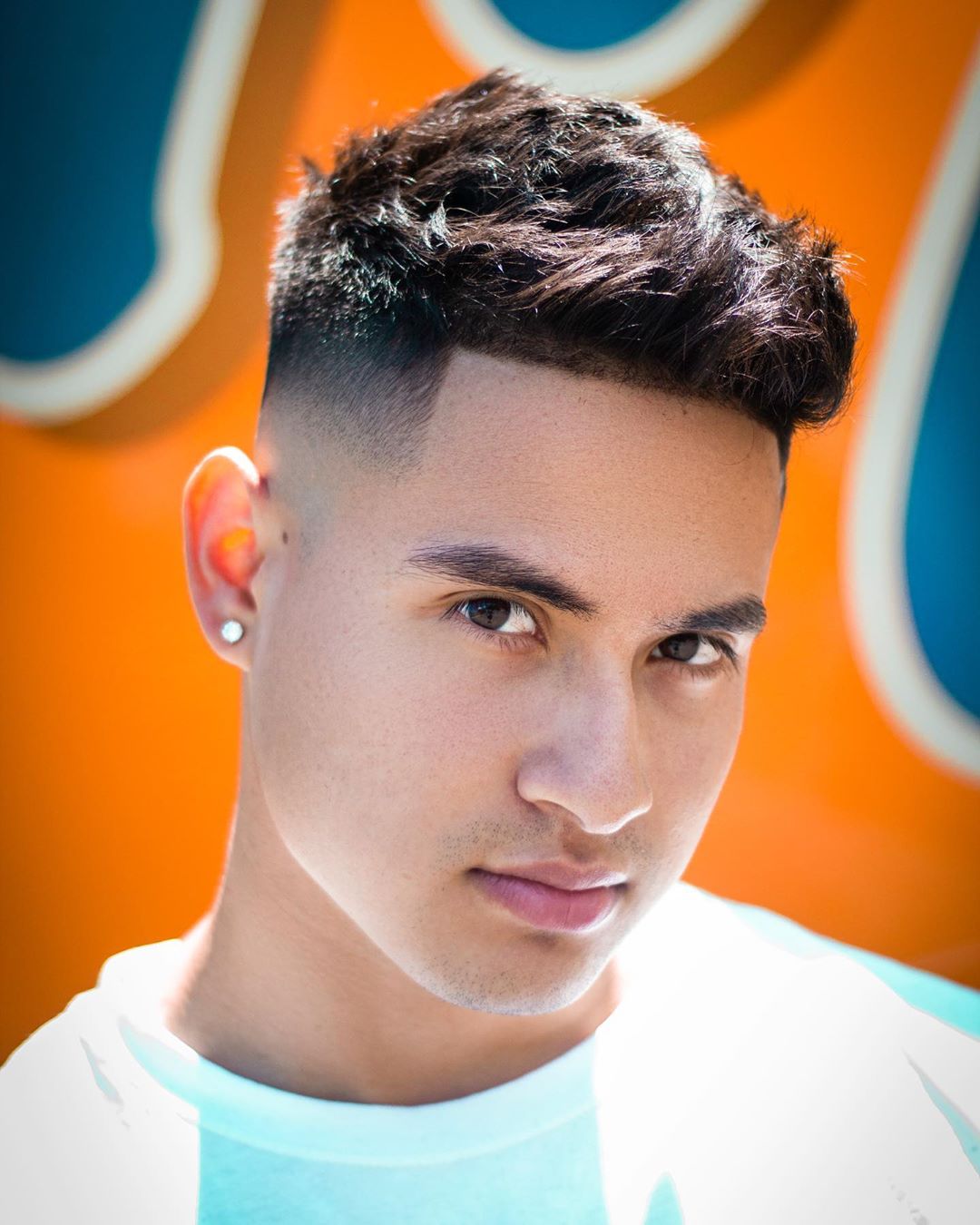 travisanthonyhair
A cool haircut for men that have thick hair. It is cut short on top, nice and fresh in front with a line up, and shows off a bald fade on the sides.
13. Short Textured Men's Haircut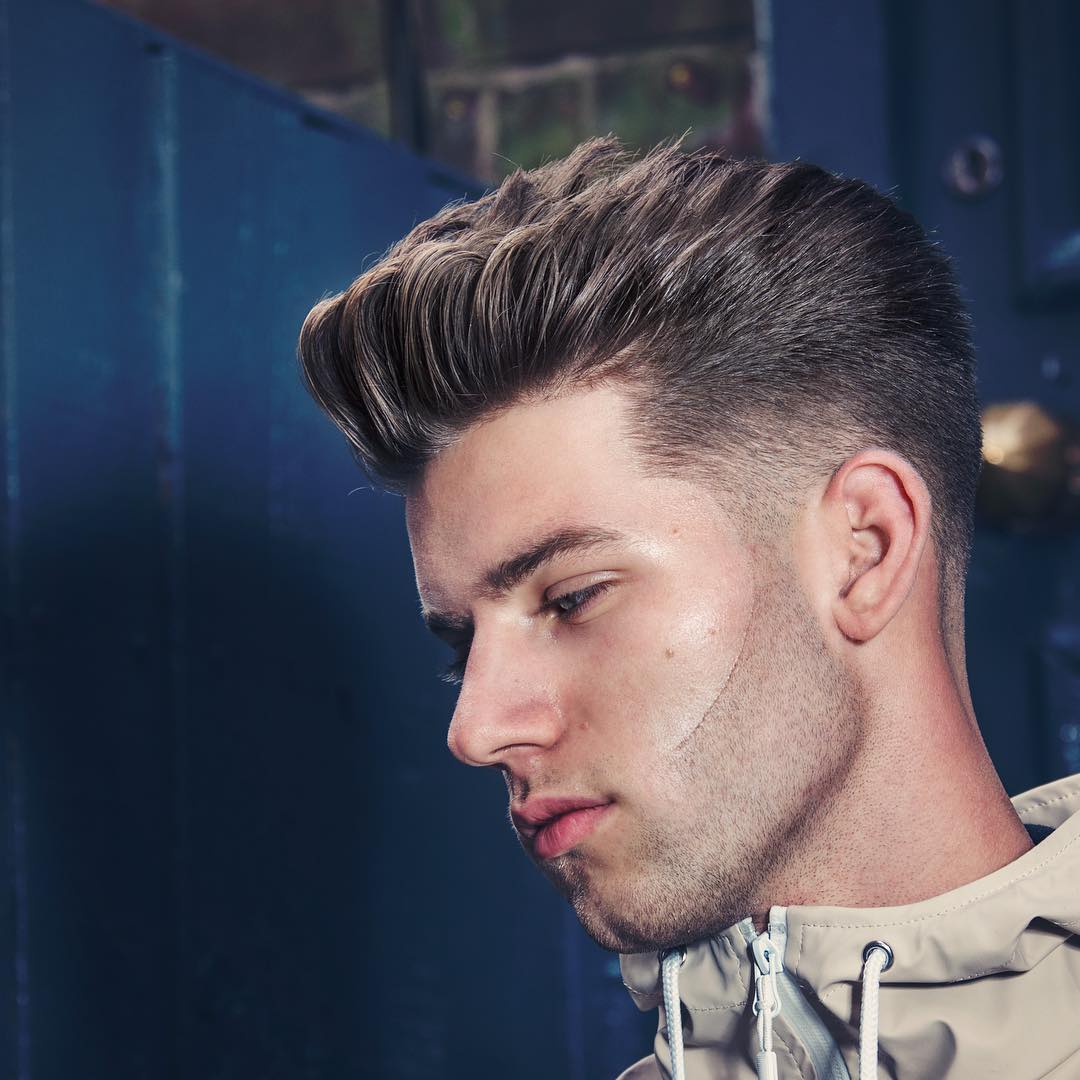 Alternative Barbering Co.
A super cool short textured haircut with a low fade and plenty of flow. Textured men's haircuts are awesome because they give you more styling options. They can be worn neat and clean if you style with a comb or styled into a less refined messy hairstyle.
14. Textured Haircut + Long Fringe + High Fade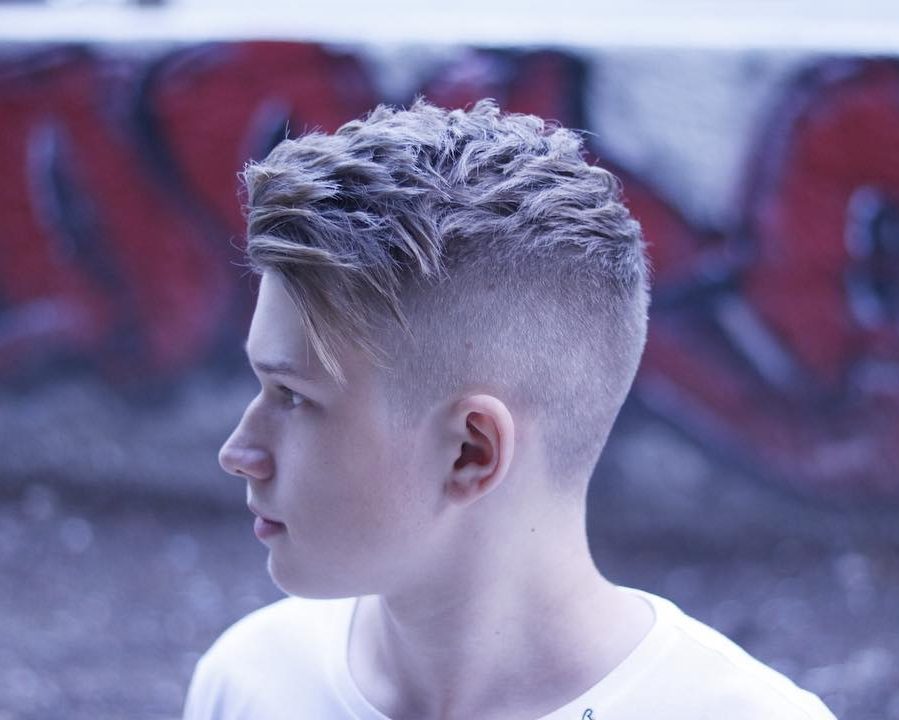 Haircut by Rafa Underground
Such a cool haircut. Messy medium textures on top give that spiky look. Fringe was kept longer. Another undercut with a very modern twist to it.
15. Short Spiky Quiff Haircut + Beard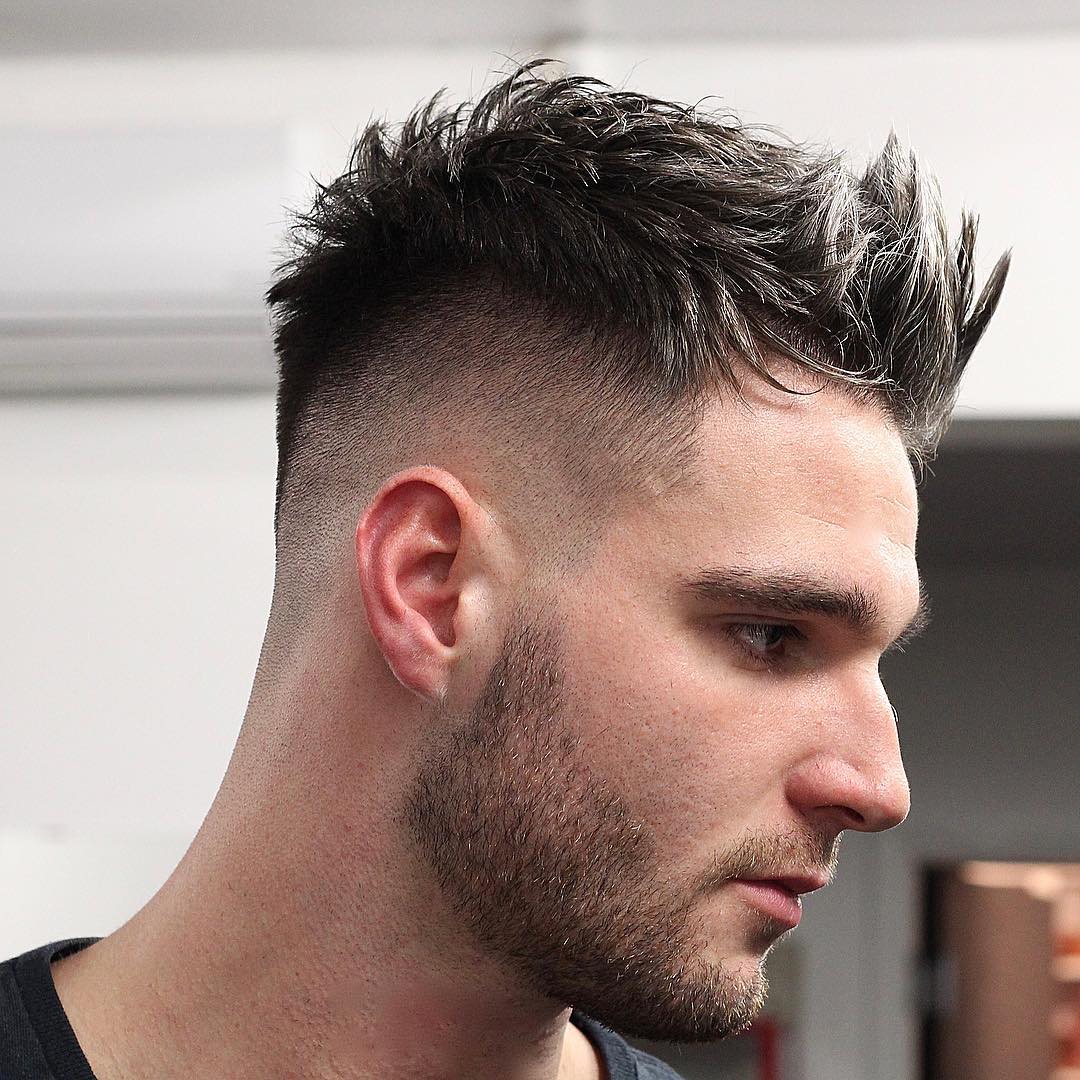 Haircut by Tom Baxter Hair
Another great example of a quiff haircut. One of the most popular men's haircuts we have seen the past couple years made popular by the likes of David Beckham. This one is on the shorter side. The textures give that spiky appearance on top. Use a medium to strong hold pomade to style the haircut into place.
16. Medium Length Taper Fade Haircut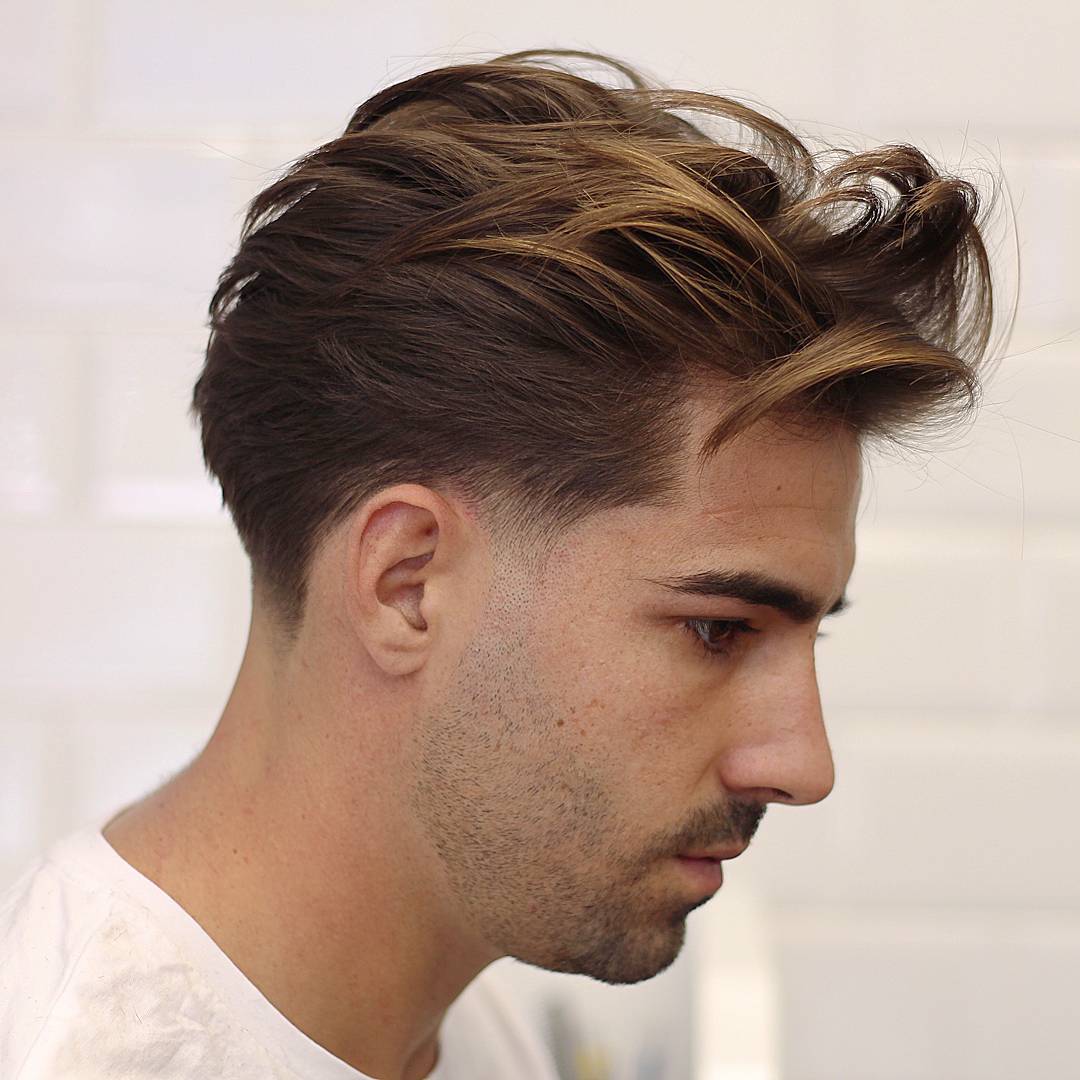 Haircut by Agus De Asis
This is an awesome taper fade haircut with some great medium length flow on top. You will need to use a blow dryer to get that flow and movement.
17. Short Pompadour Haircut + Mid Fade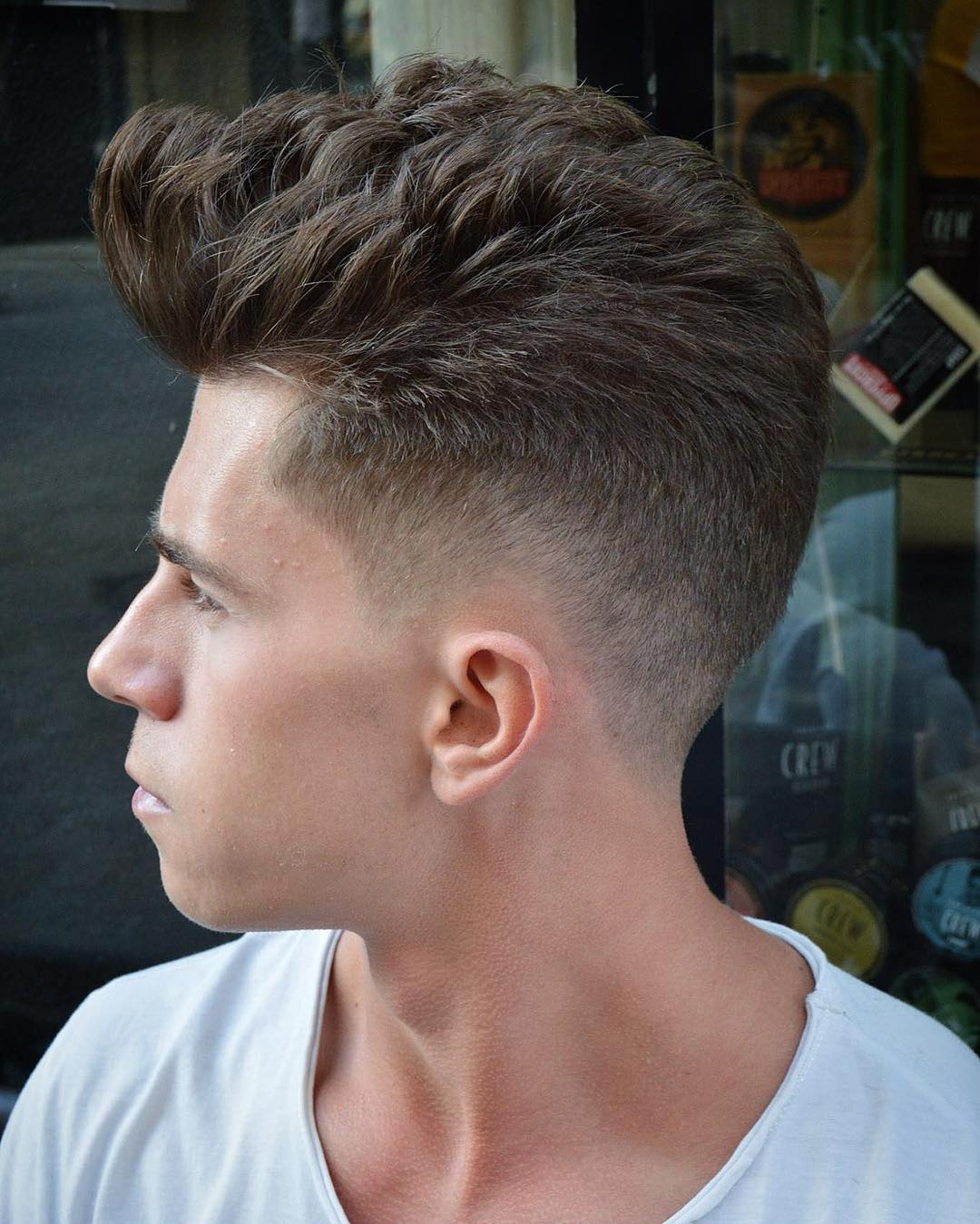 Haircut by Viroga's Barbershop
This haircut for men features a super clean mid fade on the sides and back. Perfectly blended into the short to medium length hair on top. A great cleaned up look for those of you that have thick, wavy or curly hair.
18. Curly Flat Top Haircut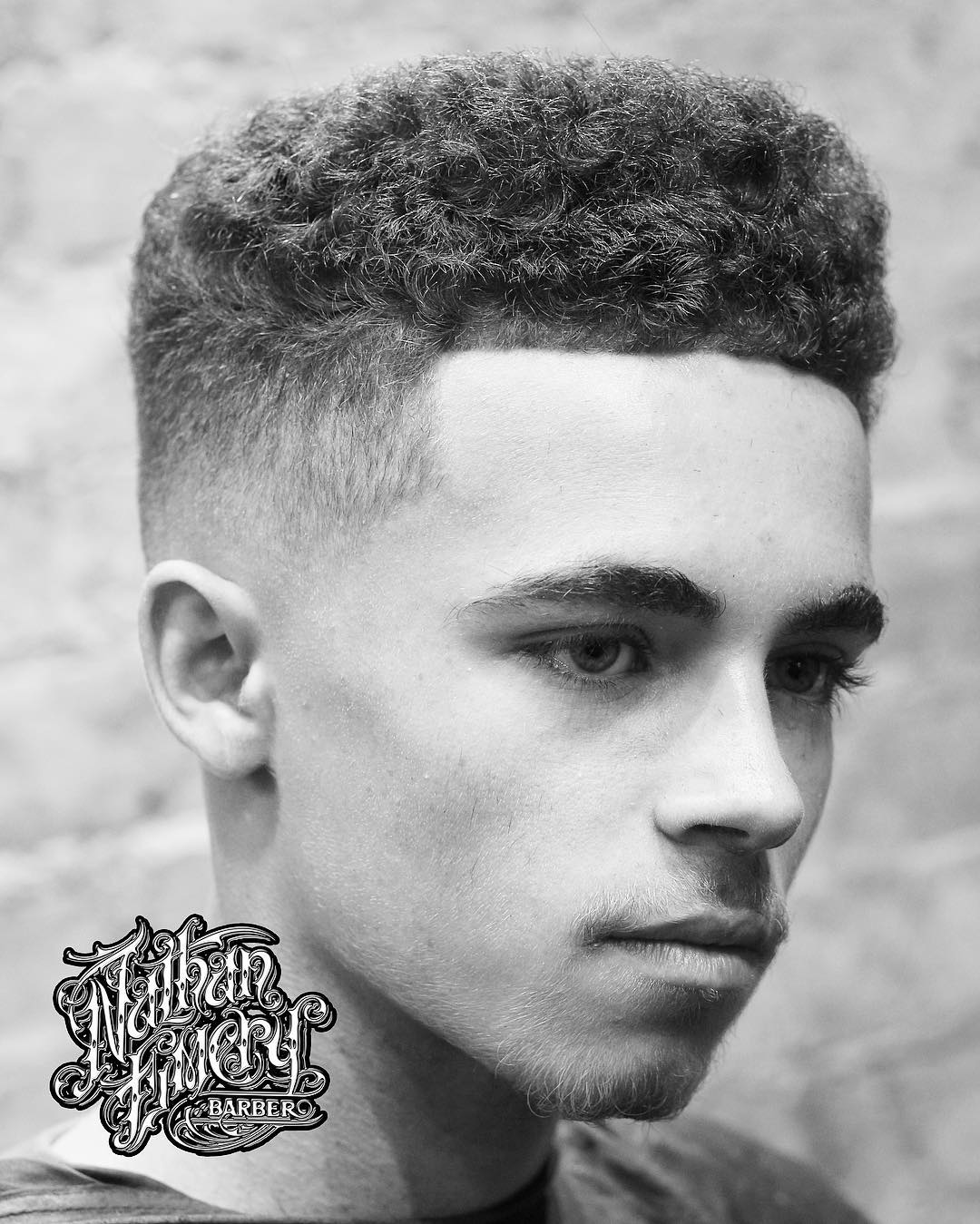 Haircut by Nathan Emery
Perfectly sculpted curls on top and sides kept short with a mid fade.
19. Medium Length Haircut + Mid Fade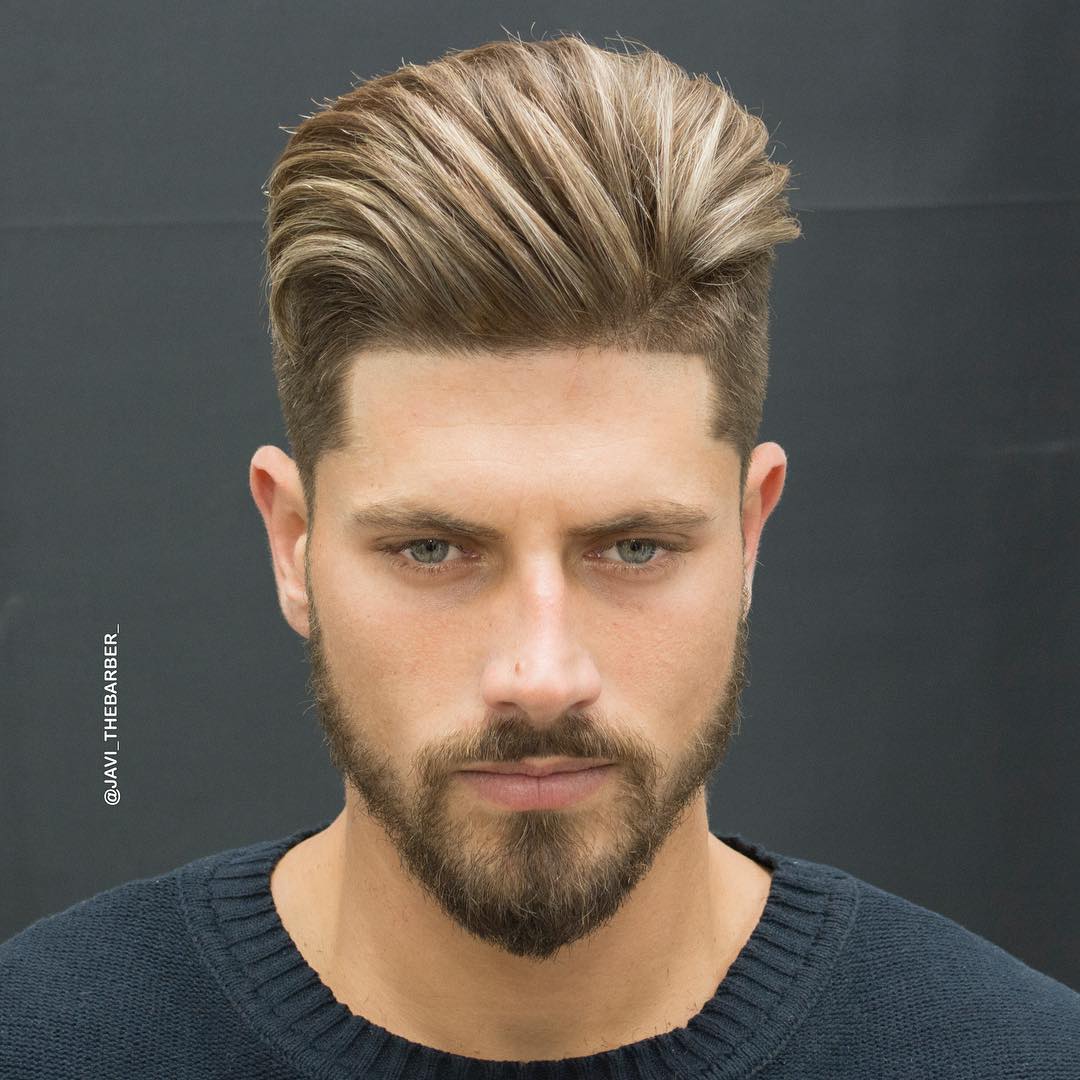 Haircut by Javi The Barber
A great looking line up in the front. To get the hair to look like this on top you need to use a blow dryer and brush. You can blow dry damp hair with or without a light to medium hold pomade.
20. Cool Hairstyle For Long Curly Hair + Drop Fade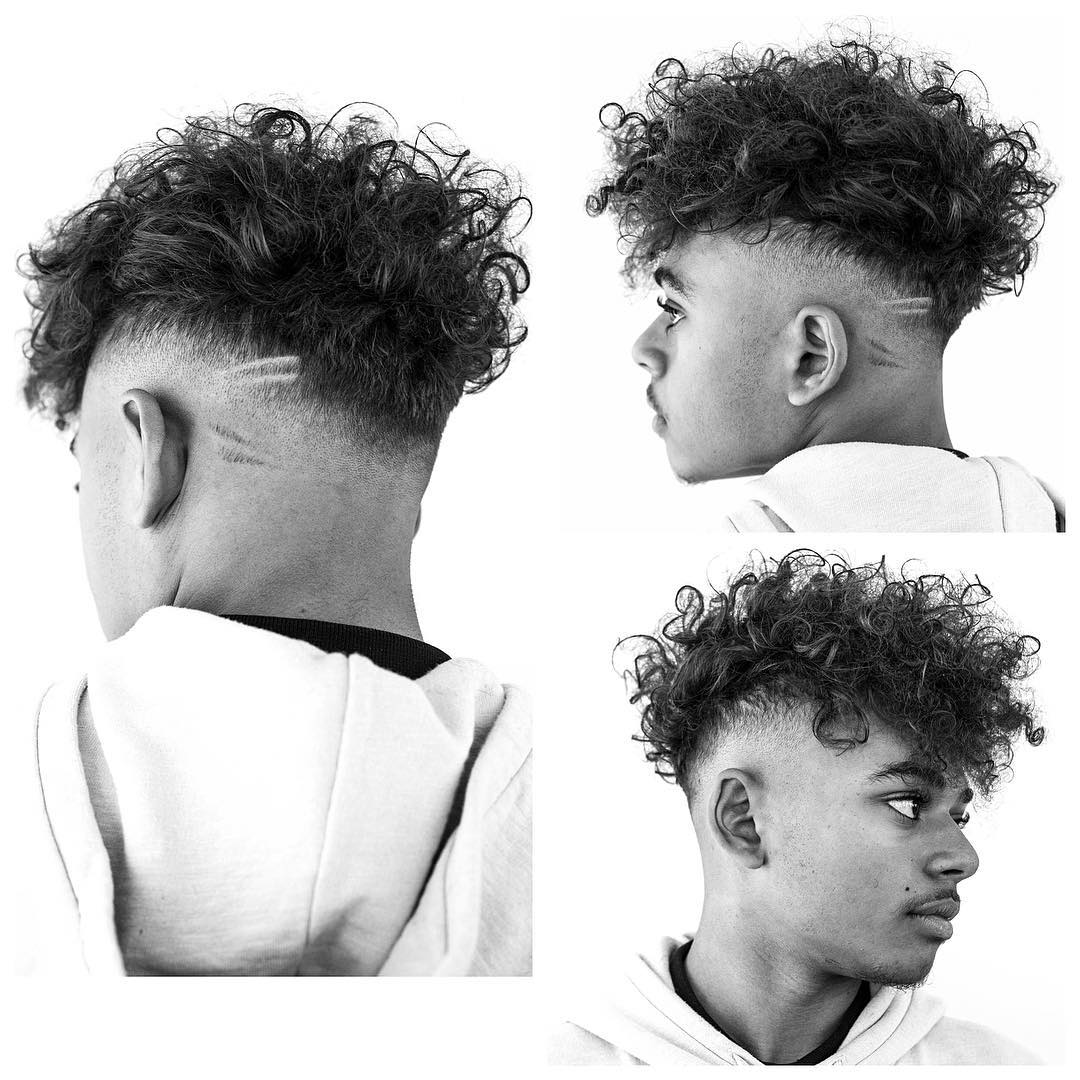 Haircut by Braid Barbers
A bald drop fade keeps things cool in the back and sides. Curly hair on top is left wild. Long fringe in the front. If you have thick curly hair this is a great look. Easy to style and maintain. Simply towel dry and go.
21. Comb Over Haircut + Side Part + Low Fade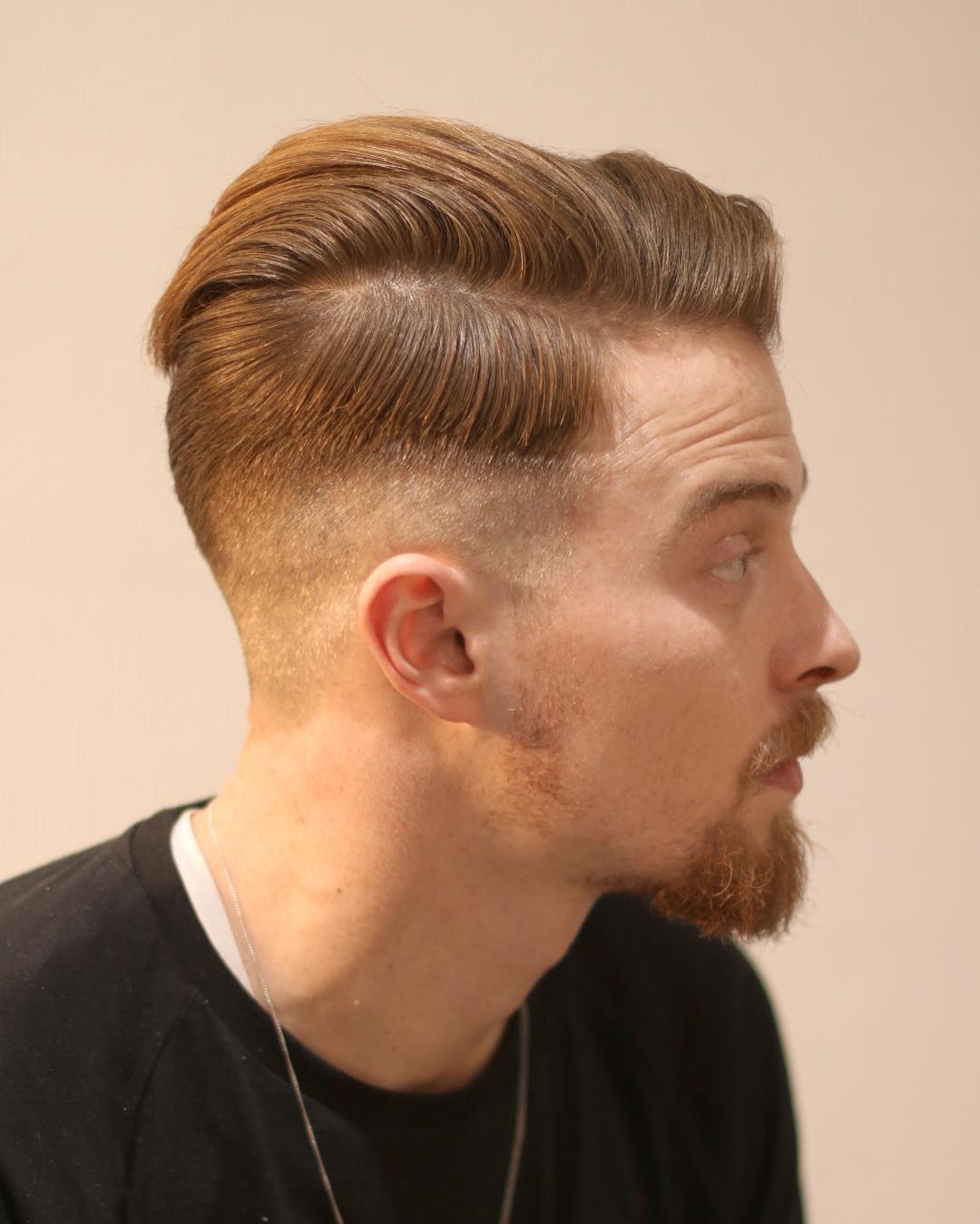 Haircut by Talitha 'Tils' Maddison
A nice classic men's haircut with a modern feel to it. A mix of a side part and pompadour hairstyle.
22. Medium Length Modern Classic Men's Haircut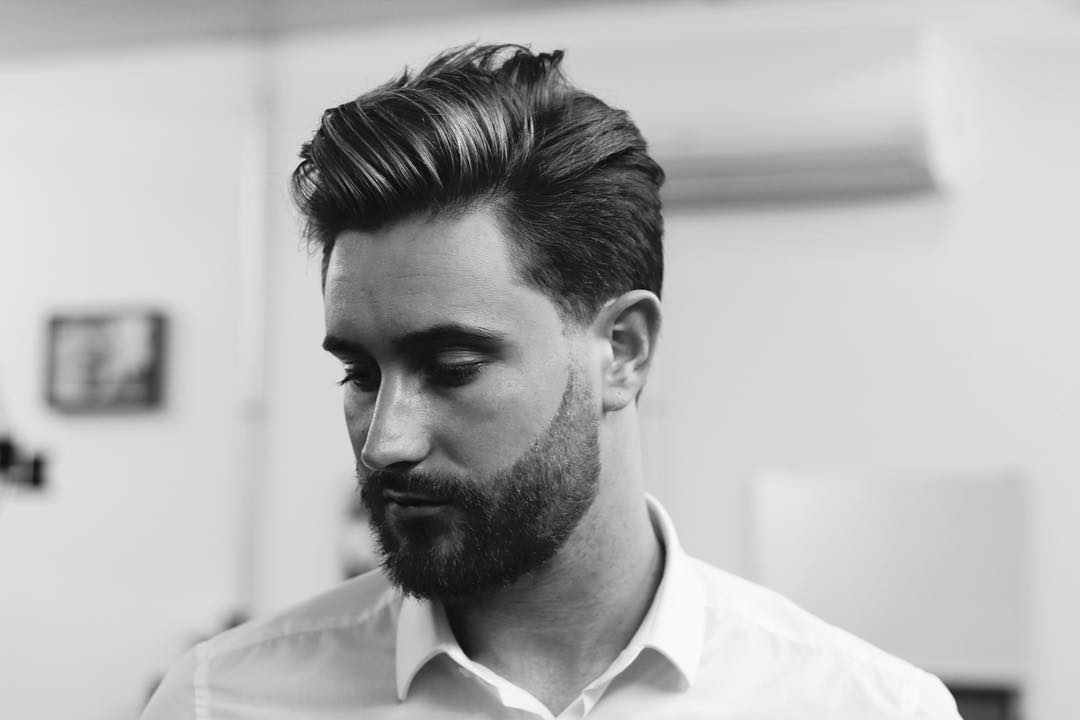 Haircut by Tom Baxter Hair
A great looking classic men's tapered haircut with side part. Short on the sides. Long hair on top.
23. Classic Men's Haircut Styled Back + Line Up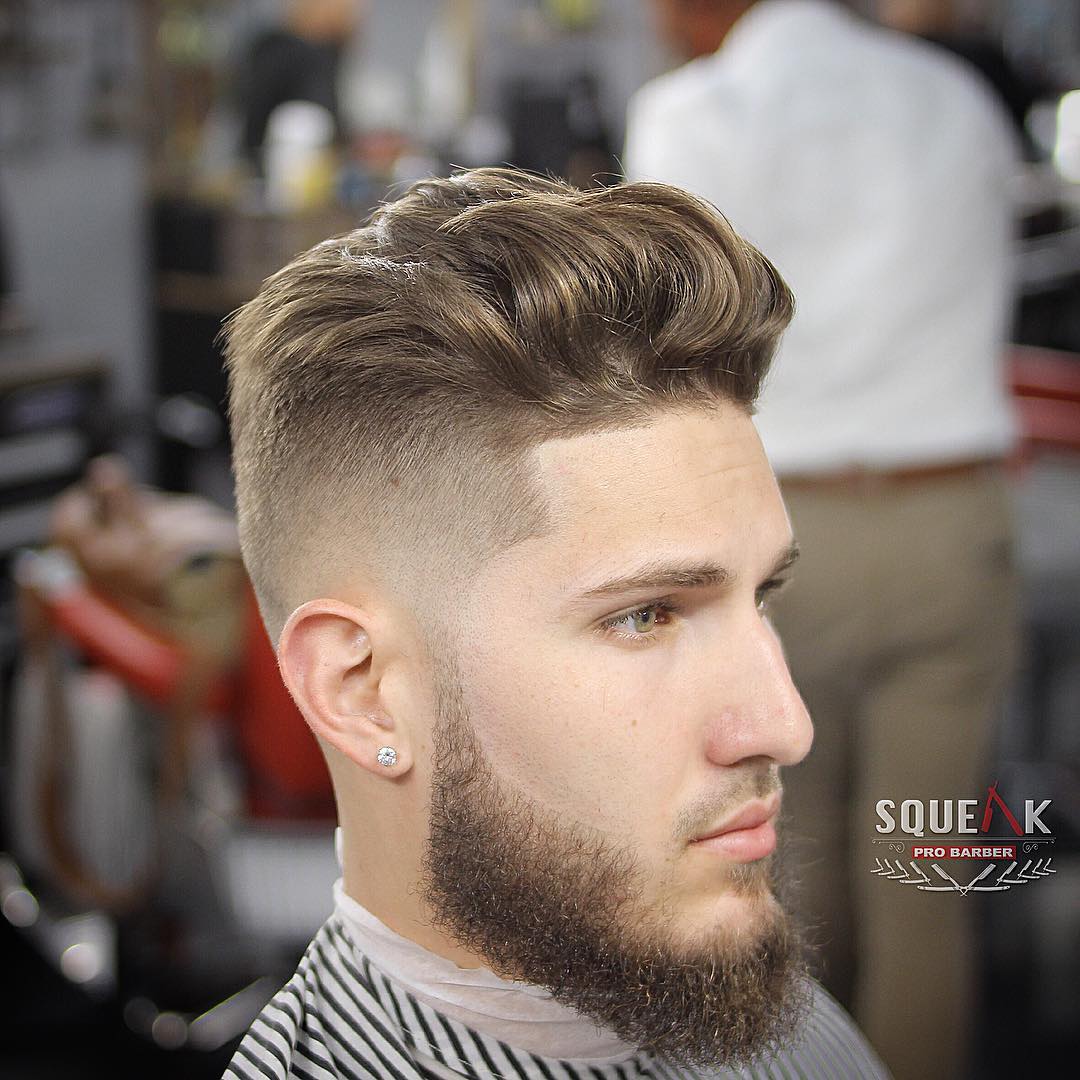 Squeak Pro Barber
This is such a great haircut for men to get. Super versatile. Easy to style. It features a high fade with medium length hair on top that can be styled in so many ways. Style a pomp, slick it back, comb into a side part hairstyle or just wear it dry and natural. So many options. To get this look use a light to medium hold pomade. Work a small amount of pomade into your hair when it is dry. Or, work it into damp hair and use a blow dryer and brush to get that movement and wavy look.
24. Cool Short Curly Haircut + Drop Fade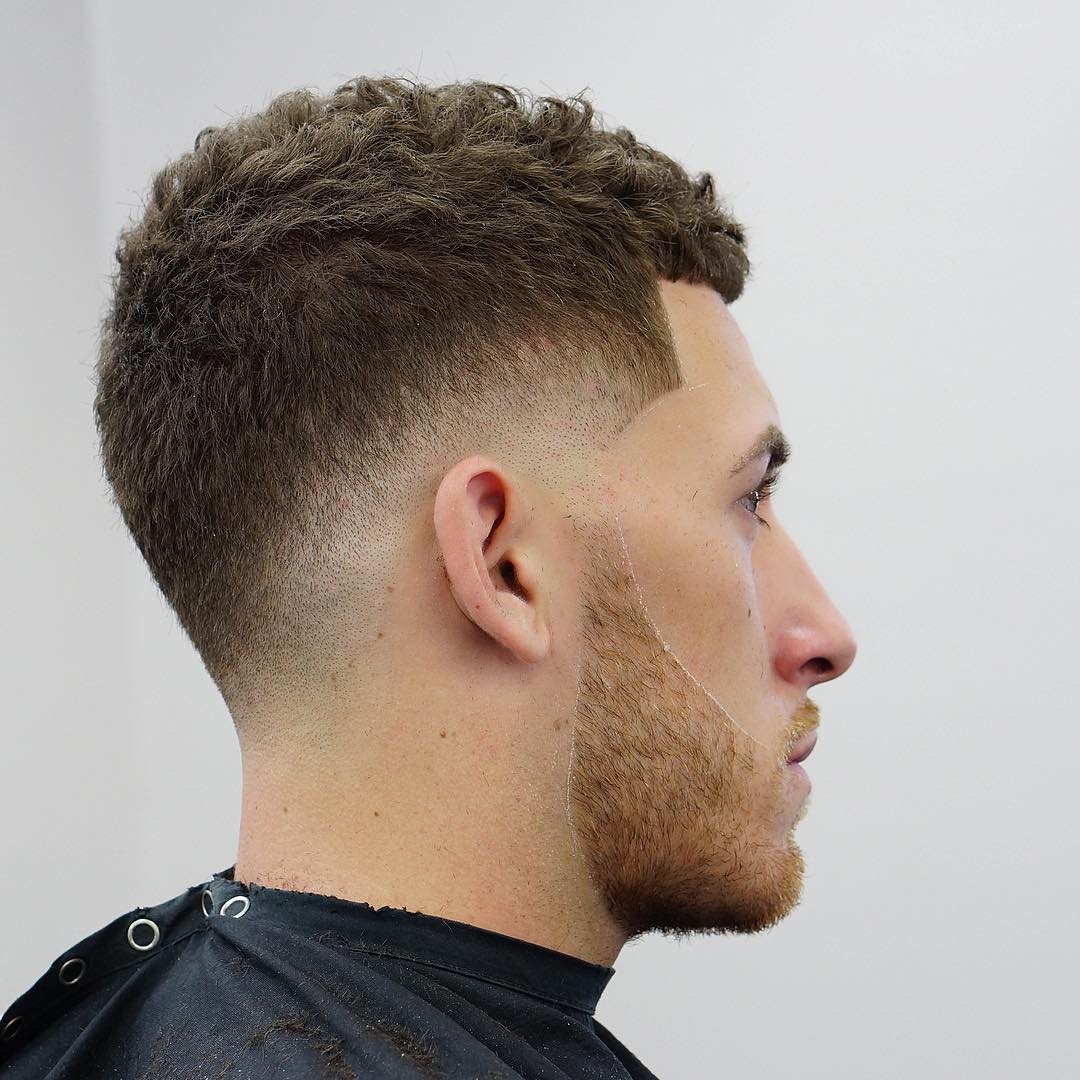 Criztofferson
This is such a great summer haircut for men to get. Works with any hair type. Hair has been cut short on top. Features a drop fade down to the skin and cool looking disconnected beard.
25. Cool Pompadour Undercut Haircut + Drop Fade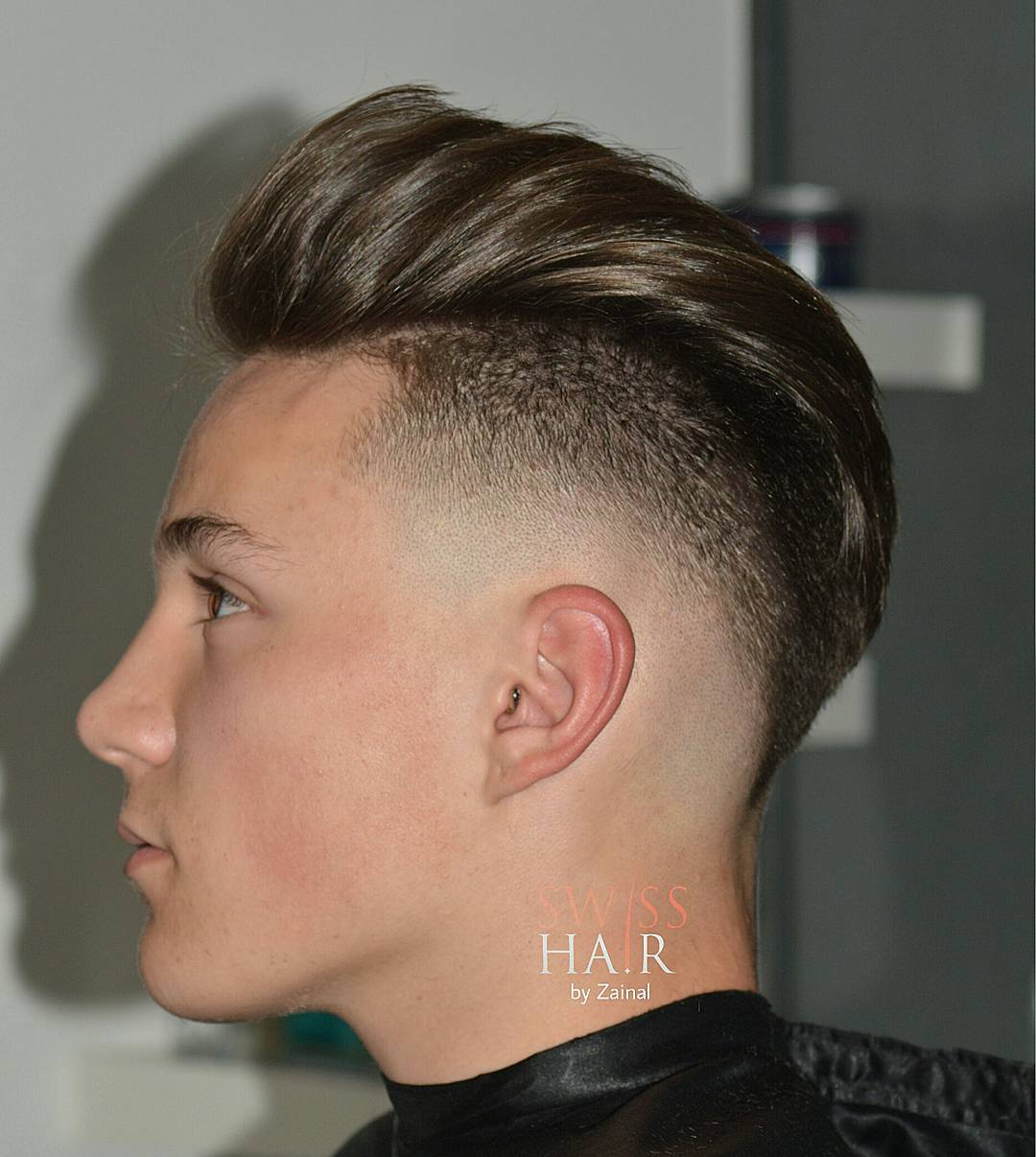 Swiss Hair by Zainal
This haircut is half pompadour half undercut. It features a drop fade down to the skin. To get this look you need a blow dryer. That is what will give the hair body, flow and movement. Brush and blow dry to the one side. Brush and blow dry front to back. It is amazing what just a brush and a blow dryer can do to give the hair big flow. You don't even need to use a product. However, a light to medium hold pomade will help to keep the hair standing up for more hours of the day.
26. Messy Undercut Hairstyle For Men With Thick Hair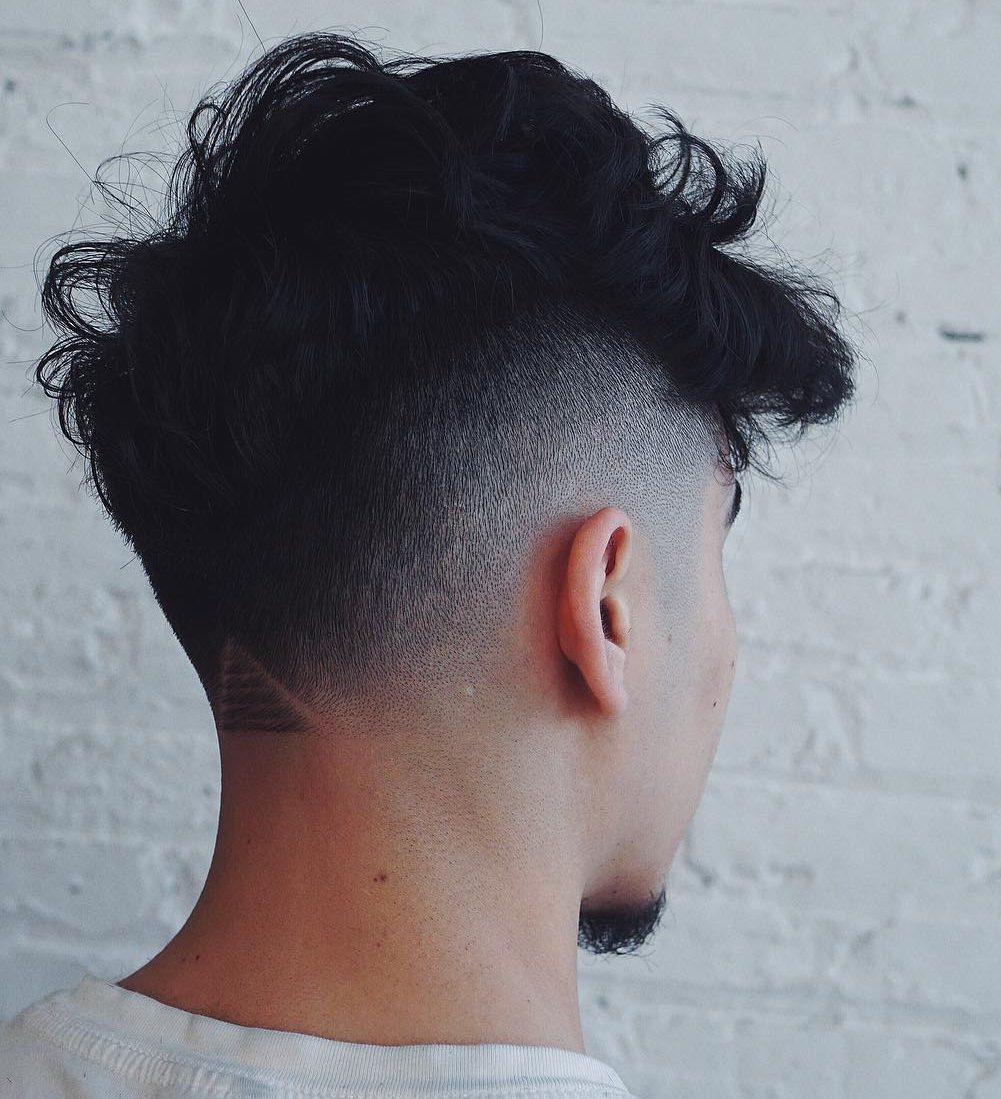 Dang Cuts Hair
Another great example of the modern undercut. Messy textured hair on top gives the undercut a modern feel.
27. Medium Length Haircut For Straight Hair + Low Fade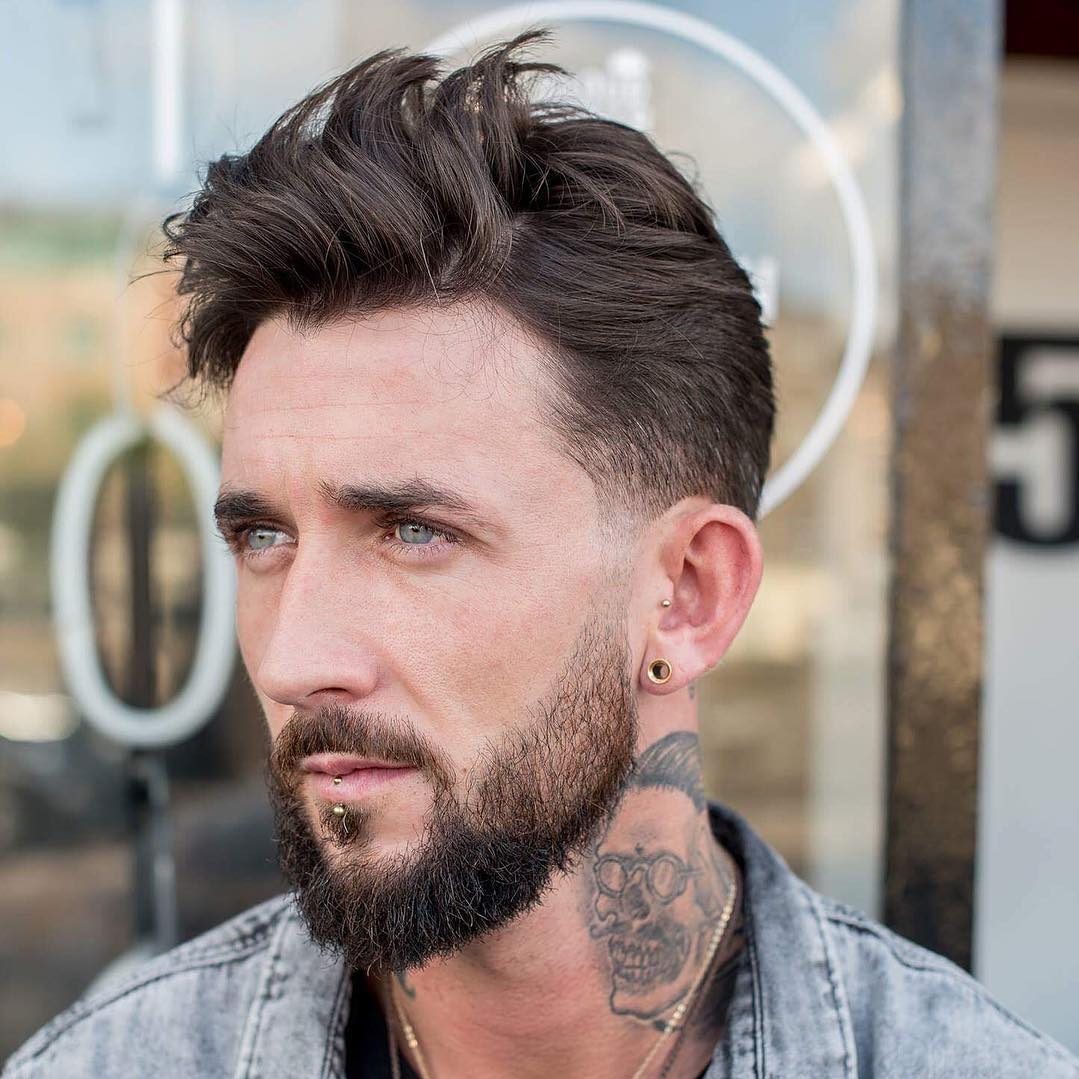 Conor Taaffe
A low fade to the sides and back with medium hair on top left to flow however it wants.
28. Long Curls + Cool Hair Design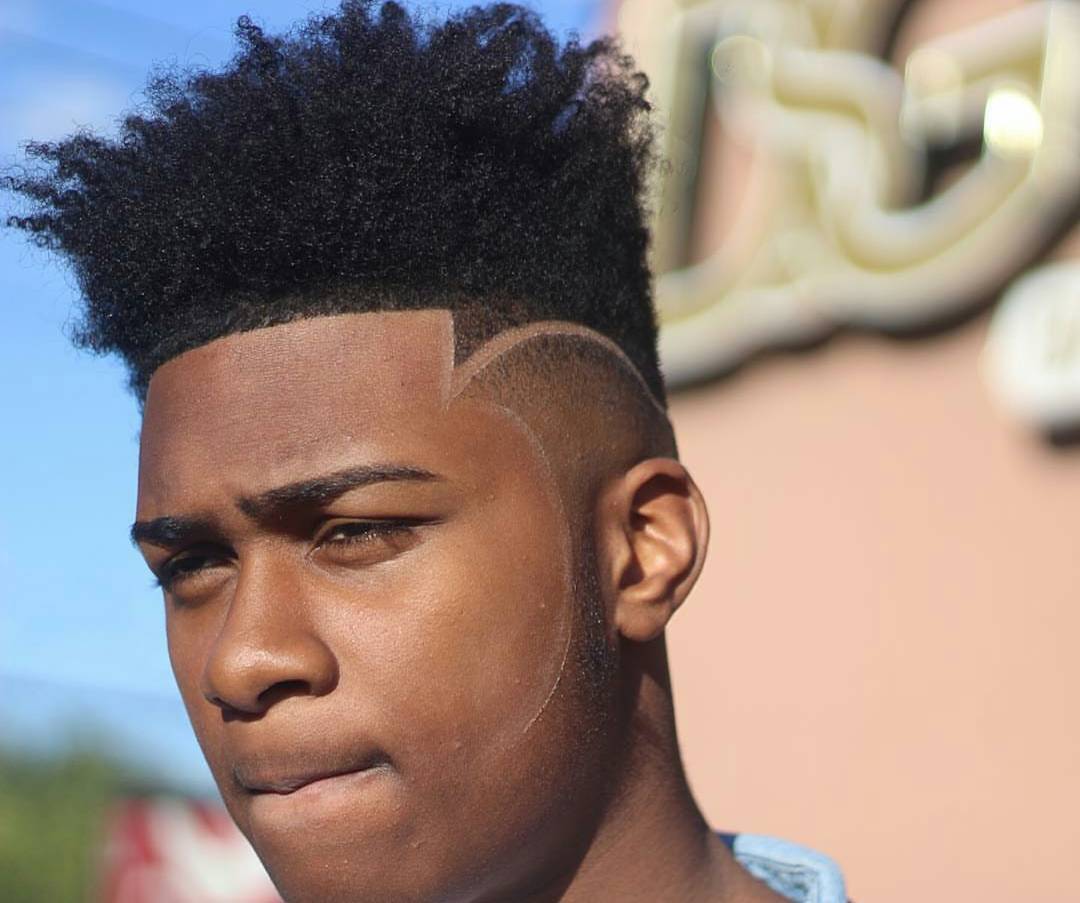 Dynasty Barbers
Cool side hard part accenting this high fade. Perfectly blended into longer natural hair on top.
29. Low Fade + Messy Longer Hair On Top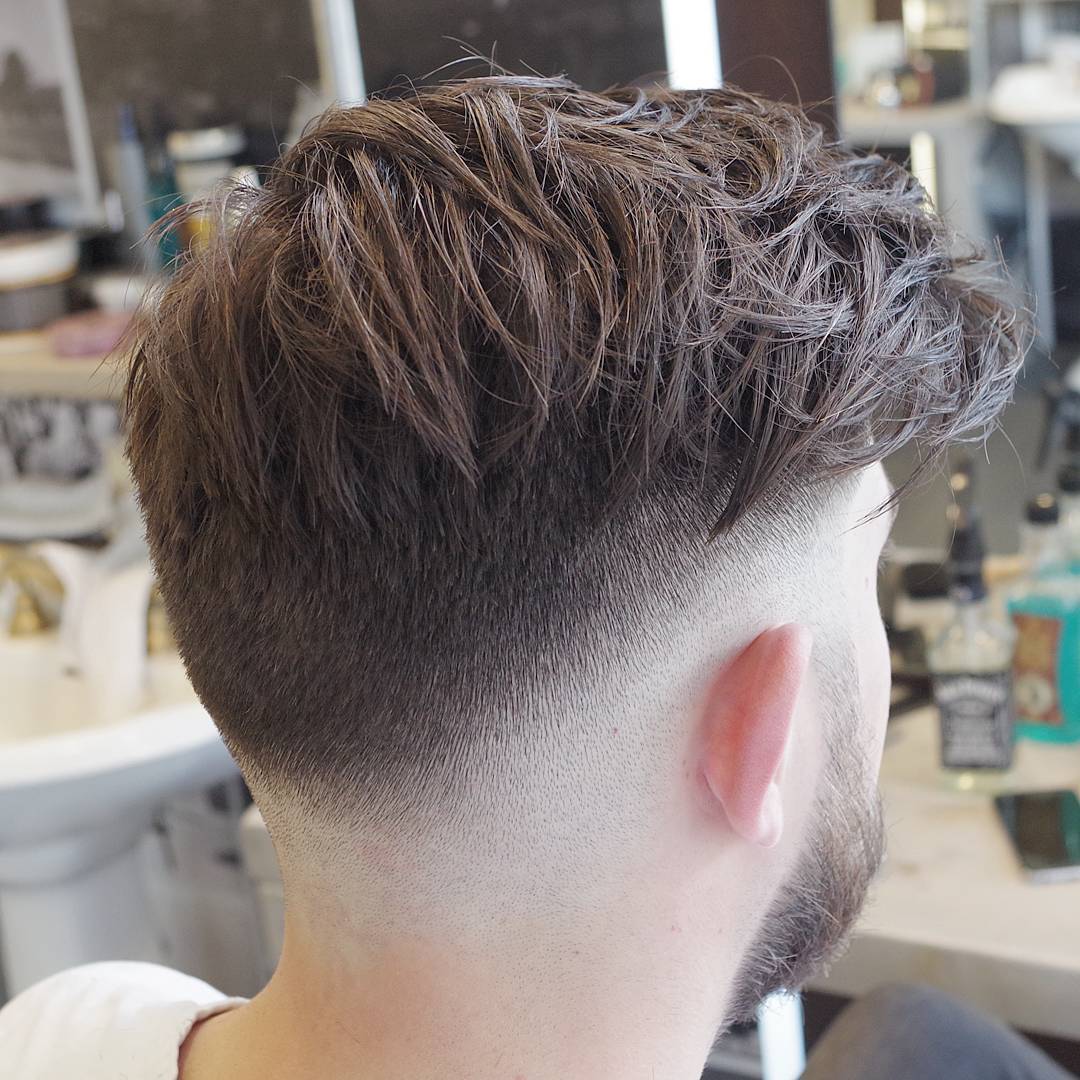 Men's World Herenkappers
An undercut with long messy textured hair on top. Super clean low fade.
30. Textured Wavy Haircut For Men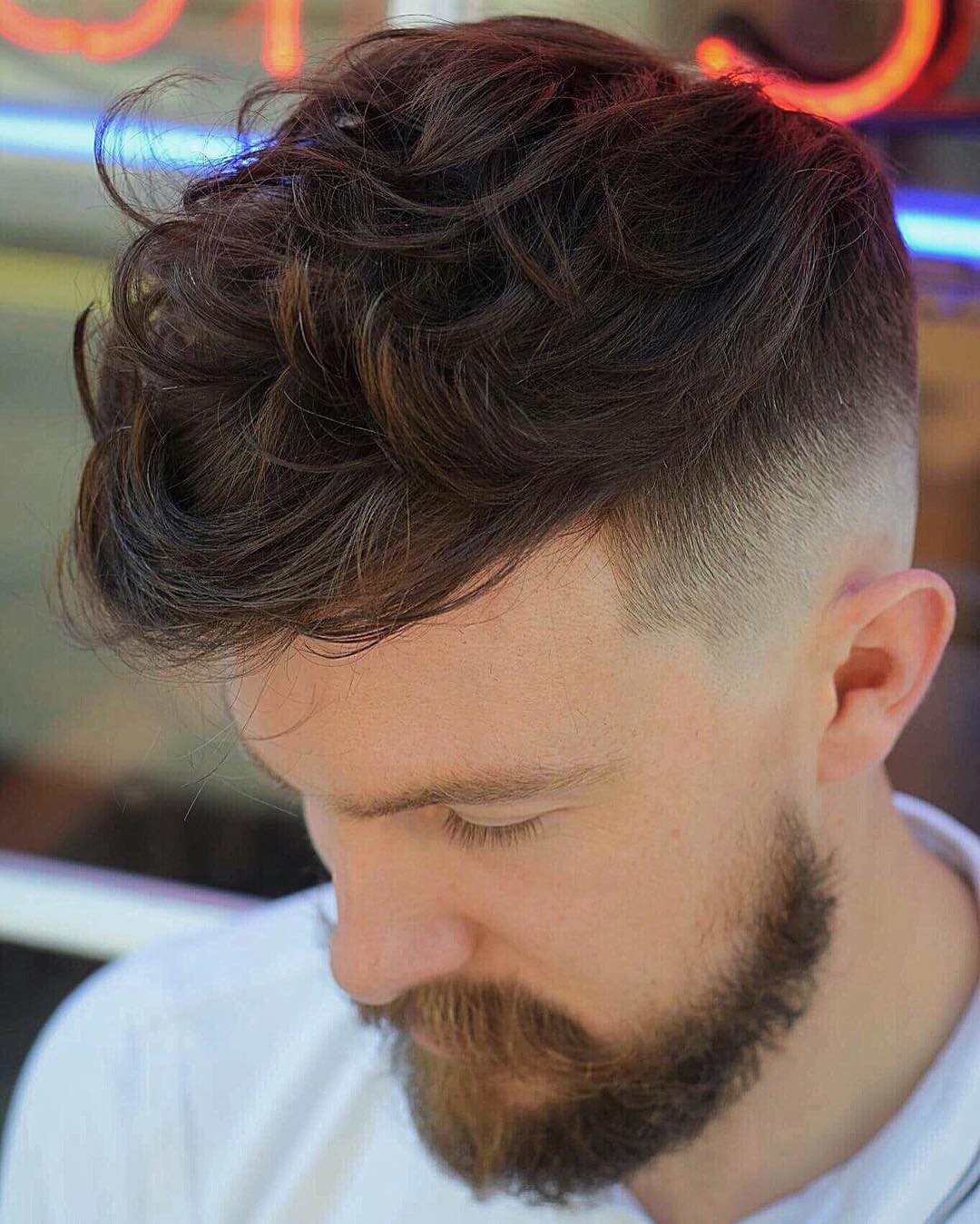 Toastie
A bald fade haircut with long wavy hair on top. Lots of contrast going on. One of the coolest men's haircuts you can get if you have wavy or curly hair.
31. Cool Side Part Haircut For Thick Hair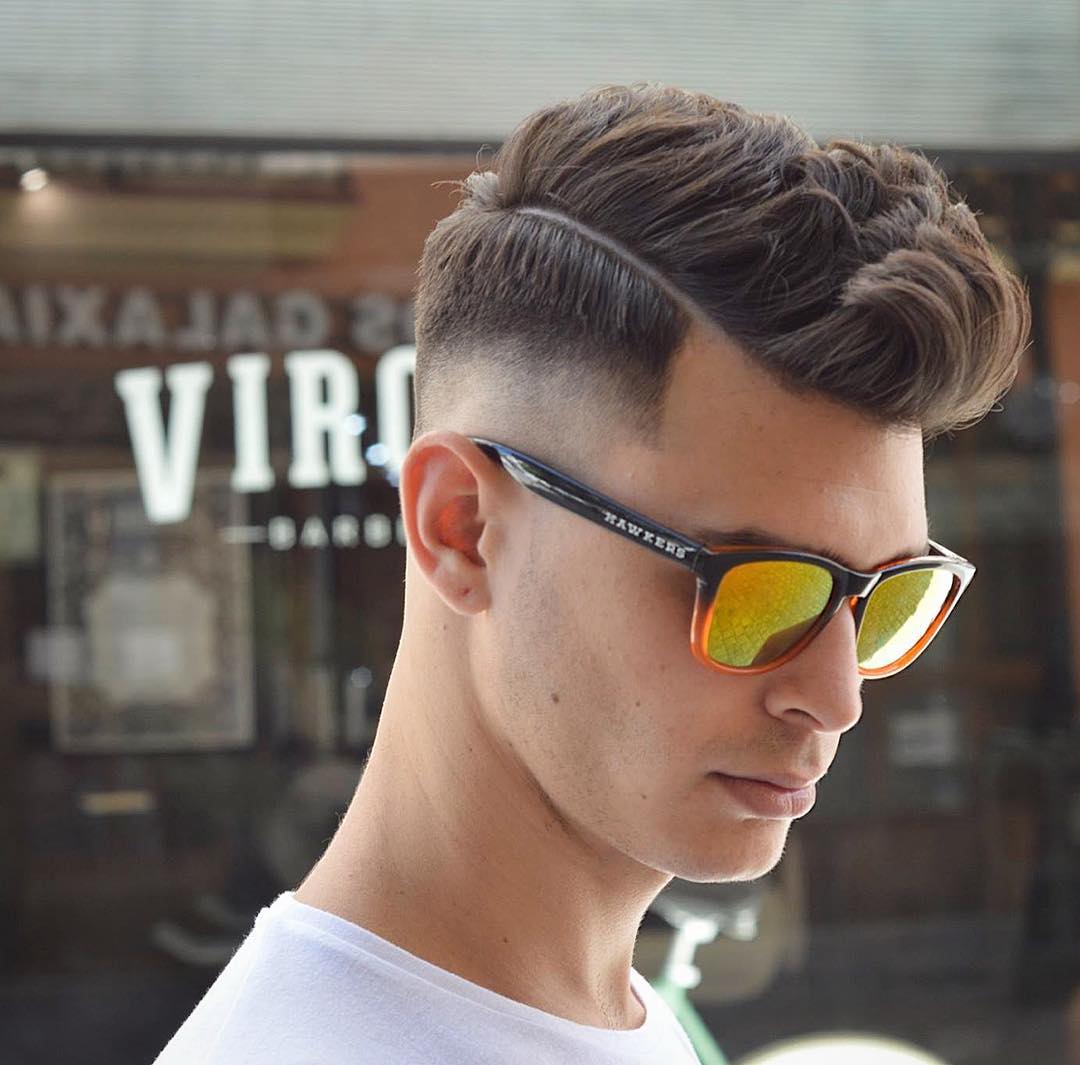 Viroga's Barber
Cool looking low fade, side part (shaved hard part). Great looking medium length quiff hairstyle.
32. Natural Curls + Textures + Hard Part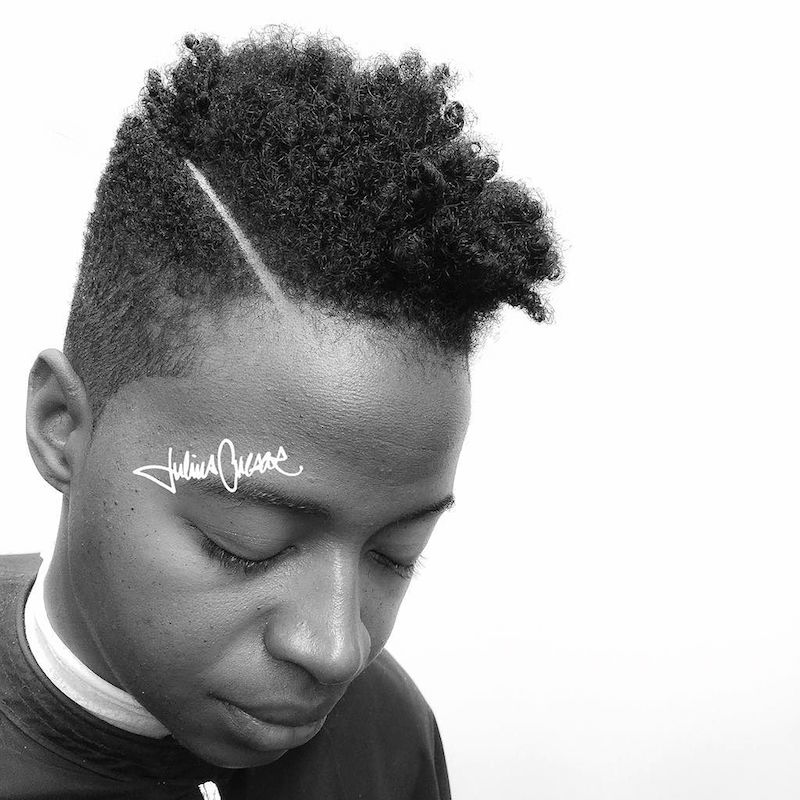 Julius Cvesar
Clean mid fade with natural curls on top. Hard part separates and contrasts the sides from the hair on top.
33. Stylish Curly Hair Haircut For Guys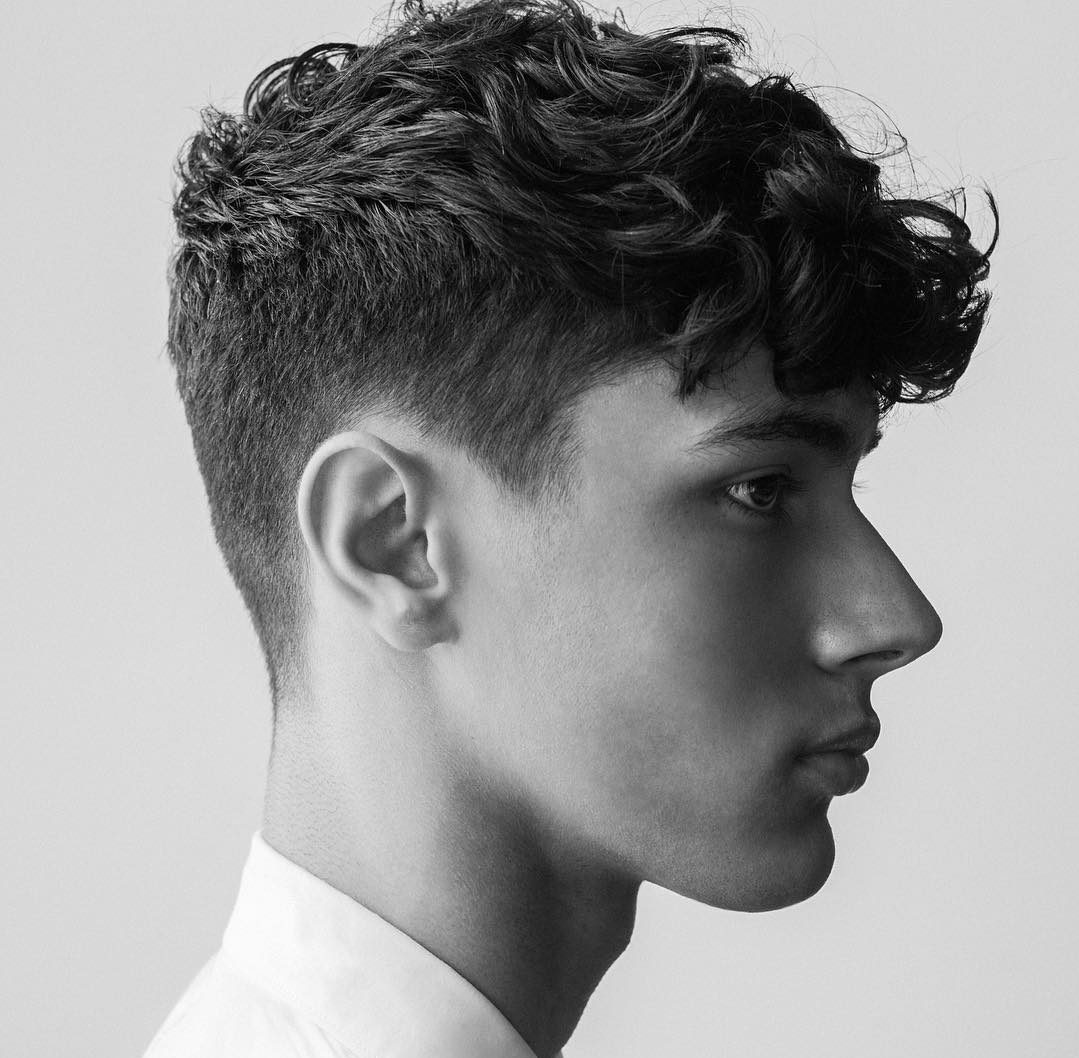 Whitney Vermeer and Ignite Models
Such a great looking haircut for guys that have curly hair. Super clean cut short sides blended into thick curly hair and longer fringe.
34. Long Beautiful Natural Curls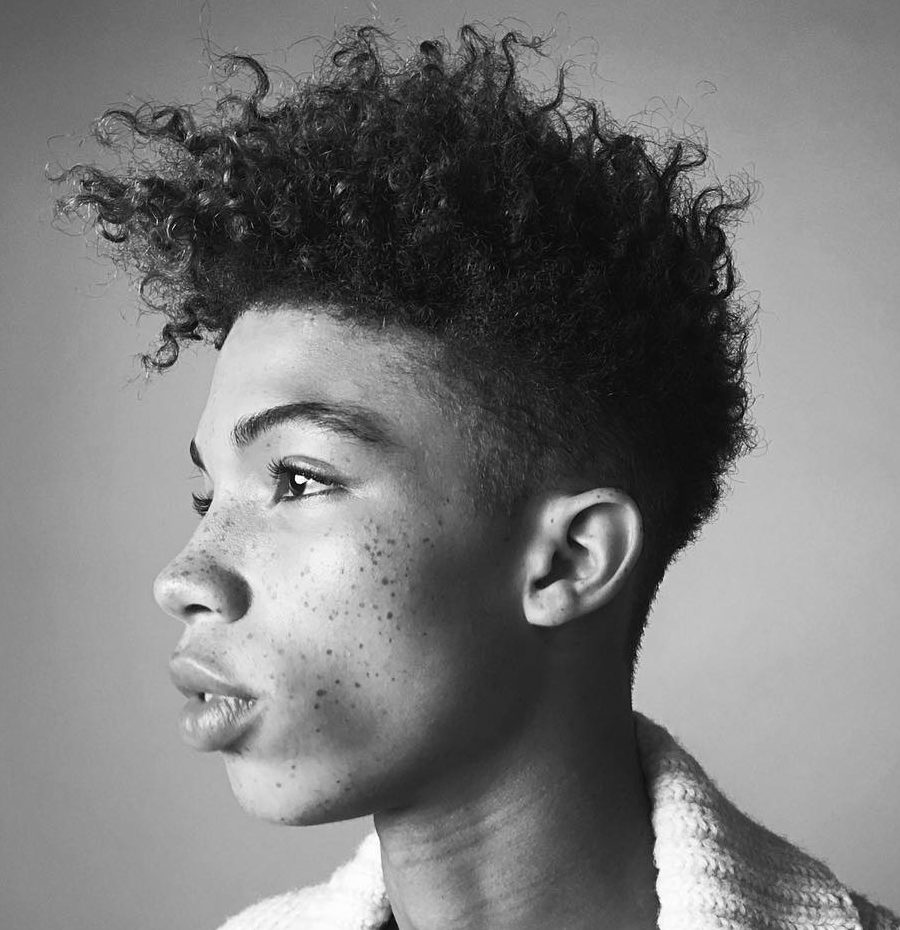 Whitney VerMeer
Another curly hair masterpiece. Nicely trimmed fresh looking sides. Hair on top is left to do its own thing.
35. Tapered Short Haircut For Curly Hair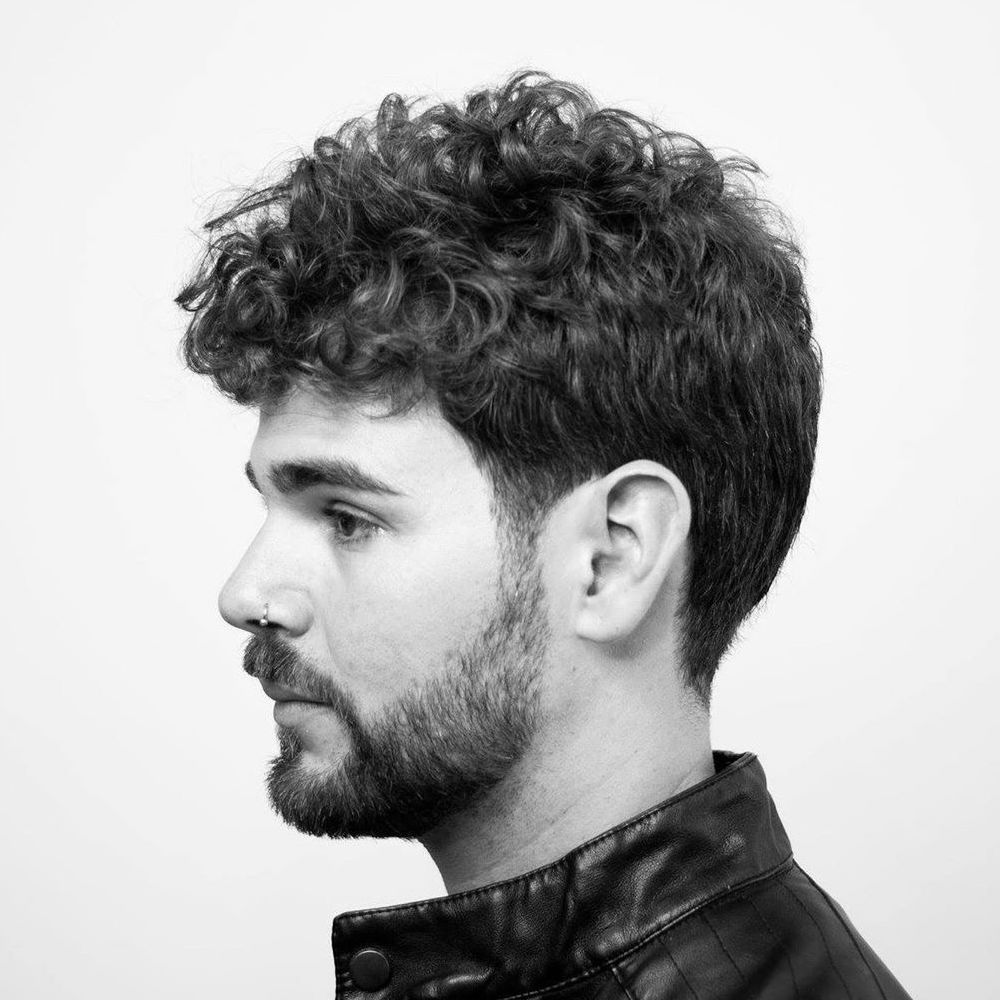 Surbarbers
A cool simple neck design carved into this great looking taper fade. Blended nicely into a short classic men's haircut. Use a small amount of pomade or just towel dry and brush into place. Super easy to style.
36. Short Haircut With Textured Curly Hair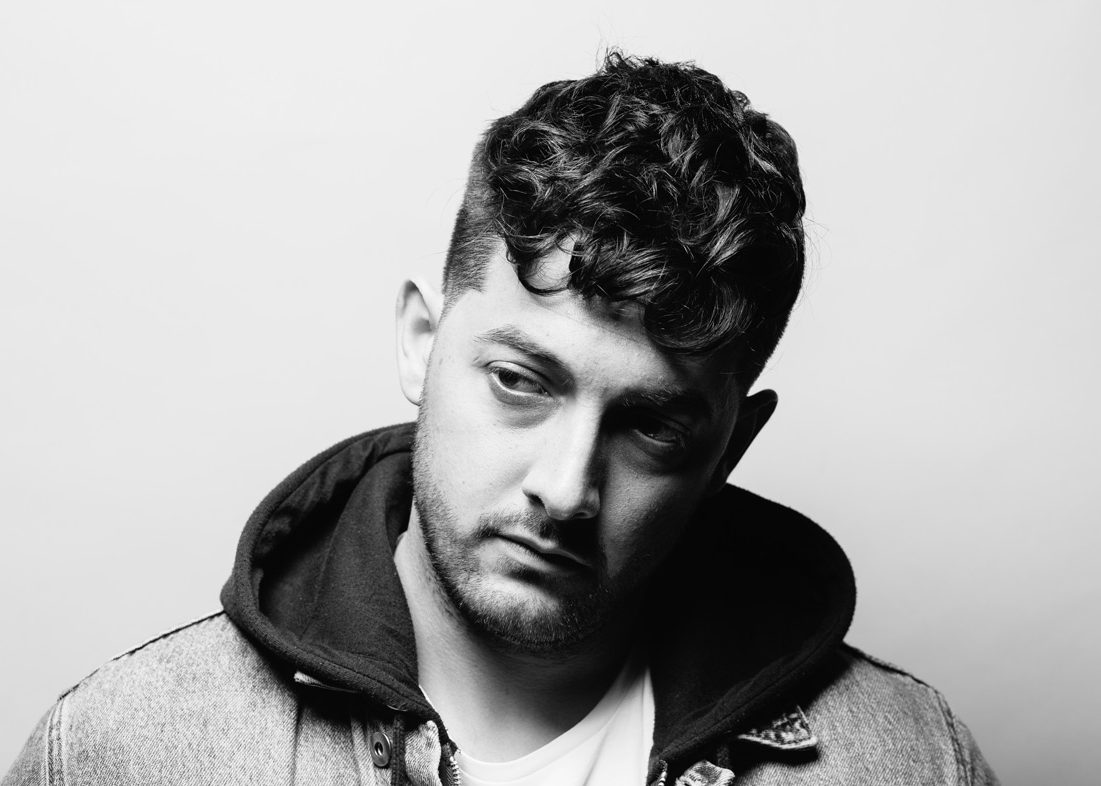 Tom Chapman
A cool thick textured hairstyle for men that have curly hair.
37. Pompadour Meets Modern Mullet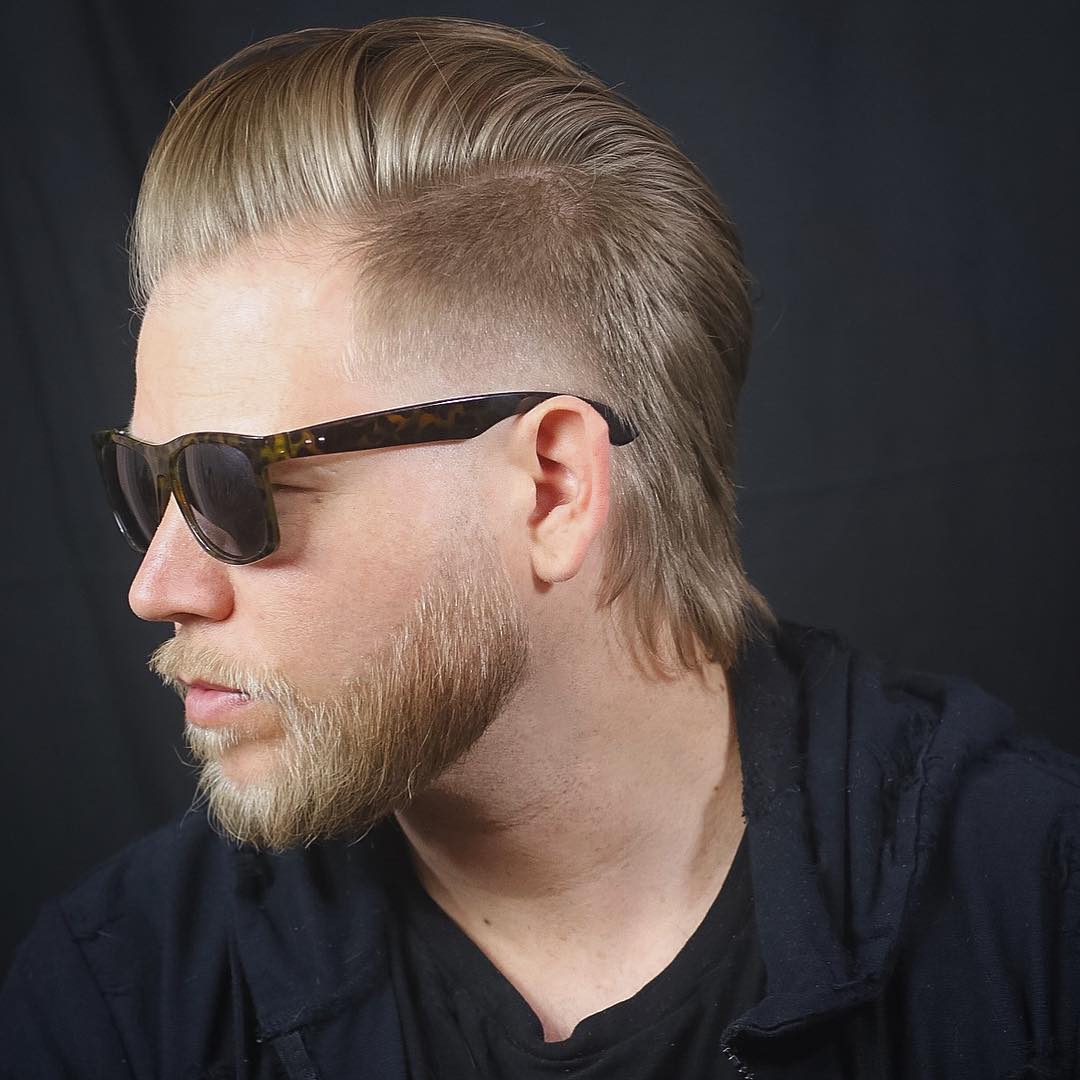 Juan Morales
Mullets are in. And will grow in popularity as we head towards 2020. This is a super cool undercut meets pompadour meets mullet.
38. Medium Textures On Top + Short Tapered Sides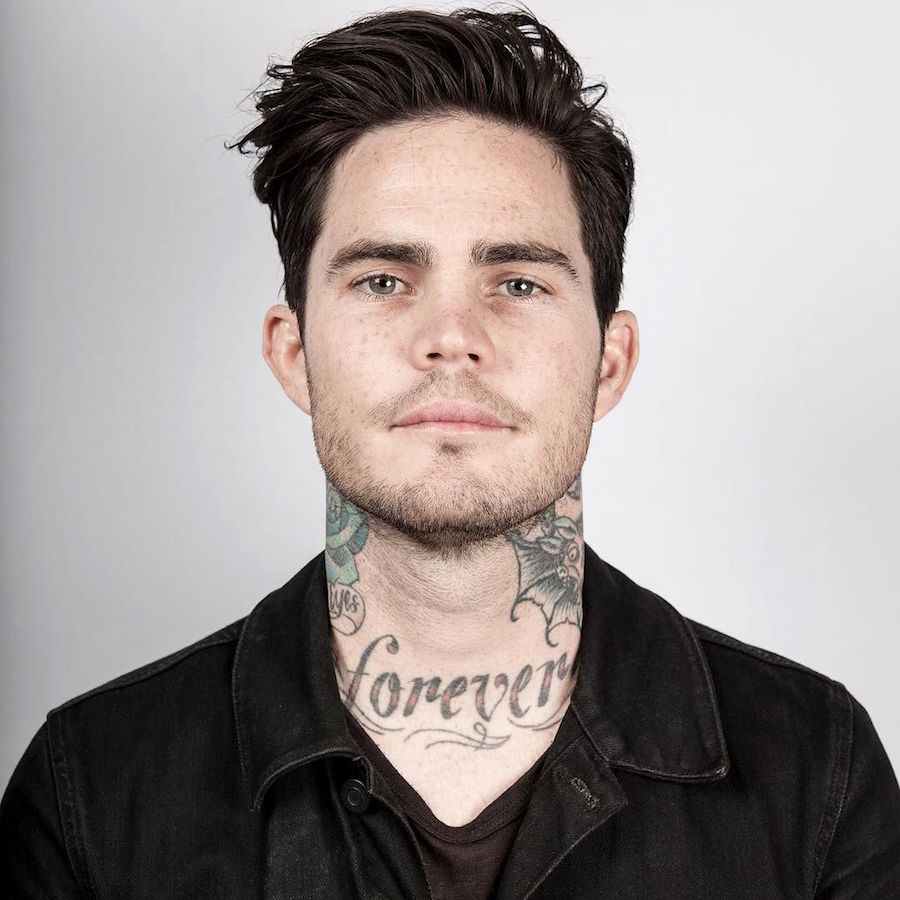 Morris Motley
If you have thick hair this is a great haircut to try out. Tapered short on the sides. Long hair on top styled back. You can style it into a side part look or just slick it back.
39. Slicked Back Modern Undercut Hairstyle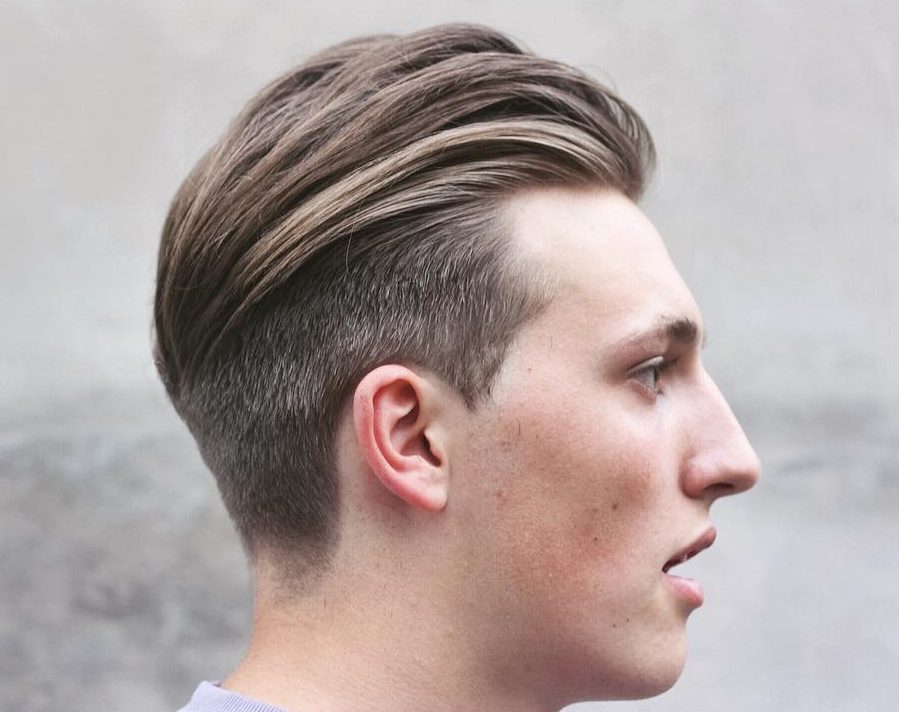 Josh Connolly
I like this haircut a lot. The undercut is not shaved as high as you normally see. Hair on top is slicked back. You can either brush and blow dry it back. Or you can go for a more slick look by using a shiny pomade, work it into damp hair, and simply brush or comb your hair back into place.
40. Scissor Cut Side Part Haircut For Thick Hair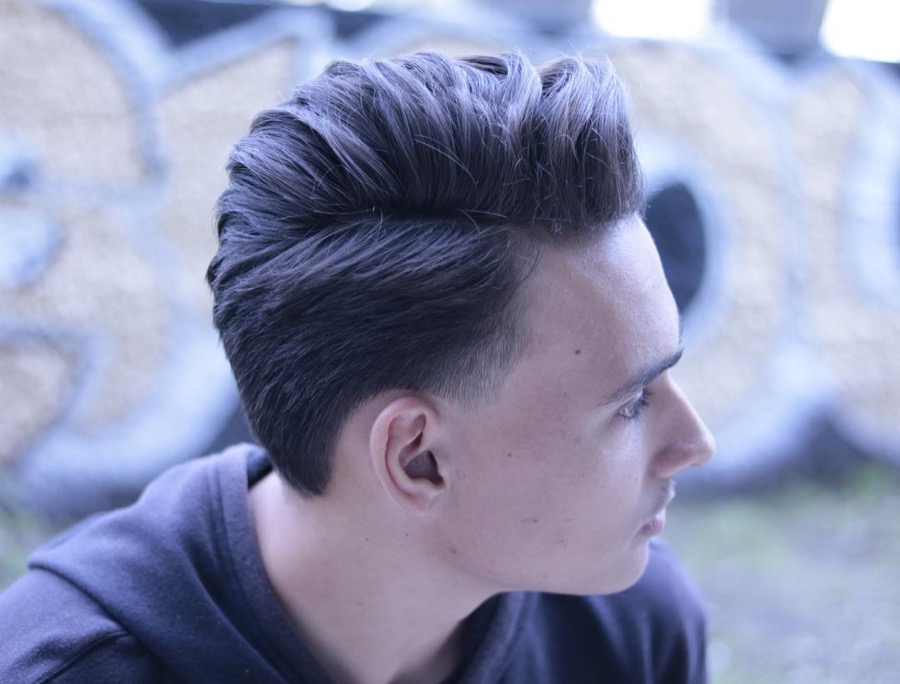 Underground Veria
Another great example of where things are headed. More flow, movement, and longer lengths of hair. A great looking tapered haircut for men. Short on the sides but no skin. Styled naturally into a side part.
41. Mohawk Bald Fade Haircut + Fresh Line Up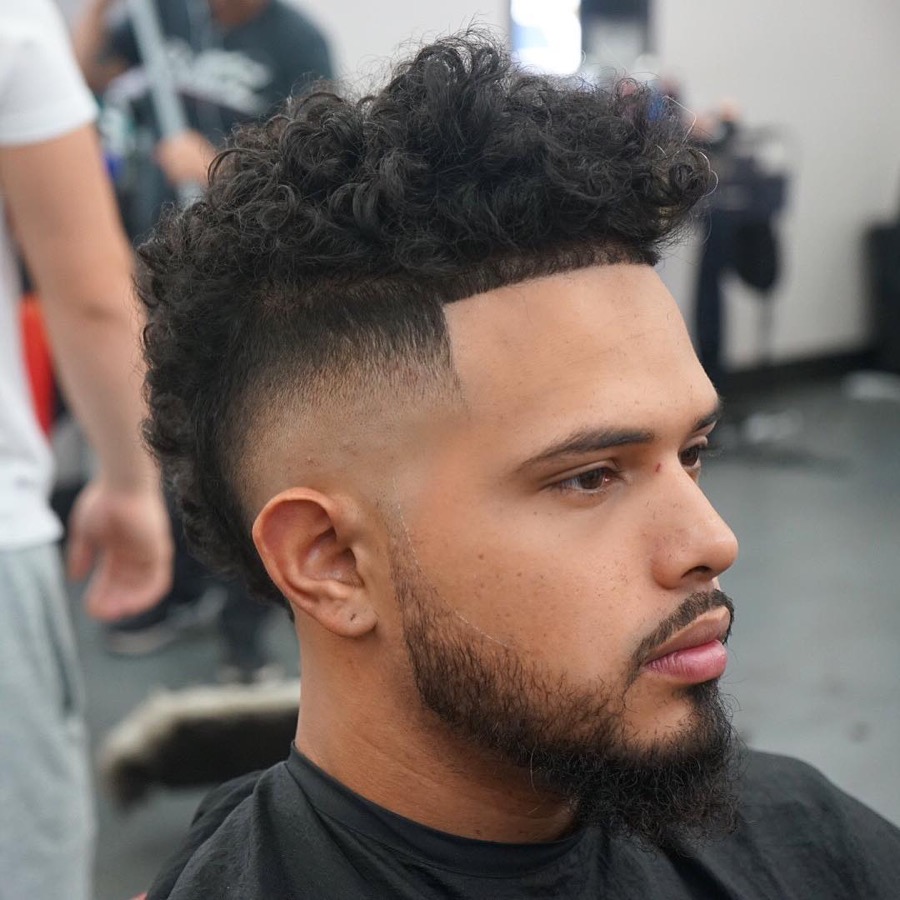 Level
Mohawks have become more and more popular lately. This cut features a bald fade, line up in the front to keep things looking clean and fresh, and the curls on top are left natural to do their thing.
42. Long Textured Fringe + Mid Fade Haircut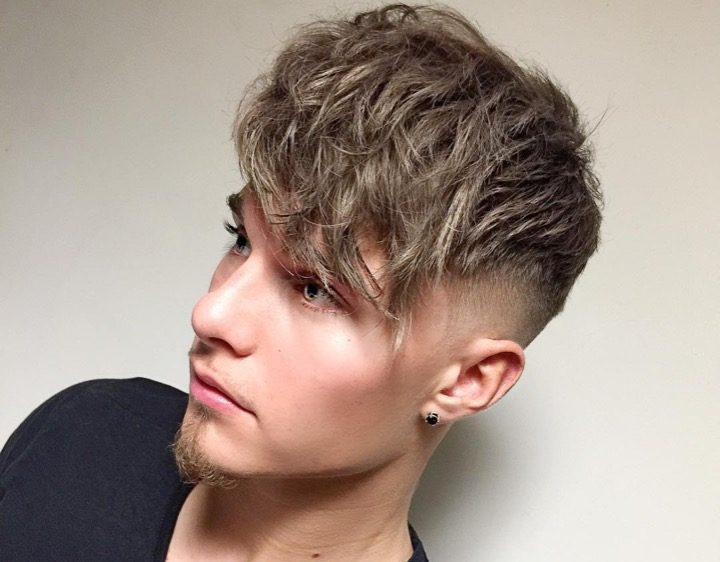 Mikey
A long fringe just looks cool. This is a modern take on the classic skater haircut for guys. Long textures are styled forwards into the flow of the fringe. The heavier hair length up front and on top contrasts perfectly with the mid fade to the sides and back.
43. Short Textured Quiff Haircut + Mid Fade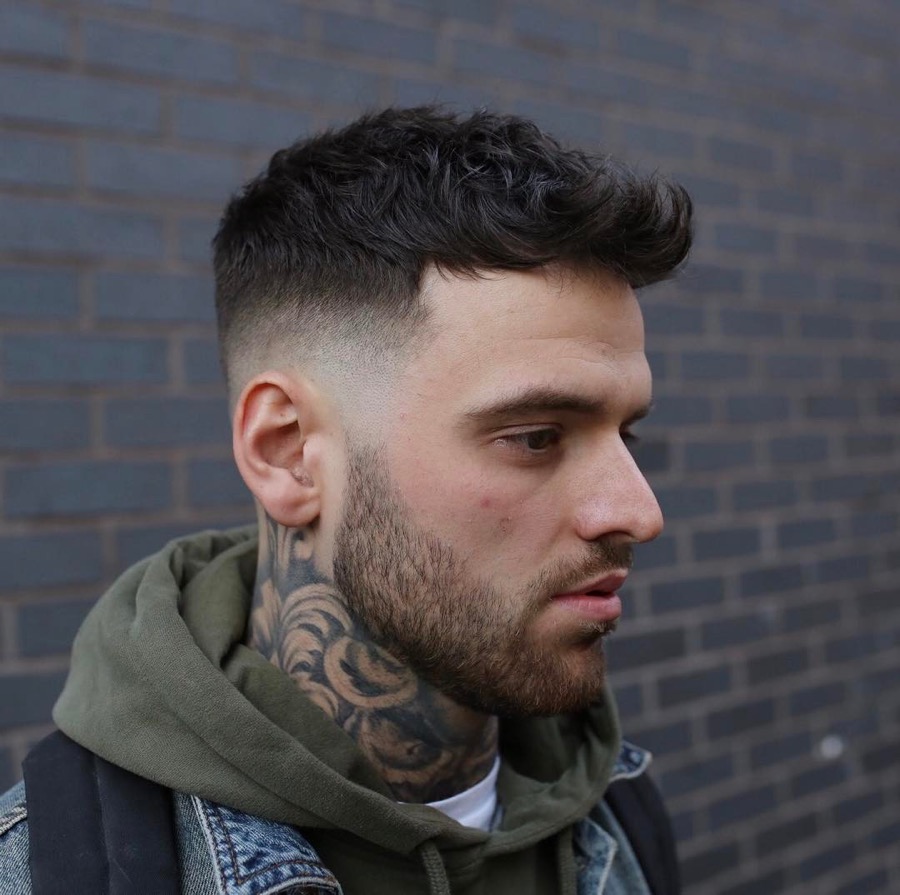 Ross Parlane Barbershop
Short haircuts for men never go out of style and always look great. This is a great haircut for guys that have thick hair and want to keep things clean and fresh. This look features a mid skin fade, and short textured hair on top styled into a quiff. The great thing about short haircuts is that they are super easy to maintain and style. Not much to it. Simply towel dry, work a small amount of pomade into damp or dry hair, and style into place using your fingers. One of the best short haircuts you could get.
44. Textured Quiff Meets Pompadour Haircut + Line Up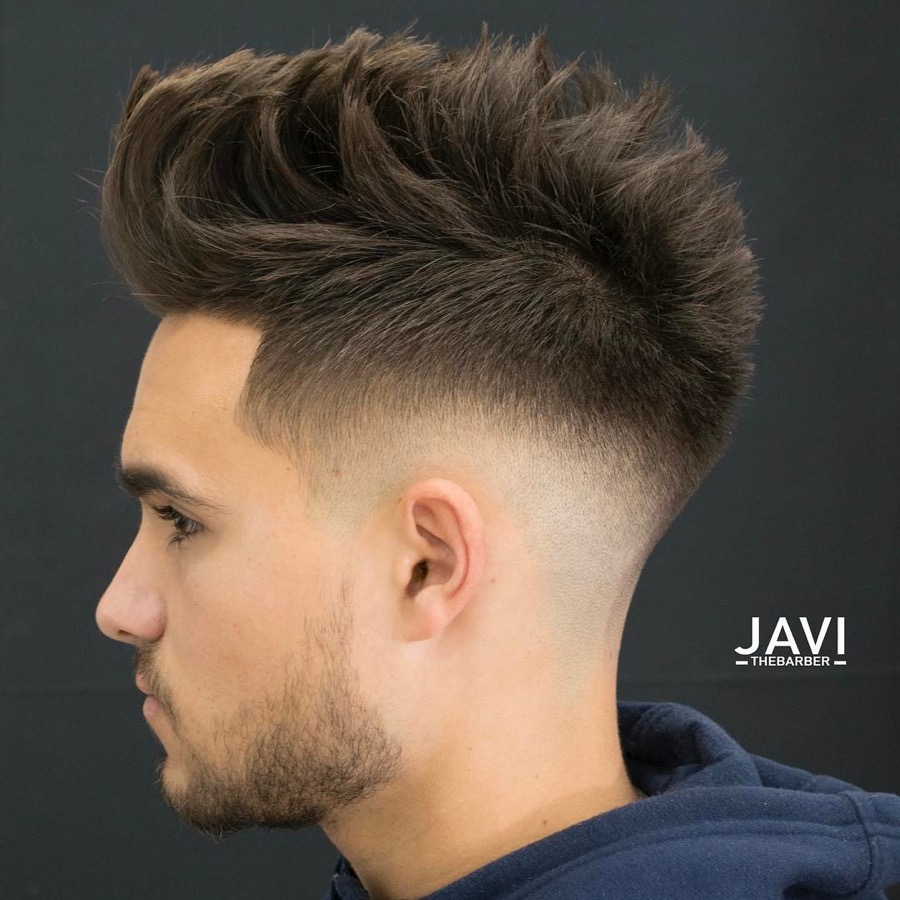 Javi the Barber
A totally cool haircut. Part mohawk, part quiff, part pompadour. It features a bald fade that places the emphasis on the wild loose hair on top. To get this look you need to use a blow dryer and a brush.
45. Cool Short Crop Haircut For Wavy Hair + Low Fade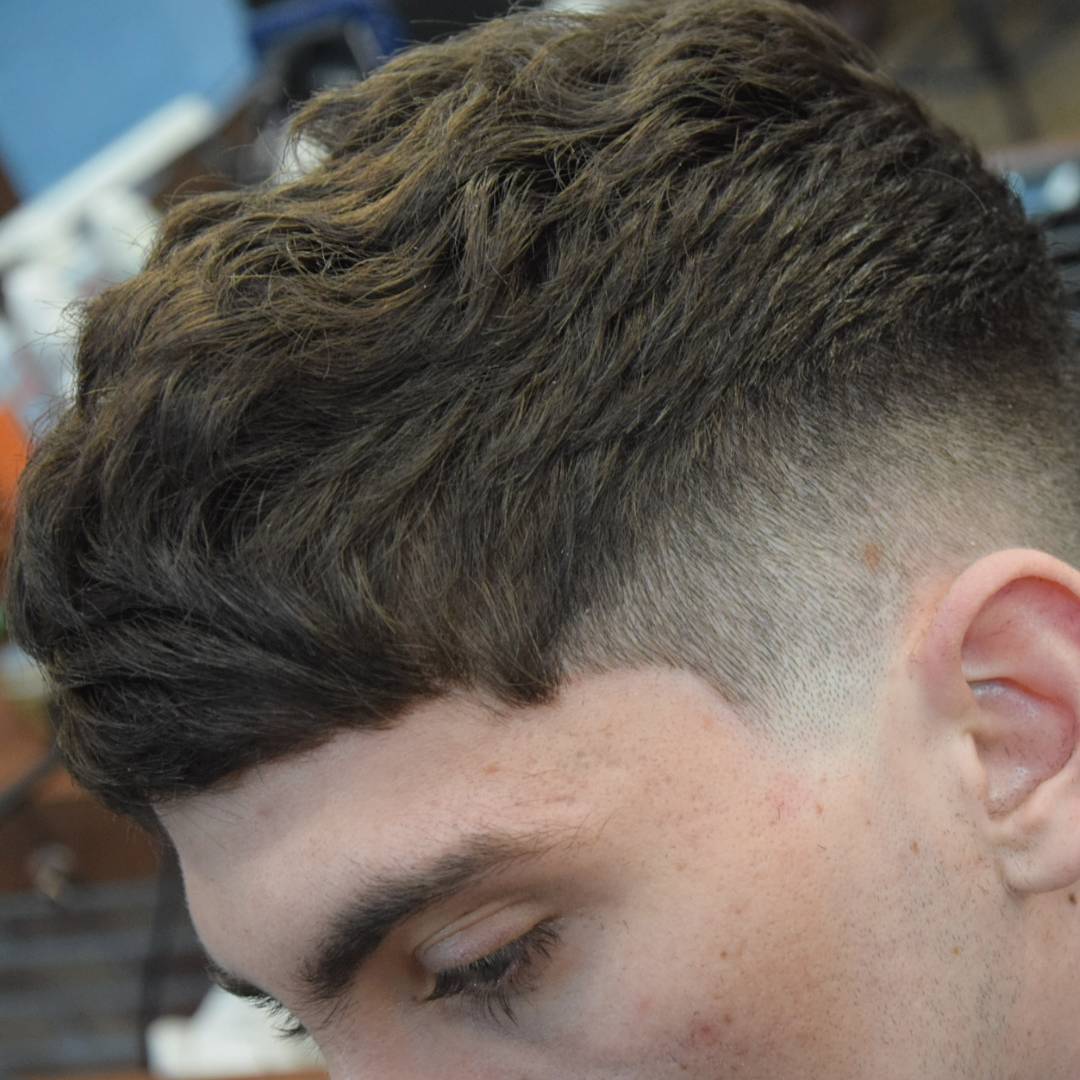 Alessio Bolognesi
Crop haircuts have been super popular. They are still going strong and will likely continue to be a top pick for guys that like a short haircut. Crop haircuts work for all hair types. At first we were seeing mostly blunt cut crops. These days we are seeing more textured and asymmetrical fringes. This one is kind of in between. This is definitely one of the best haircuts for men that want to keep their hair short. It is also one of the best haircuts for receding hairlines since the hair is styled forwards.
46. Natural Waves Medium Length Men's Haircut + Short Sides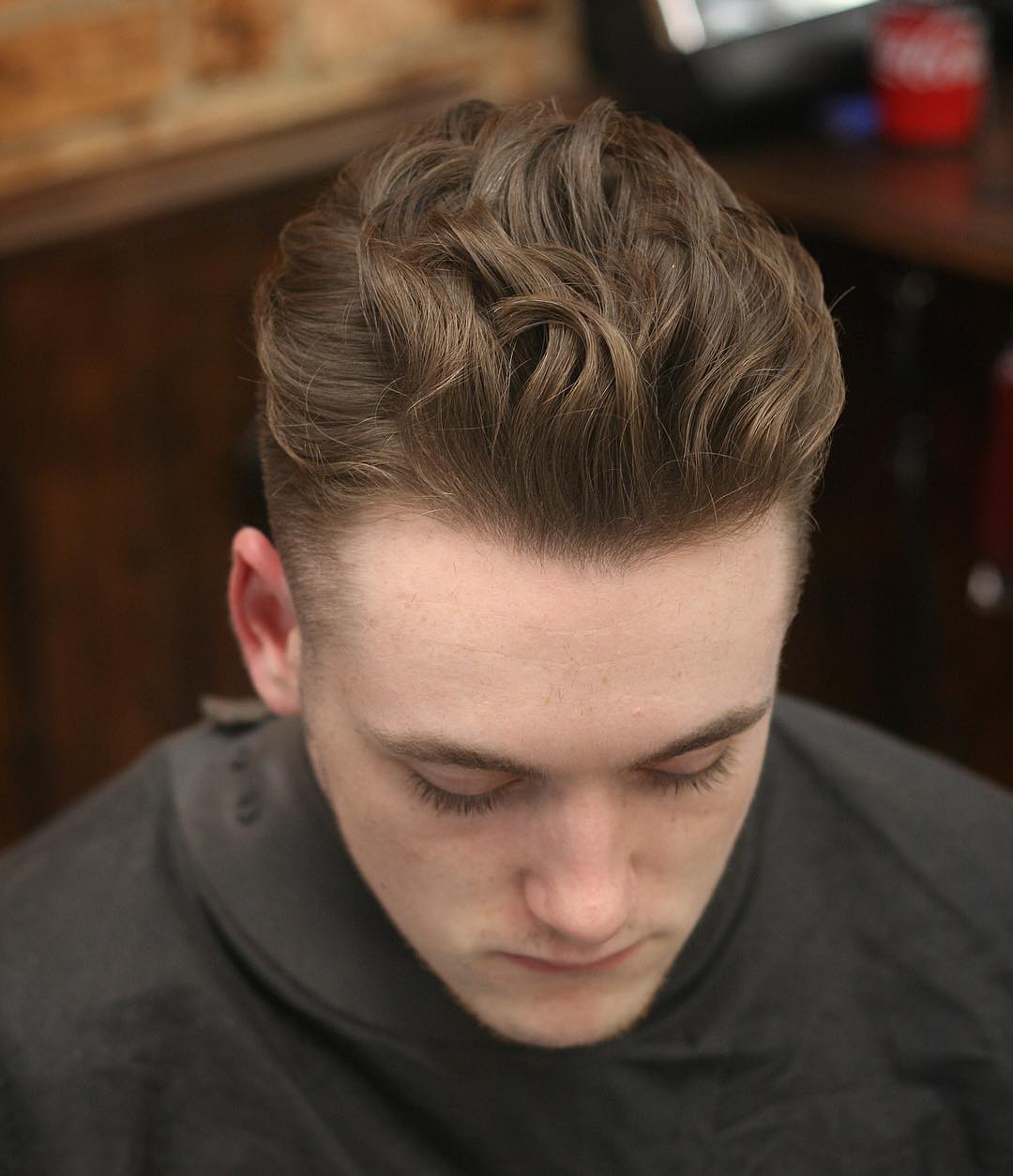 Hard Grind
A very natural looking classic men's haircut. Short sides, a bit longer on top, brushed back into place.
47. Slicked Back Wavy Men's Hairstyle + Bald Fade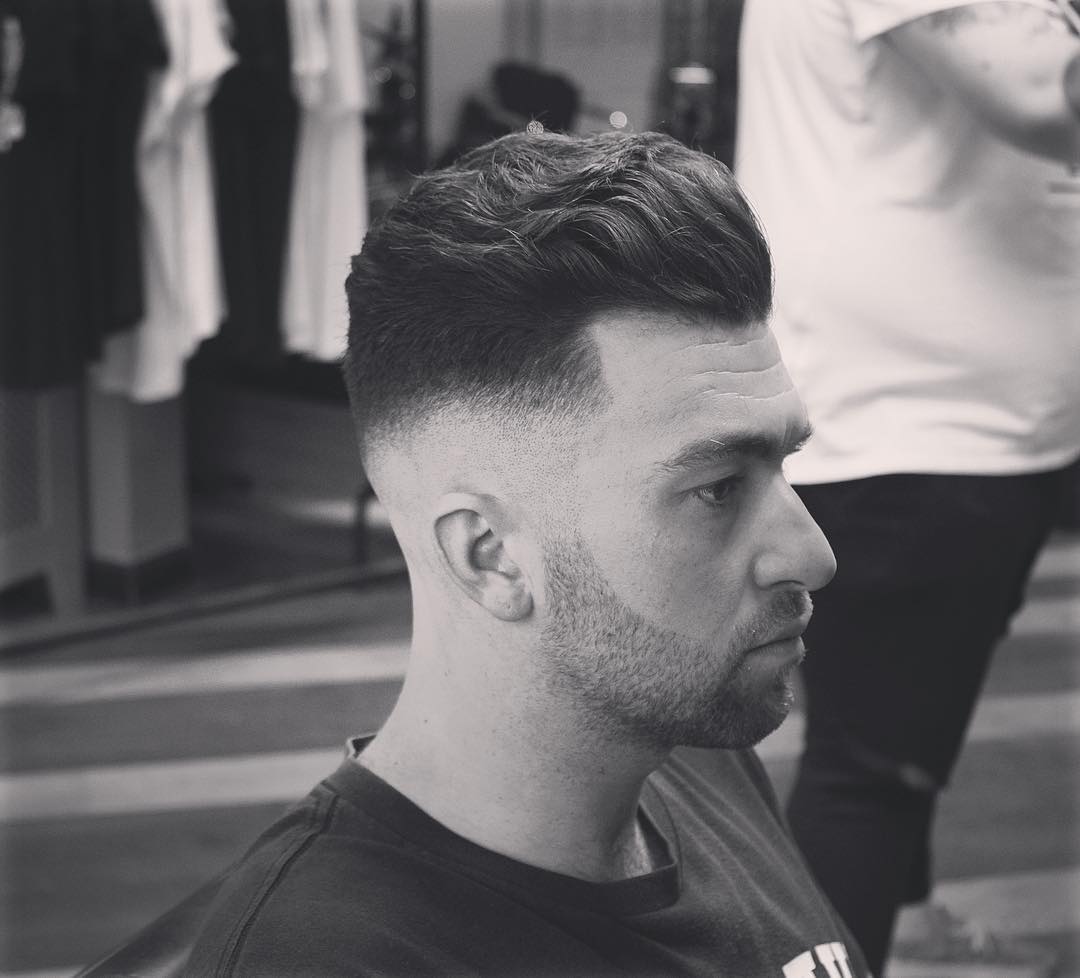 Jake's Barber Shop
Another good haircut for guys that have thick or wavy hair. A classic look with short sides and medium length hair on top. It can be styled back naturally as in this photo or slicked back with a strong hold pomade with shiny finish.
48. Modern Taper Fade Haircut For Men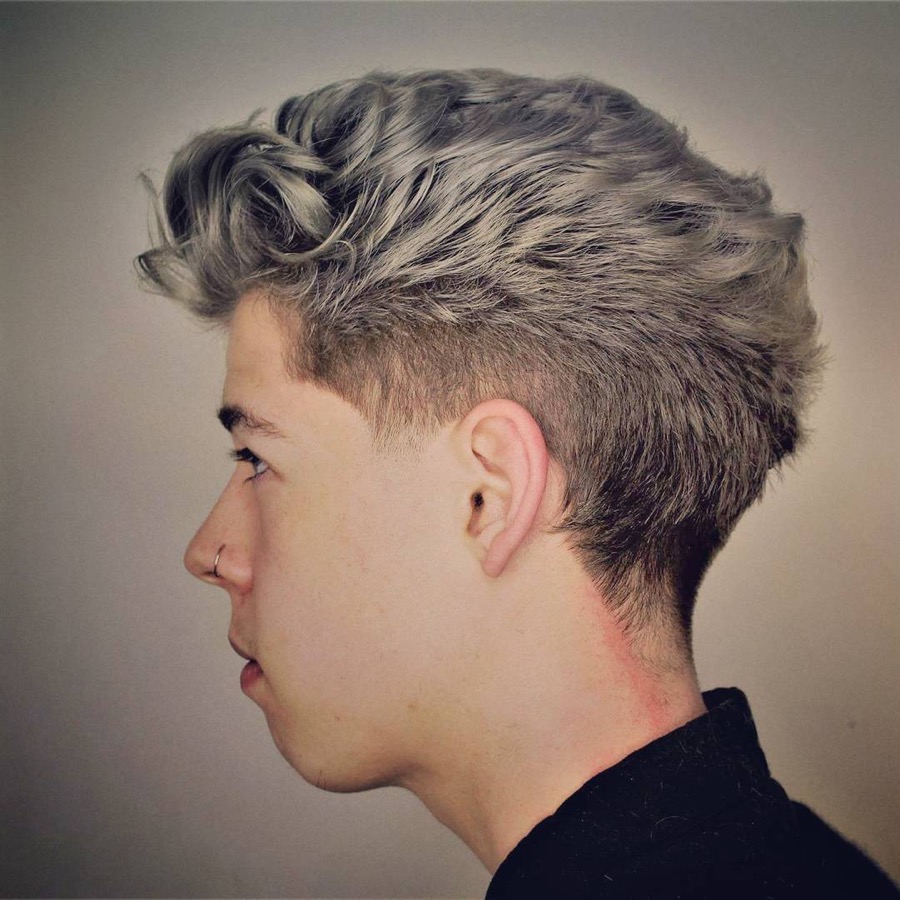 Adam O'Callaghan
A totally cool tapered haircut. The hair on top and in the back is kept longer to give the hair movement and flow front to back.
49. Longer Curly Hair Flow Haircut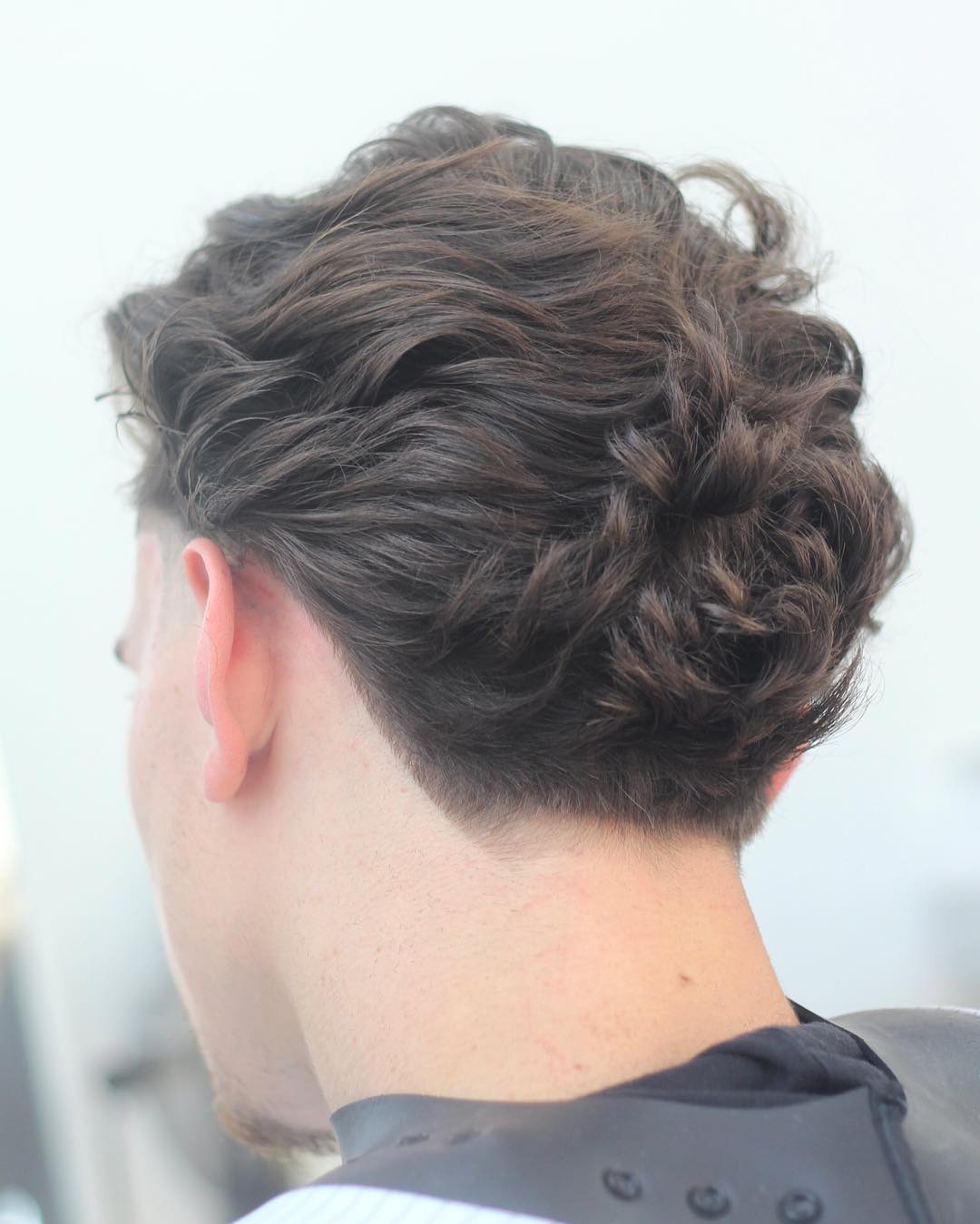 Alan Beak
This is the best haircut for curly hair. Things have been all cleaned up along the hair line with an awesome minuscule taper fade. The curly hair on top and in the back is left to flow naturally.
50. Cool Textured Thick Hair + Short Sides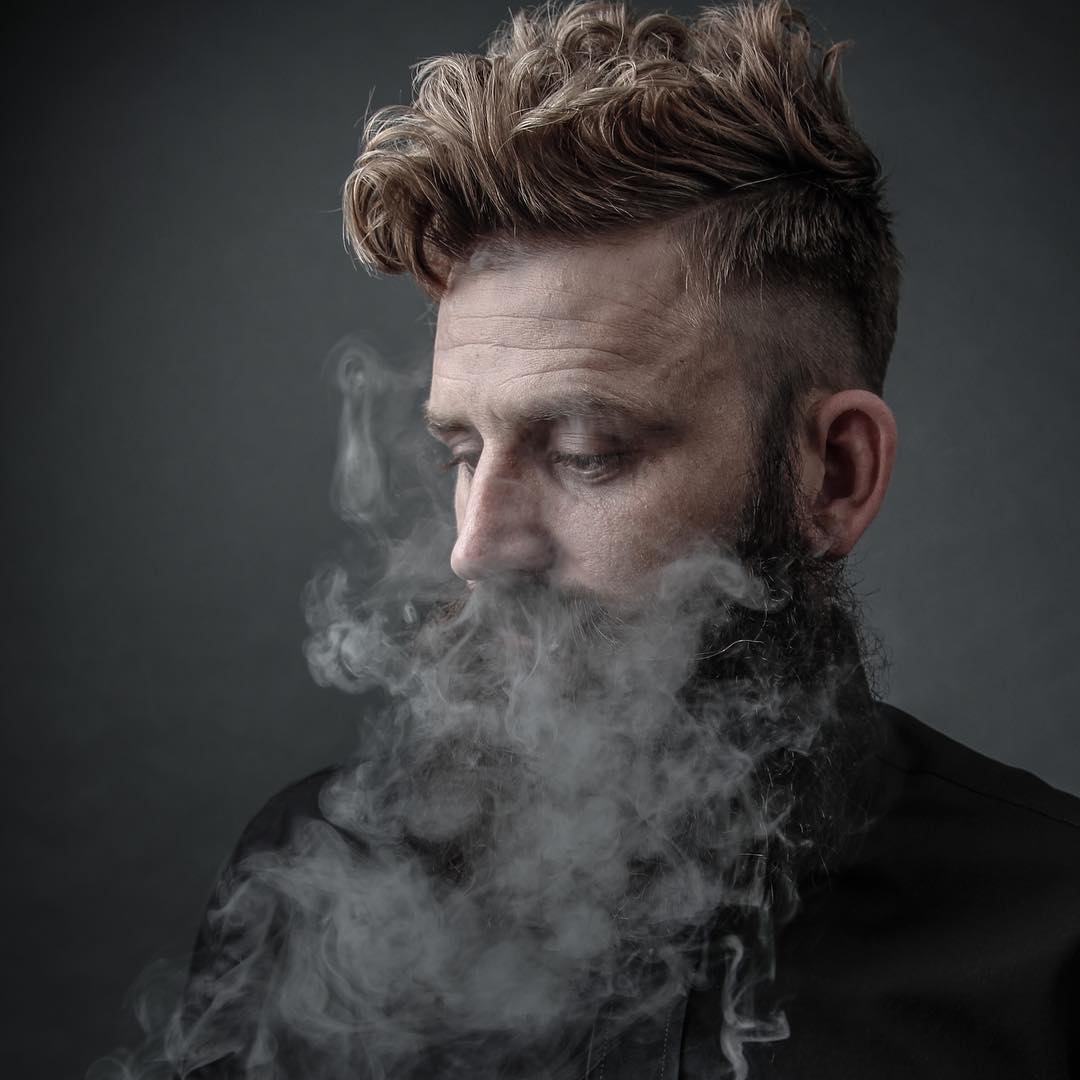 Ryan Cuts Hair
This is one of the best haircuts for thick hair or curly hair. Styled into a side part quiff. Super cool haircut for men.
51. Low Fade + Twisted Curls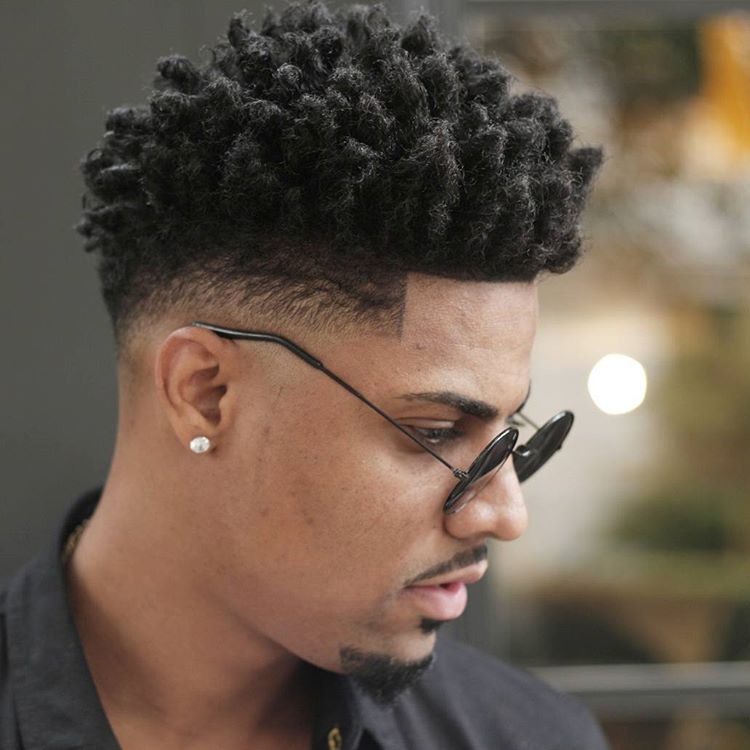 Dill Black
This cut features a low fade with natural curls on top that have been styled using a twist sponge.
52. Natural Slicked Back Haircut For Cool Guys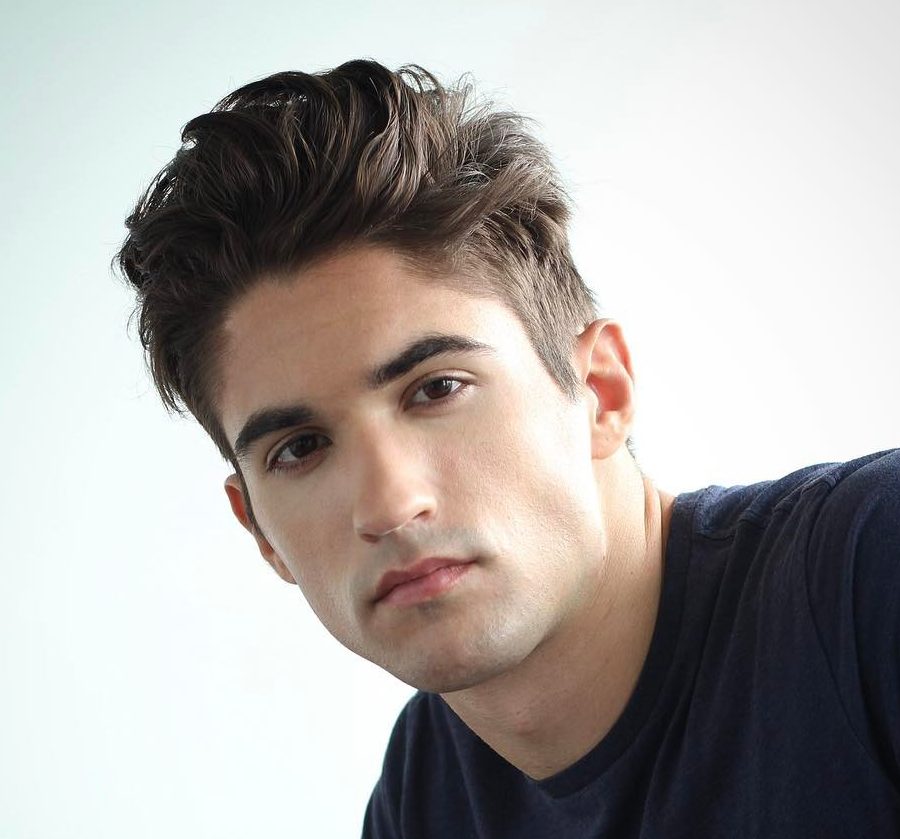 Carter Supply Co.
One of the best haircuts for thick wavy hair. This natural look is popular right now. Sides are cut short (but not faded) to emphasize the natural wavy flow on top. Fade haircuts are still super popular but more guys are opting for more natural looks like this one.
53. Tapered Men's Haircut + Side Part
Linus Jasper
Another amazing haircut for men with thick hair. A classic medium men's haircut that has been popular. Things are trimmed and cleaned up. But no clipper work. No shaved hair. No skin. This is what we will see more and more. More guys are opting for longer hair.
54. Tapered Haircut For Men + Long Fringe + Super Natural Flow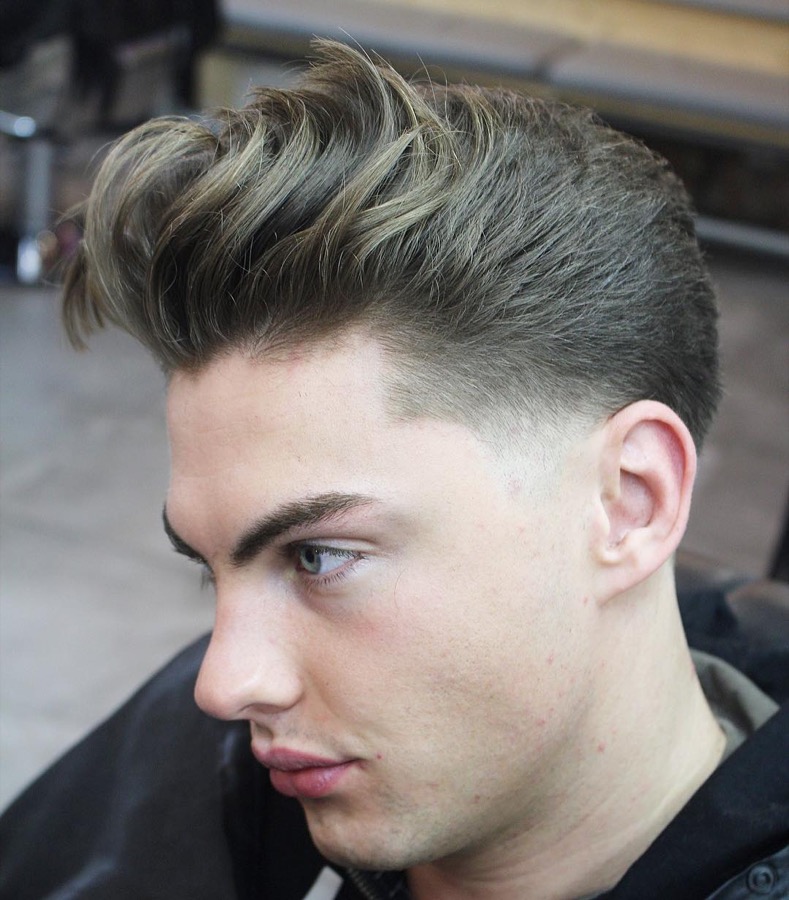 Josh Lamonaca
I love this haircut. This is one of the best haircuts for thin hair of fine hair. If you have less hair you want a haircut that keeps more but places the emphasis on what is left on top. This taper fade and short sides accomplish that. Blended perfectly into a medium length on top that has a tremendous amount of flow.
55. Super Cool Low Fade + Short Textured Hair On Top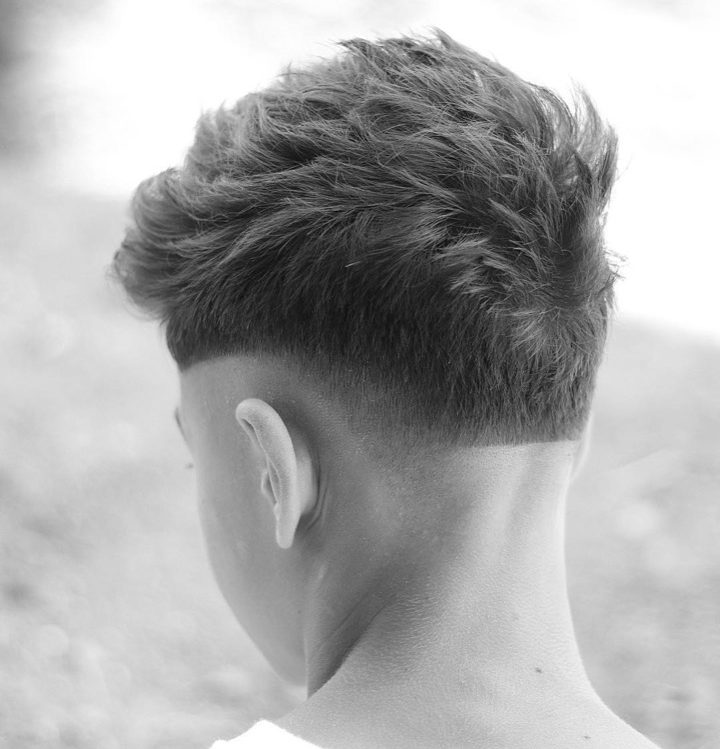 Underground Veria
This is one of my favorite haircuts that I have seen in the past year. I like fade haircuts that are not just your classic fade. This haircut shows off some cool 1980s design with hard lines in the back and sides to give the fade some extra detail. Very cool. I got this haircut myself after I saw it done by Rafa. On top, we have some nice soft looking medium textures.
56. Thick Hair Quiff Haircut With Textures + High Fade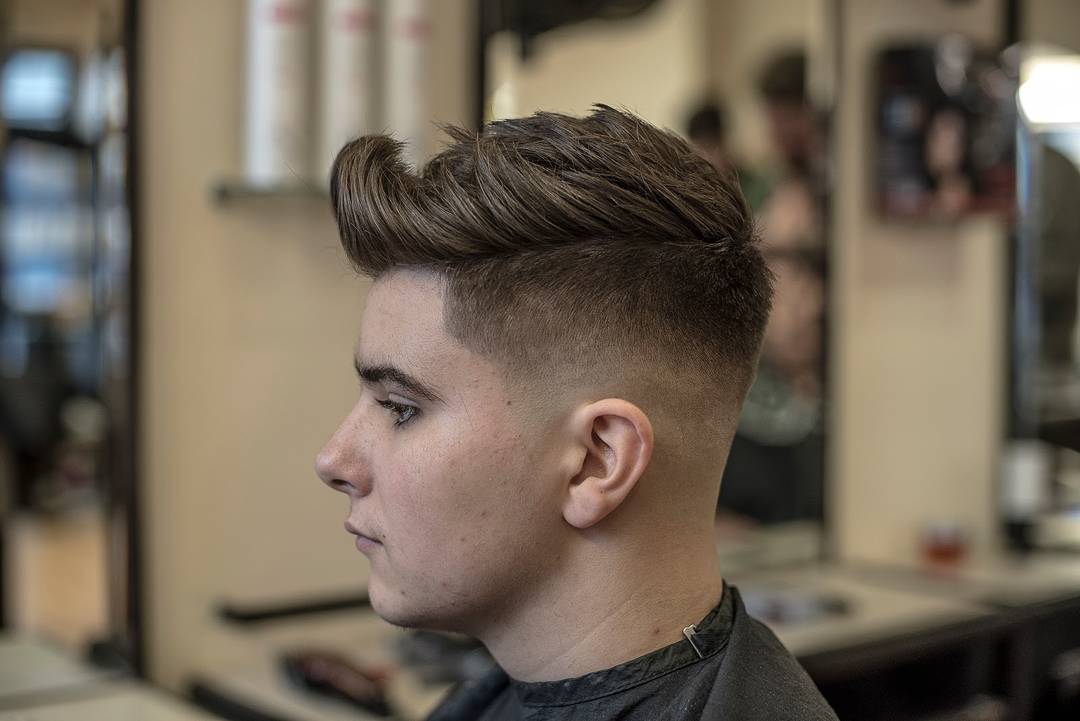 Shane Cronin
Another fantastic haircut. I love this choppy textured quiff haircut that features a high skin fade. To get this hairstyle use strong hold pomade. Work it into damp hair. Blow dry and brush the hair into place. This is a super cool disconnected undercut meets quiff.
57. Choppy Textured Medium Length Haircut For Men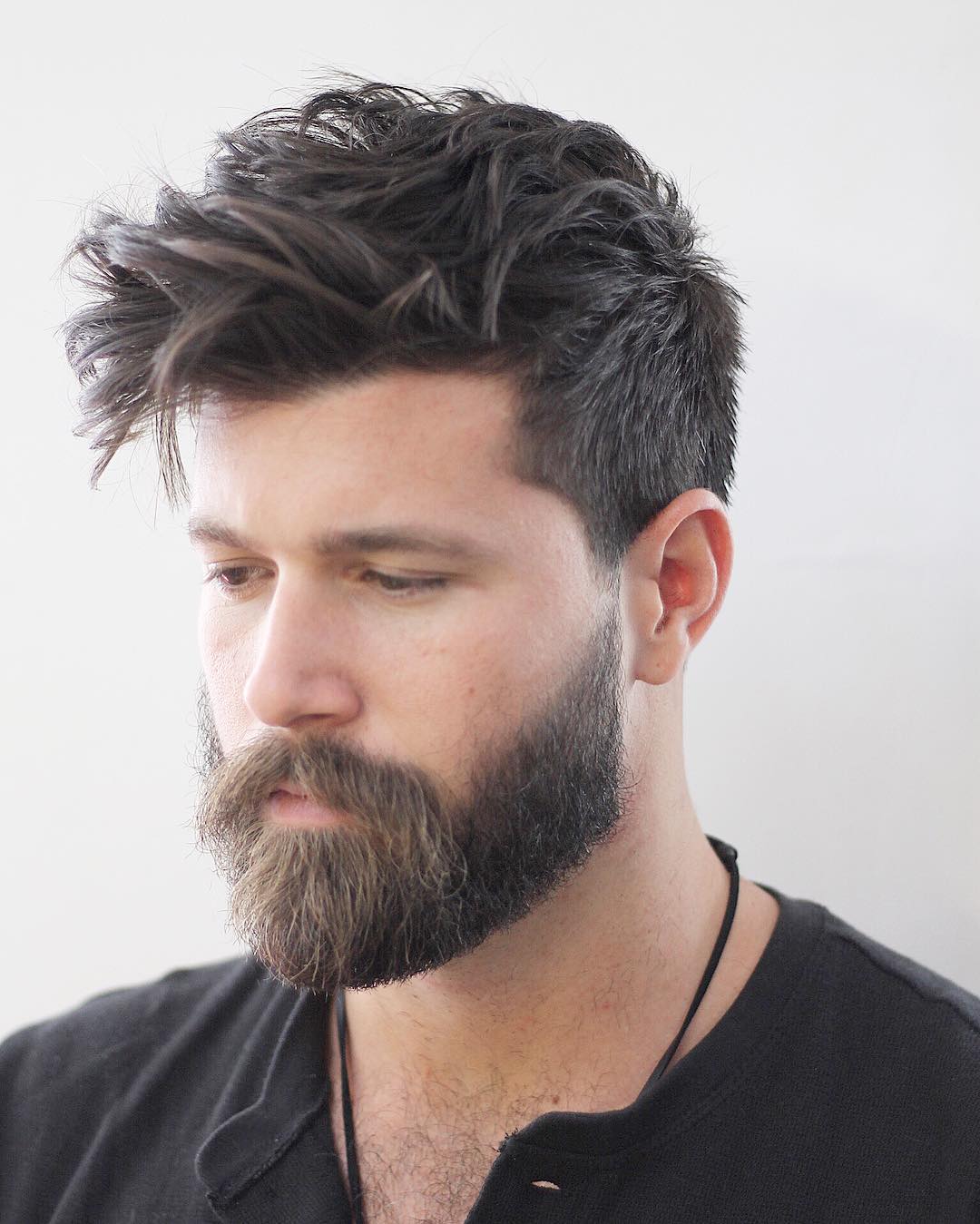 Mokum Barbers
A few years ago it was all about short textured haircuts. Then things evolved into longer textured haircuts like this one. This is a good haircut for guys that have thicker hair whether your hair is coarse or fine. The textured cut makes the styling part easier. You can towel dry or do a quick blast blow dry. Then simply work a medium to strong hold pomade into the hair to bring the textures alive. Every day you can get a different look depending on the direction you move the hair into place. That is what is awesome about textured haircuts like this one.
58. Beautifully Tapered Men's Haircut + Medium Length On Top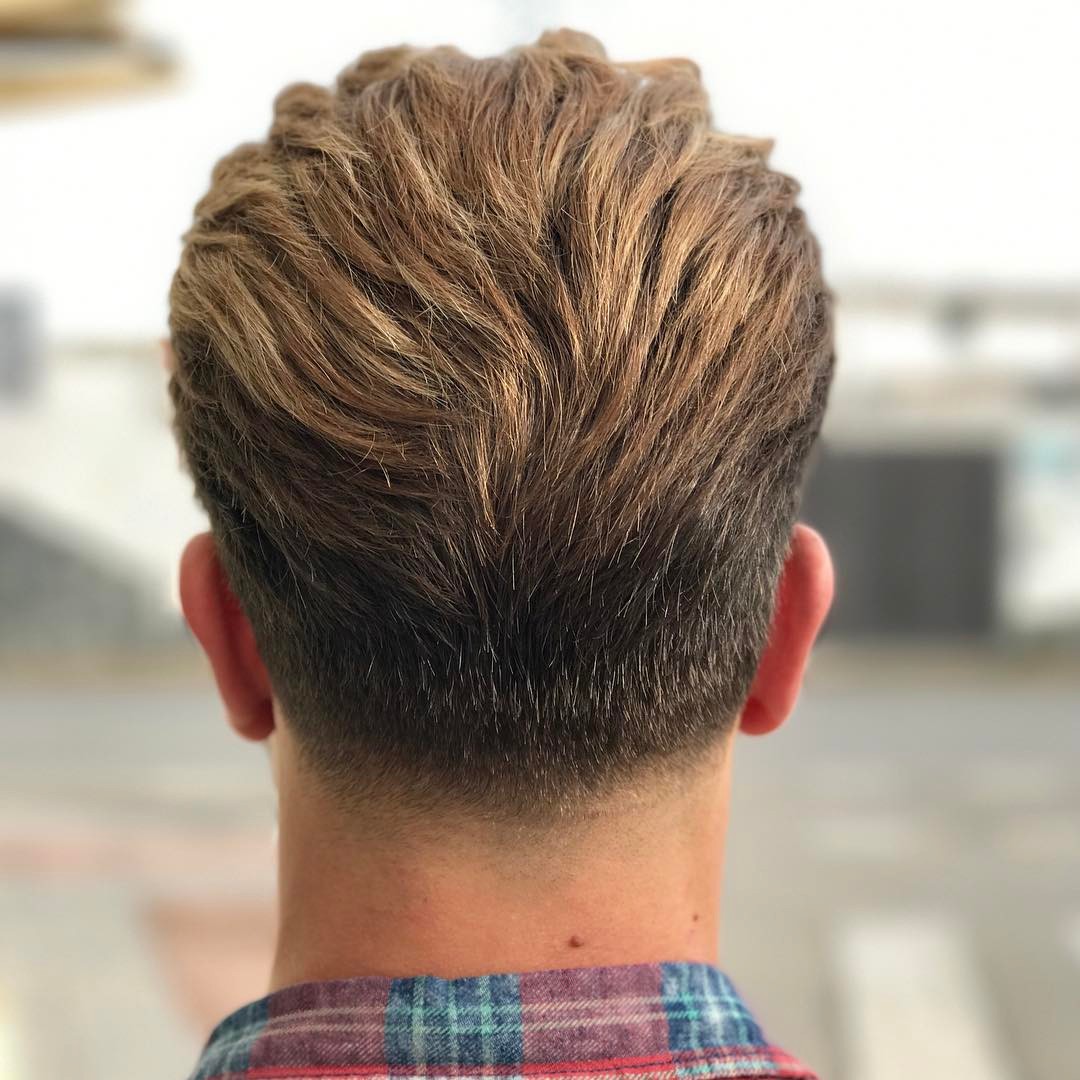 Javi the Barber
Such a great tapered haircut. Classic. Simply brush and blow dry front to back.
59. Simple Short Men's Haircut With A High Fade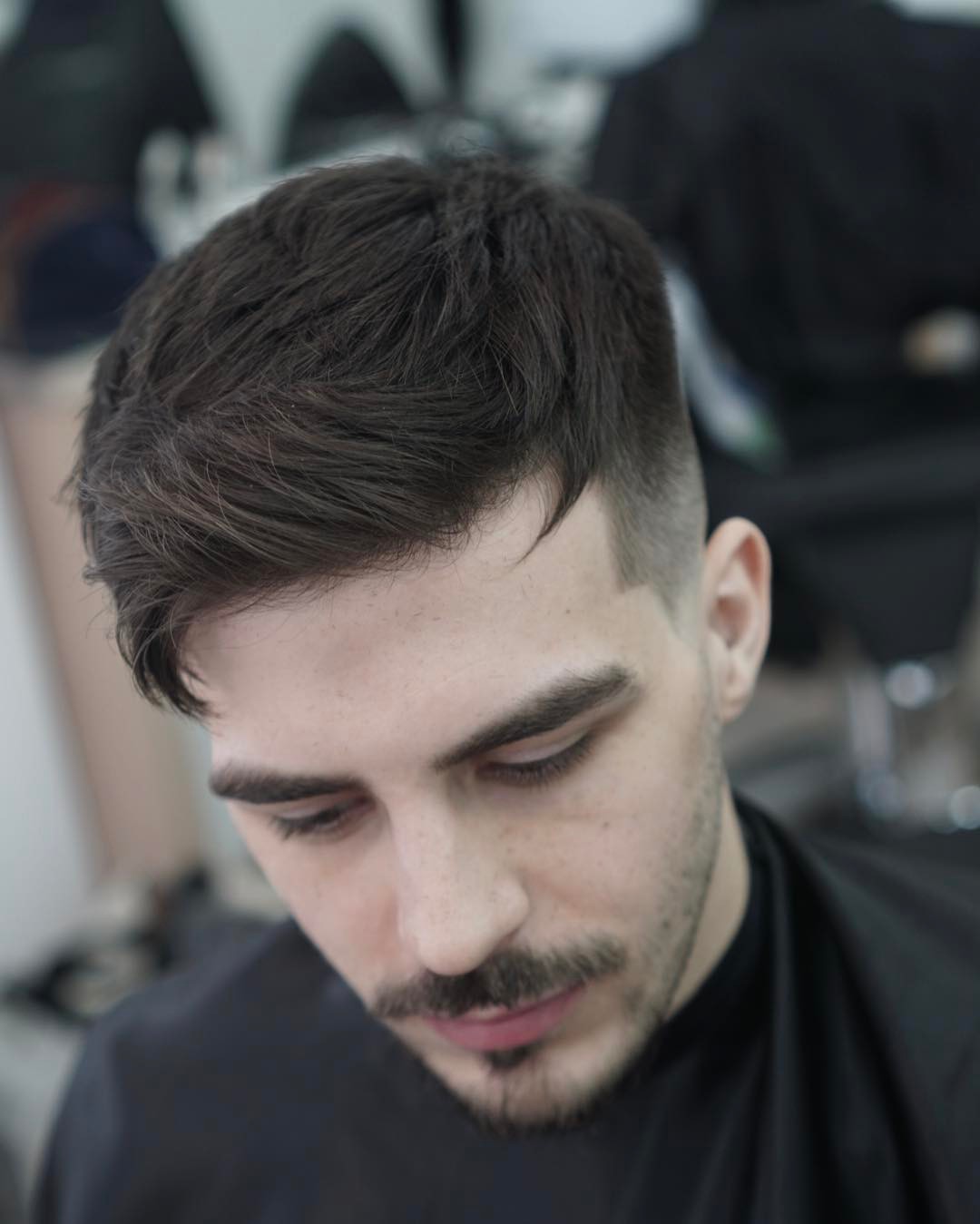 Glassbox Barbershop
A nice simple classic short haircut for men to get right now. The hair is styled a bit forward with a flip back and to the side in the front.
60. Temple Fade Haircut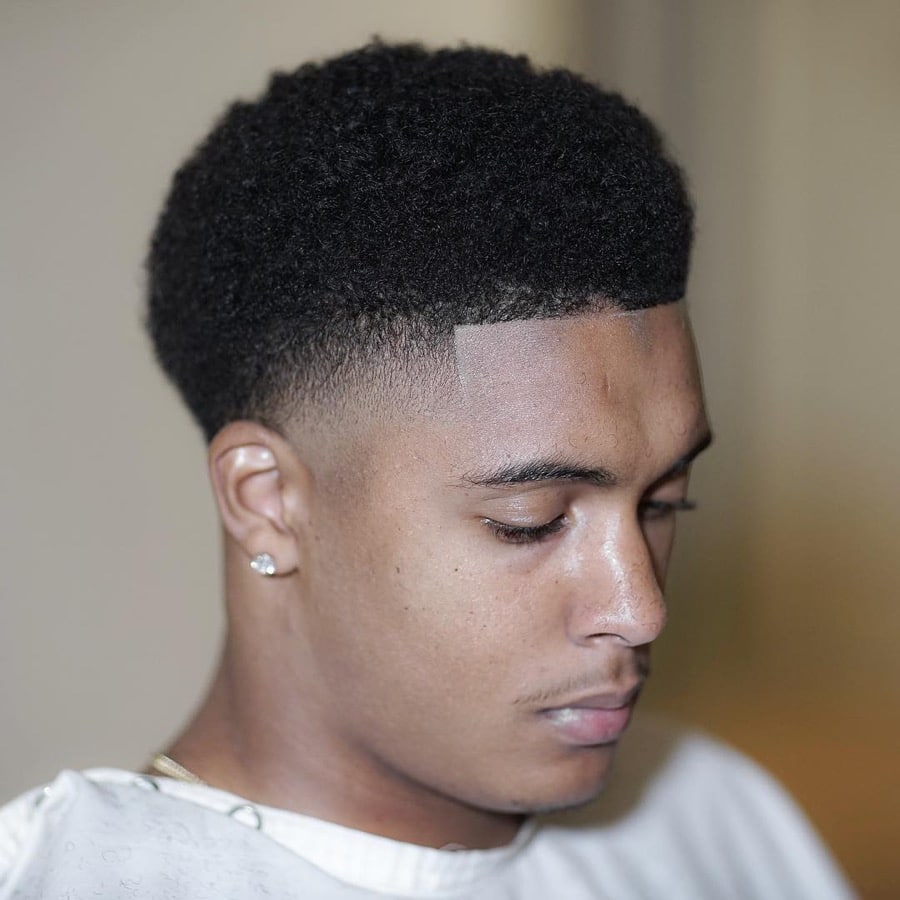 Pat Regan
A beauty temple fade haircut with natural curls shaped to perfection on top. This haircut is finished with a super clean shape up in the front
61. Low Bald Fade + Long Tall Curls (Jimmy Butler Styles)
Matt J.
Keep things cool in the summertime with a bald fade on the sides but a longer length of hair on top.
62. Short Textured Men's Haircut For Curly Hair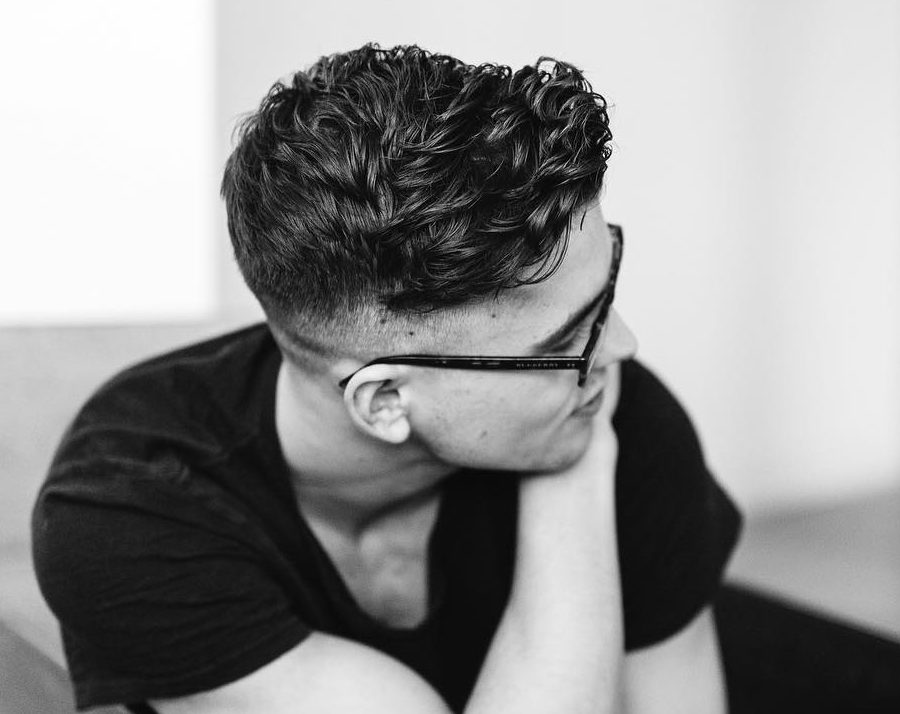 Whitney VerMeer
Whitney has put out some of the best men's haircuts for curly hair. Here she has beautifully textured the curly hair and cut it at a short to medium length.
63. Long Wild Messy Natural Curls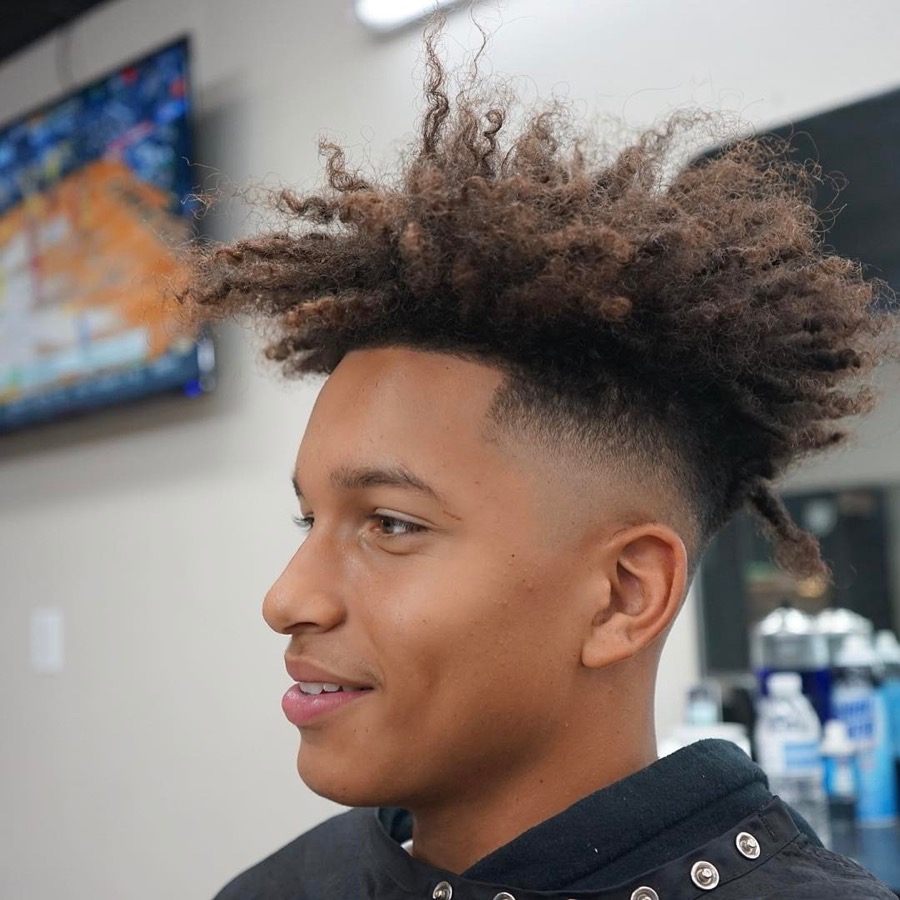 Level
Bald fade on the sides to keep things fresh. Wild curls on top.
64. Super Cool Long Surfer Hairstyle For Guys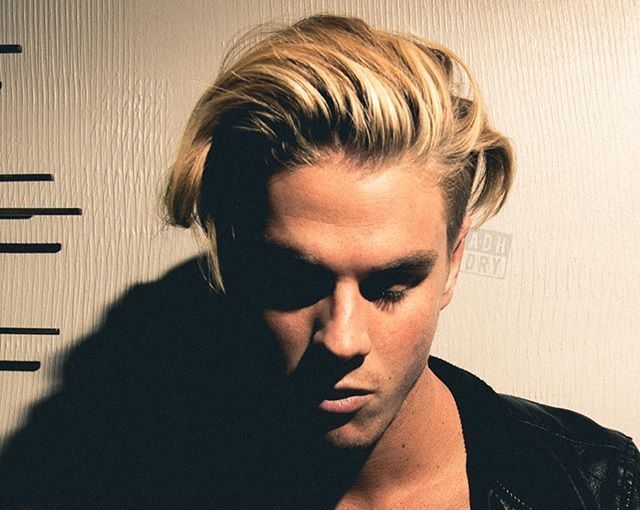 Andrew Does Hair
If you are thinking about growing your hair long this is a great cut that will take you in the right direction. Sides are short but not at all close to the skin. Hair on top is neatly trimmed and styled in a modern slick back look.
65. Beautifully Sculpted Modern Afro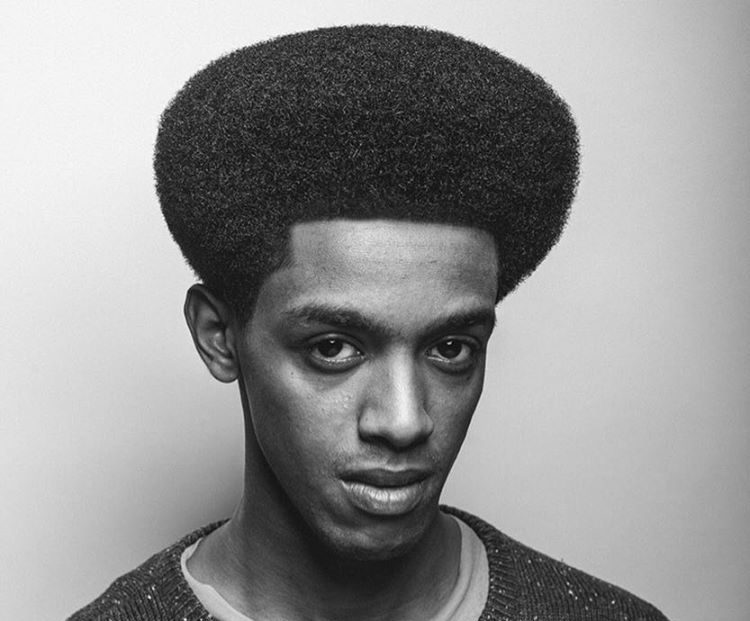 Nomad Barber LDN
Incredible shape. What incredible attention to detail.
66. Hairstyle For Long Wavy Hair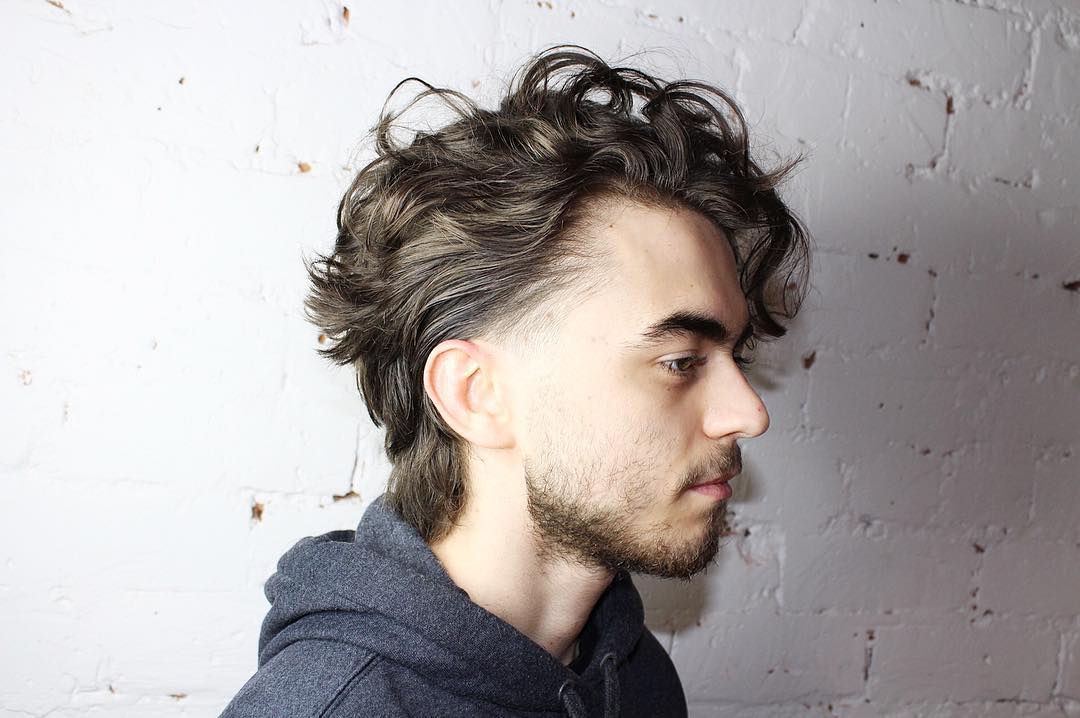 Simon Harvey
Another great haircut for men that want to work towards growing their hair out longer. The hair is scissor cut nice and neat and will allow for growing the hair out even longer over time.
67. Cool Long Hair Hairstyle For Men Tied Back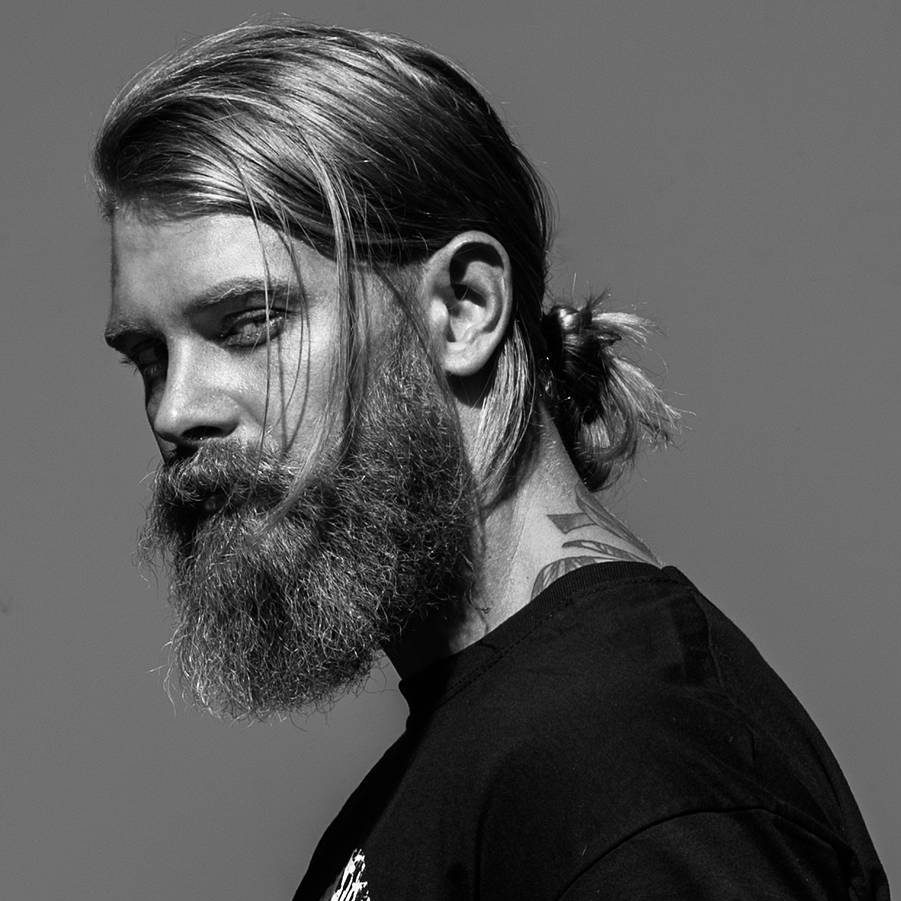 Spizoiky
Long hair is cool. More and more guys are growing their hair out. Looks great with the beard. Hair can be tied back into a bun, kept in a pony tail, or just let go loose and wild like.
68. Burst Fade Mohawk Haircut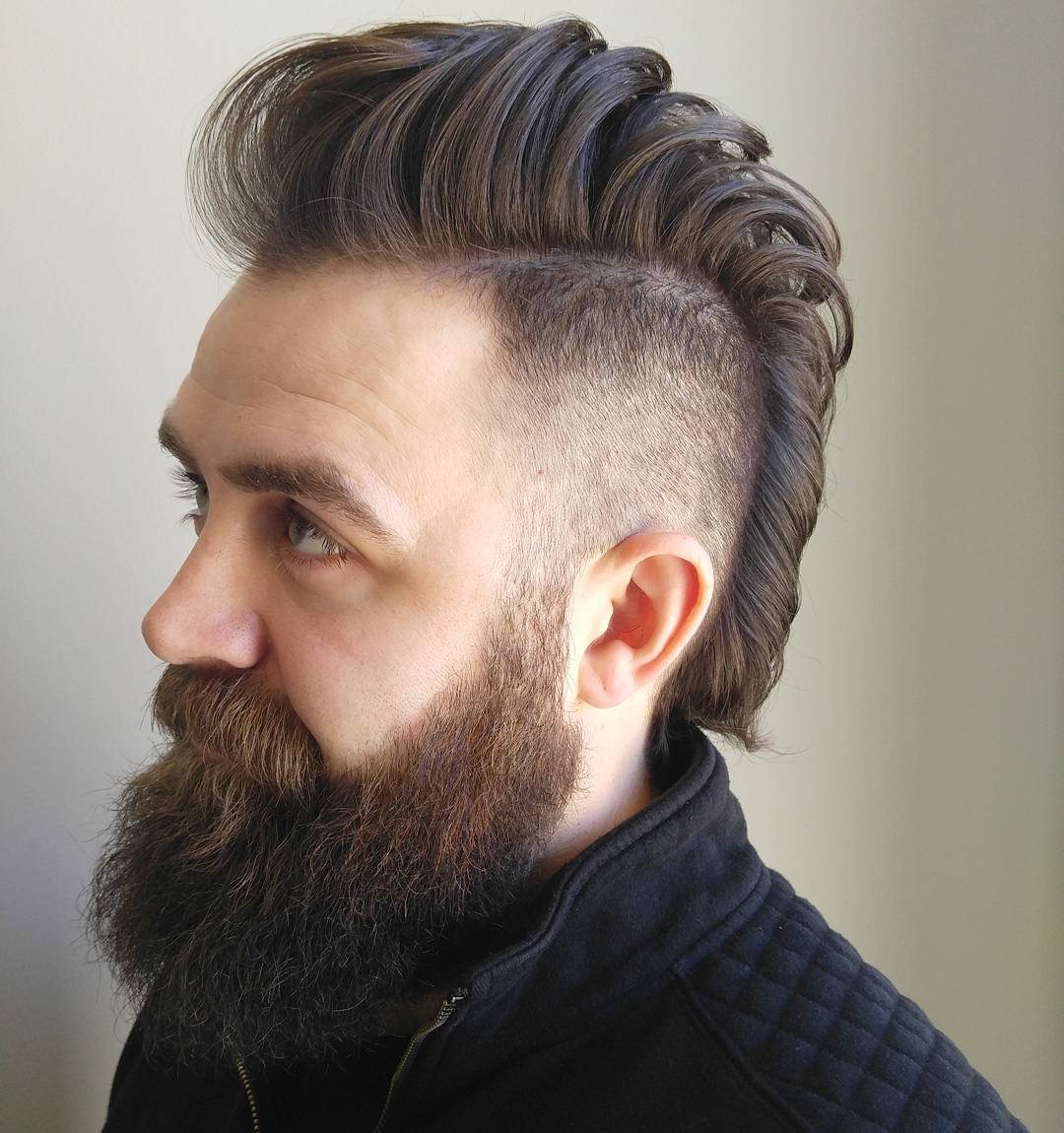 Erin Grommon
A cool mohawk pompadour hairstyle with a disconnected beard.
69. Low Fade + Longer Curls On Top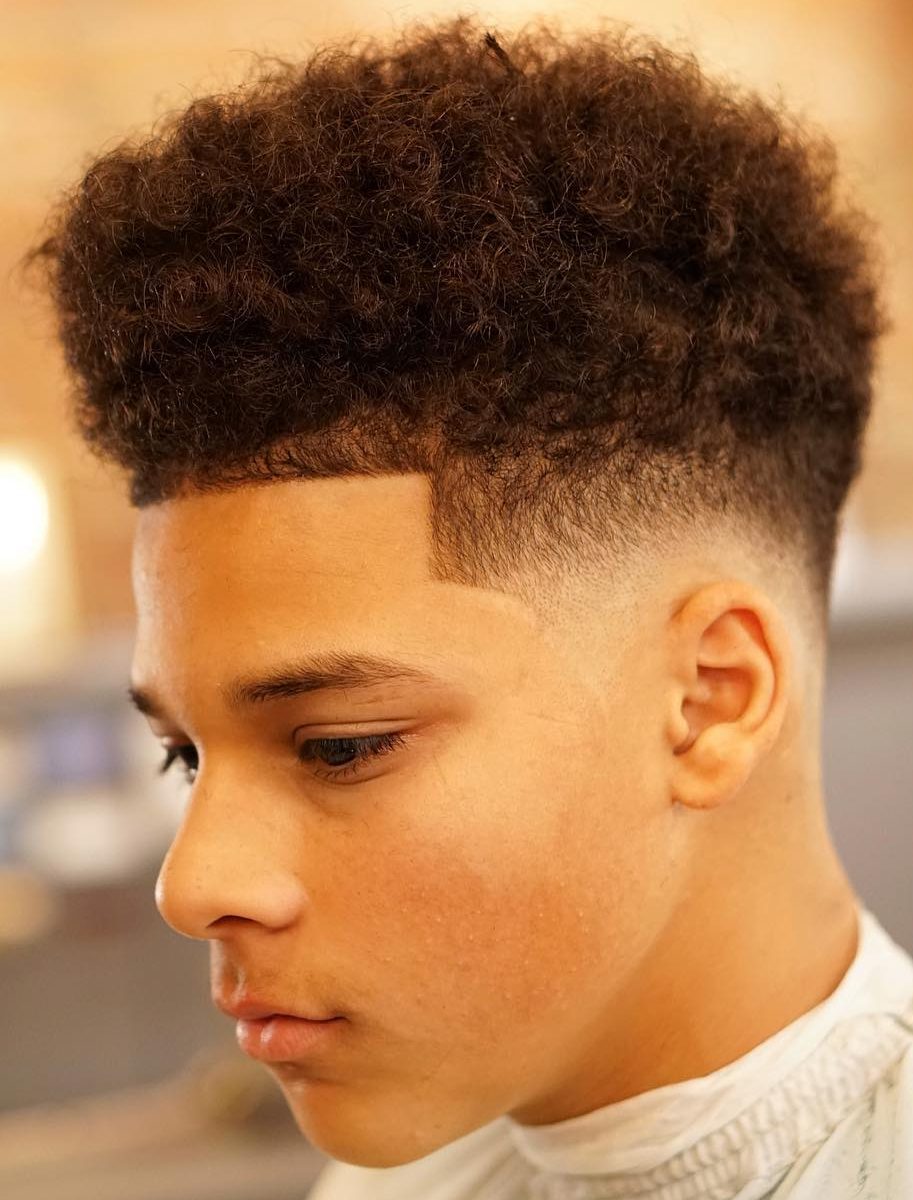 Sours: https://www.menshairstyletrends.com/best-haircuts-for-men/
29
30
31
32
33