Instructions to Install
What's on Android 10 version?
Google has officially unveiled the latest version of Android OS called Android 10. The update is already going live for Pixel series devices. It brings plenty of new features to the device system like system UI, new gesture navigation, improved privacy and location control. The update also offers enhanced app permissions, foldable display support, security features, system-wide dark mode, etc.
The Android 10 also offers built-in call screening, multi-camera API, smart replies in the notification panel, 5G support, improved call quality, bubble feature, live caption, and more. While the latest version also improves battery life, Focus mode which is similar to the Do Not Disturb mode, etc. Apart from that Android 10 also features 65 new emojis. It also comes with direct audio streaming support to hearing aid devices.
Lineage OS 17.1 : Android 10 Build
Lineage OS is an open-source and free operating system which is based on the Android platform. It is the successor to the custom MOD, the CyanogenMod, which shut down its operation in December 2016. However, Cyanogen. Inc retained the rights to the custom MOD and gave a rebranding to it as Lineage OS.
Important Notes!

This ROM will only work on this device, Don't try this on any other device.
Follow the steps correctly otherwise you may brick your device. We are not responsible for any damage to your phone.
It will erase all your data, so we advise you first to take a complete backup of your phone and then proceed.
Ensure that your phone has at least 50-60% charged to prevent the accidental shutdown in-between the process.

* I'm not responsible for bricked devices
Requirements!
You must have TWRP Recovery Installed on your device. (Learn here: How to install)
XDA Development Forum: Here!
(you can check here more information about ROM what is working and what's not working)
▼DOWNLOAD FILES
LINEAGE OS 17.1 ROM(H870)
LINEAGE OS 17.1 ROM(H870DS)
LINEAGE OS 17.1 ROM(H872)
LINEAGE OS 17.1 ROM(US997)
LINEAGE-OS 17.1 GAPPS
Check-out which G-App is compatible for your device from Here!
1. First Download & Install a Custom Recovery on your device (TWRP is recommended), If you already have installed then skip this step.
---
2. Download ROM & Gapps .zip file and save it on your device's Internal storage or SD Card.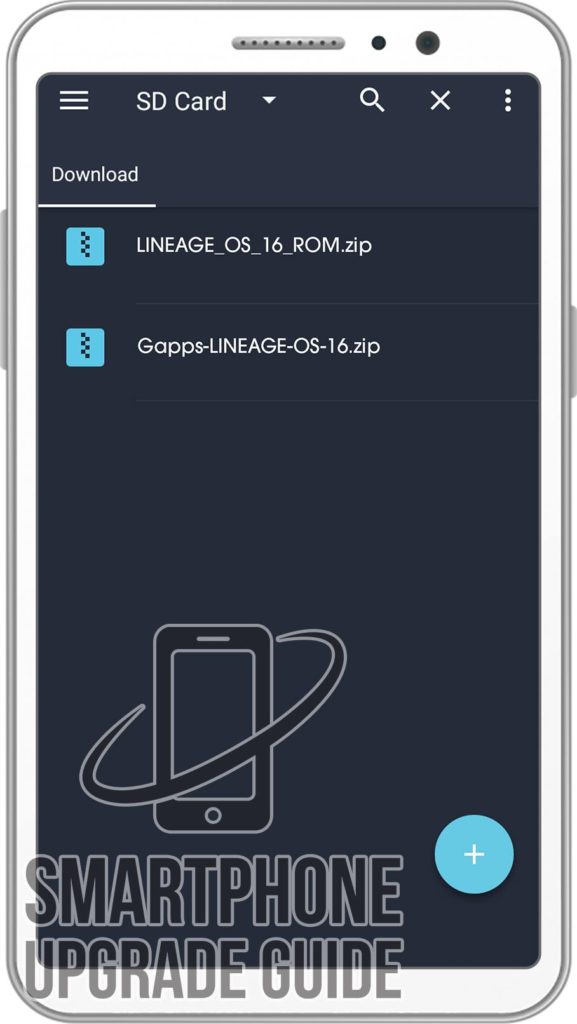 ---
3. Now Boot your device into TWRP Recovery Mode. (if you don't know how to boot your device into twrp recovery then you can search it on Google)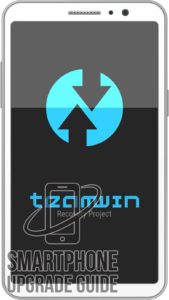 ---
4. Now in TWRP create a Nandroid Backup of your device for safer side. If anything goes wrong, you can restore back to your older ROM. (How to Take Nandroid Backup)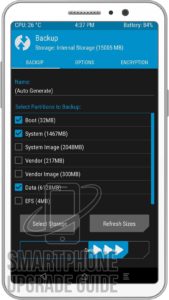 ---
5. Now do a Factory Reset of your device, Goto Wipe > Advanced Wipe > Select Cache, Dalvik Cache, System, and Data. Then Swipe to Wipe.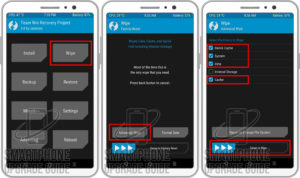 ---
6. Now go back to TWRP Main Menu by pressing the Center navigation button.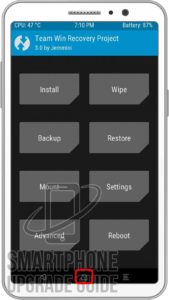 ---
7. Now Select Install, Locate the ROM zip file and Swipe to Confirm Flash.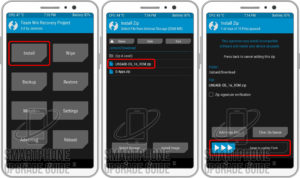 ---
8. After the flashing completes, Flash the Gapps in the manner.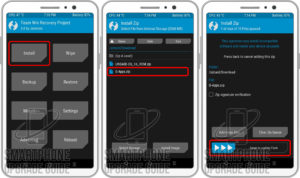 ---
9. After Gapps flashing completes, Select Wipe cache/dalvik from the bottom left side of the screen, & Swipe to Wipe.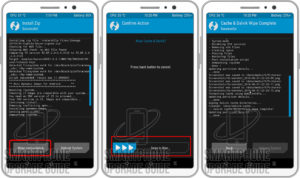 ---
10. After wipe completes, Click on Reboot System.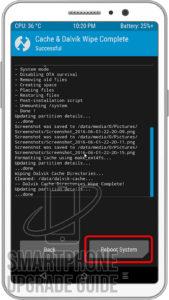 ---
That's it Now you have successfully installed the latest Android on your device, the first boot will take some time so please don't panic!
---
If you have any questions regarding the ROM or the installation process, use the comments section below to reach us or contact to XDA forum members from the link above.
Related
Categories ROM UpgradeTags Android 10, Guide, How to, LG Magna, Xiaomi Redmi 6ASours: https://theupgradeguide.com/install-android-10-on-lg-g6-lineageos-17-1-how-to-guide/
To properly experience our LG.com website, you will need to use an alternate browser or upgrade to a newer version of internet Explorer (IE10 or greater).
The LG.com website utilizes responsive design to provide convenient experience that conforms to your devices screen size. In order to get the best possible experience our LG.COM website please follow below instructions. If you're using Internet Explorer 9 or earlier, you will need to use an alternate browser such as Firefox or Chrome or upgrade to a newer version of internet Explorer (IE10 or greater).
Protect Your Eyes…and Battery
Easily switch to Dark theme to save battery and comfortably view apps in low-lit environments. Now, bright light doesn't drain your device, hurt your eyes, or keep you up at night.
Regain control of your phone usage. See a full breakdown of how you spend your time on the digital wellbeing dashboard. Features like App Timer and Wind Down mode help you enjoy your device in moderation.

Make the most of your display space by viewing selected apps as pop-ups. Experience seamless multi-tasking with your main app in full view, while enjoying other content in a small window.

The smooth way to get about. One Hand UX shrinks the screen to make single-handed use even more natural. The bottom navigation bar becomes even smaller, too, so you can make the most of all your screen space.

Move menus and pop-ups down a notch. Everything is lower, so larger screens feel more natural and comfortable to navigate — even with one hand.

See it clearly. Bold fonts, saturated colors, and an intuitive layout let you distinguish what's on-screen with just a glance.

Menus and command buttons only pop up when they sense you need them, for a screen with less clutter.
OS Update Schedule for India
| | |
| --- | --- |
| S.No | 1 |
| Model Name | LG G8X ThinQ |
| Model Number | LGG850LMW |
| Roll out dates | Rolled Out |
| S.No | 2 |
| Model Name | LG G8s ThinQ |
| Model Number | LGG810EMW |
| Roll out dates | 7-10-2020 |
| S.No | 3 |
| Model Name | LG V40 ThinQ |
| Model Number | LMV405EBW |
| Roll out dates | 5-10-2020 |
| S.No | 4 |
| Model Name | LG G7 ThinQ |
| Model Number | LGG710EMW |
| Roll out dates | 25-09-2020 |
Sours: https://www.lg.com/in/mobile-phones/android-upgrade
| | |
| --- | --- |
| Operating system | Original: Android 7.0 "Nougat" Current: Android 9.0 "Pie" |
| System on chip | Qualcomm Snapdragon 821 |
| CPU | Quad-core (2×2.35 GHz & 2×1.6 GHz) Kryo |
| GPU | Adreno 530 |
| Memory | G6: 4 GB LPDDR4 RAM G6+: 4 GB LPDDR4 RAM |
What is the latest Android version for LG G6?
LG G6 Android 9 Pie update
| LG G6 | Android 9 Pie |
| --- | --- |
| AT&T | Released on October 23, 2019 |
| Sprint | Expected in Q4 2019 |
| T-Mobile | Expected in Q4 2019 |
| Verizon | Released |
Does LG G6 have Android 10?
Basically, any phone released within the last 12-18 months by LG should get Android 10 eventually. Select older devices might get it too, like the LG G6, Stylo 5, & other budget devices. We'll have to wait and see.
Will LG G6 get Android 11?
Android 11 will make your LG G6 full of features. … As we are getting Updates from LG G6 with xda , LG G6 will also have some features of iOS 14 , After this you have Android 11 Update on LG G6 .
How do I update my LG G6 to Android 9?
Tap Settings > About phone > System Updates. Tap Update Now to manually check for a new update.
Is the LG G6 a good phone?
The good The beautifully design LG G6 is water resistant with a tall, expansive display and an extra wide-angle camera. The bad The phone is LG's first flagship in years without a removable battery. It has last year's Snapdragon 821 chipset. The bottom line The LG G6 is still a decent phone if you can find it cheap.
How can I update my LG phone without a computer?
How to Update Android Without Computer
Open Setting Application.
Go to "About Device"
Find "Software Update"
Tap on "Update" and see if there is any new Official Custom ROM for your phone.
If so, start Updating.
Does LG Stylo 4 have Android 10?
This includes LG Q9, LG G8 ThinQ, LG V50 ThinQ, and LG Wing for which the company has shared changelogs before rolling out the update.
…
Released in the Year 2018.
| Model | Status |
| --- | --- |
| LG Stylo 4 / Stylo 4 Plus | It might get Android 10 |
| LG G7 Fit / G7 One | It is likely to get Android 10* |
How do I update my LG Stylo 4 to Android 10?
From the Home Screen, tap Apps > Settings > About phone > System Updates. Tap Update Now to manually check for a new update. You will be prompted if a new software update is available. Continue from Software Update, step 1.
Will my phone get Android 10?
You can download Android 10, Google's latest operating system, on many different phones now. … While some phones like the Samsung Galaxy S20 and OnePlus 8 came with Android 10 already available on the phone, most handsets from the last few years will need it downloaded and installed before it can be used.
Will Nokia 6.1 Plus get Android 11?
After releasing the second batch of Android 11 updates for Nokia 8.3 5G, Nokia Mobile released new updates for Nokia 6.1, Nokia 6.1 Plus, Nokia 7 Plus, Nokia 7.1 and Nokia 7.2. All of the smartphones got the February security patch.
Will my phone get Android 11?
Android 11 is available officially on the Pixel 2, Pixel 2 XL, Pixel 3, Pixel 3 XL, Pixel 3a, Pixel 3a XL, Pixel 4, Pixel 4 XL, and Pixel 4a. Sr. No.
Will Samsung A51 get Android 11?
The Galaxy A51 was launched with Android 10 with One UI 2.1 out of the box. The device will surely get Android 11 with One UI 3.0 as the device hasn't got a major OS upgrade once and still has two slots left. Time- The Galaxy A51 will receive the Android 11-based One Ui 3.0 update in March 2021.
How do I manually update my LG G6?
Updating your software.
On the homescreen, tap Settings. You can also access Settings in Apps.
Tap the General tab then tap About phone.
Tap Update Center.
Tap Software Update.
Tap Check now for update. Note: Checking and downloading software updates will use data included in your plan.
How can I update my LG phone?
Open your phone's Settings and scroll down to System. Tap on Update center and then tap Software Update. You will either be prompted by an update or can tap Check now to perform a check. If an update is available, it will prompt you to download it.
How do I flash my LG G6?
Flashing with Flash Tool
First download the flash file, flash tool, and USB drivers on your PC.
Then, Install the USB drivers for your Android phone.
Next, launch Flash tool on your computer.
Then, switch off your mobile.
Next, press and hold. …
After that, Connect your LG G6 phone to the computer with a USB cable.
Sours: https://ostoday.org/android/what-android-version-is-lg-g6.html
How to install Android 10 on LG G6
LG G6™ Software Update
To help you with the mandatory software update for your device, this page contains the following information:

Software Update Instructions - User initiated over the air (OTA)
Software Update Instructions - Server initiated OTA
Updating while roaming
Insufficient device memory alert
Battery life expectations after a major software update

User initiated OTA

To start the download:

Start on the Home screen by tapping the Menu Key
Tap Settings
Tap About Phone
Tap Software updates
Tap Check for Update
Tap Download Now

When download is complete, a screen will appear advising you that the new version of software is ready to be installed.

Tap Install Now.

The device will power down and restart. A screen will appear stating that the installation has been completed. Tap OK.

Server initiated OTA

Once a new software version is available for your device, it'll begin downloading in the background.

When the download is complete, you'll be notified that it is ready to be installed.

Tap Install Now and the device will power down and restart. A screen will appear stating that the installation has been completed. Tap OK.

To check your software version from the home screen:

Tap Menu
Tap Settings
Tap About Phone

Updating while roaming

You won't receive a software update notice if you're roaming. You'll need to be connected to Wi-Fi to update your device while roaming.

To enable Wi-Fi on your device, go to Settings under Wireless & Networks and tap Wi-Fi ON to enable (if not already enabled).

Tap Wi-Fi to view and select a Wi-Fi network.

Once you're connected, an update notification will appear on your device. If the software update fails to install, you'll get an error screen, though this only means the software didn't install properly. Remove and re-insert the battery, and power your device back on. The device will restart with the original software and will prompt you once again to install the software update.

Insufficient Device Memory

Due to changes in the Lollipop OS, you'll need sufficient reserved memory for a software upgrade. If you don't have enough user memory, a Low Memory pop-up screen will be shown until you free up enough memory. Eliminating unused apps, and clearing videos or photos can help free up device memory. If you dismiss the notification and have not cleared space after 24 hours, a pre-update message will pop up again until you free up the memory necessary to perform the software update.

Battery life expectations after a major software update:

The application memory may have to be optimized. This can take time and cause the device to temporarily use more battery while the optimization is in progress.
Downloaded apps may not be optimized, as app developers don't immediately update their apps to support new versions of the OS. This may result in higher than normal battery drain, and in some cases device sluggishness, until apps are updated or removed.
It can take 2 to 3 days for the device's battery life to normalize.

Software Upgrade Assistant Tool

If you don't have a strong connection to Wi-Fi or the Verizon Wireless network, you may not be able to perform a software update over the air. Instead, you can connect your device to a computer with Internet access. Connect your device to your computer using your USB cable, then download the Software Upgrade Assistant tool to your computer, which will check for software updates and initiate the software update process.
Sours: https://www.verizon.com/support/lg-g6-update/
G6 10 lg update android
.
Install Android 11 on LG G6 (LineageOS 18.1) - How to Guide!
.
Now discussing:
.
255
256
257
258
259