Relying on the skills of a talented team while forging strong relationships with customers, Proline Racing remains a dominant force at drag strips nationwide, and beyond.
Anyone who would advise a business to be the "disruptor" in its segment might not agree with the old maxim that says companies should stick with what they know and do best. It sure works for Proline Racing, though.
As evidence, the Ball Ground, Georgia, engine builder's website features a list of drag racing event wins, class records, and series championships that goes on for 12 pages. And that's for just the past four years. Such performance underpins the success that Proline has carefully built over the past 15 years.
"We believe in staying in your lane," said Proline co-founder Eric Dillard. "We have a lane we've worked really hard to build."
For more than a decade, that lane has been turning 481X and Hemi billet assemblies from Alan Johnson Performance Engineering (AJPE) into 3,000- to 4,000-plus horsepower turbo and ProCharger race packages.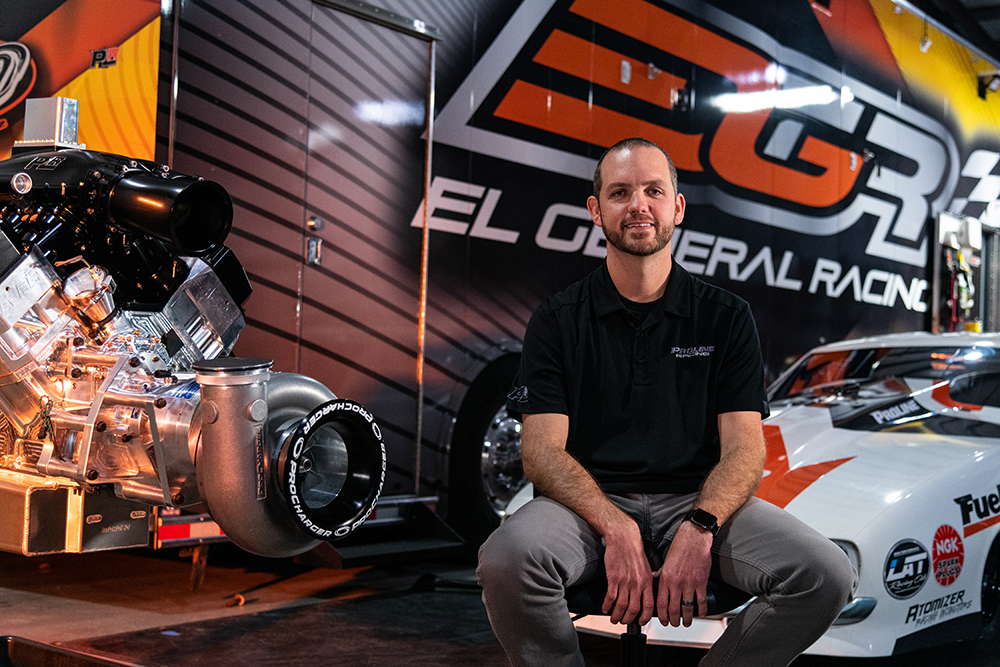 Dillard heads up sales and business management for Proline. Co-owner Doug Patton is chief engine builder, and co-founder Steve Petty oversees a team of tuners. "Each is head of his own department and really good at his job," Dillard said. "That's how we were able to succeed. That was our catalyst for growth."
Since PRI last profiled the shop in July 2011, Proline has grown its staff from 10 full-timers to 25, with another 10 contractors who work with them at races. Much of Proline's early growth followed the rise of 10.5 Outlaw racing; it then branched into Pro Mod, which today accounts for about half of its door-car business. Dillard said the other half takes the company deep into the world of small tire, radial, and no prep racing.
Along with "staying in our lane," Dillard and Petty credit the company's people for its success. Specifically, they explain how Proline hires top talent and provides a supportive workplace that both fosters their abilities and keeps them motivated with new challenges. Many Proline employees have been with the company 10 years or more, a notable achievement in an industry where high turnover is not uncommon.
"You have to learn how to work with people to capitalize on their strengths and still understand that everybody's different and get them to work together," said Patton.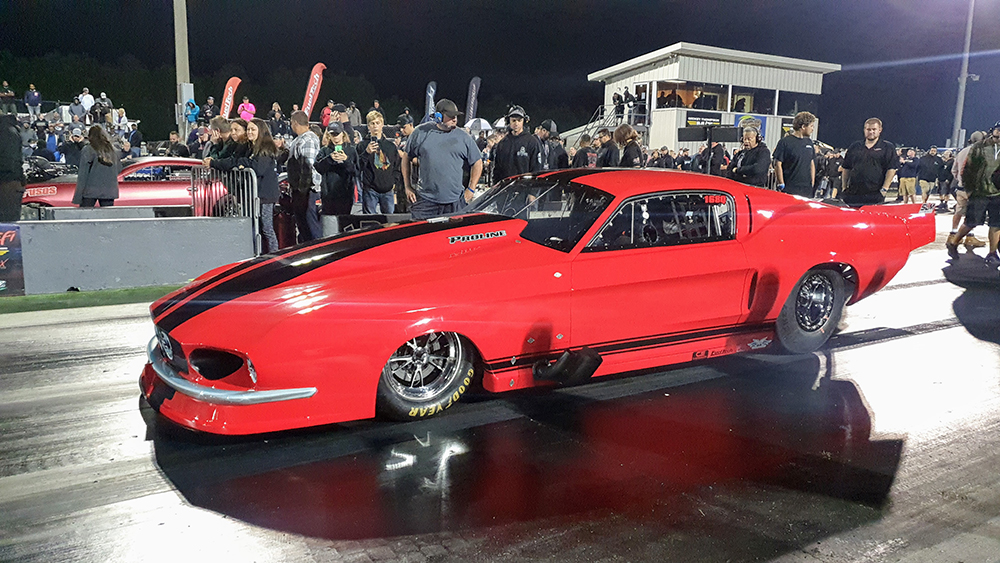 FORMULA FOR SUCCESS
A closer look at Proline today reveals other aspects of its success that might surprise some.
For one, Dillard said the company doesn't necessarily envision continuing that rate of growth. Their reasoning boils down to how they effectively satisfy the more than 150 racers they currently serve. Proline has built those relationships by taking the long view of supporting racers' success and promoting it through a dedicated social media program.
"We sell specialized packages that can be $175,000, and that's without the car," said Dillard. "We do 10–15 packages a year. We don't need to sell more than that."
Second, Proline does not make its own parts, but rather uses what it judges to be the best components available at the time. That allows the builder to adapt very quickly to new customer needs, race classes, or rules changes.
"We partnered with a client with CNC equipment for a couple of years, only to prove it was not what we should be doing," Dillard said. "We get 90 percent of that work from Alan Johnson."
And finally, Proline actually follows a second, very different lane that provides a steady stream of income: building 1,000-plus horsepower, twin-turbo Lamborghini engines.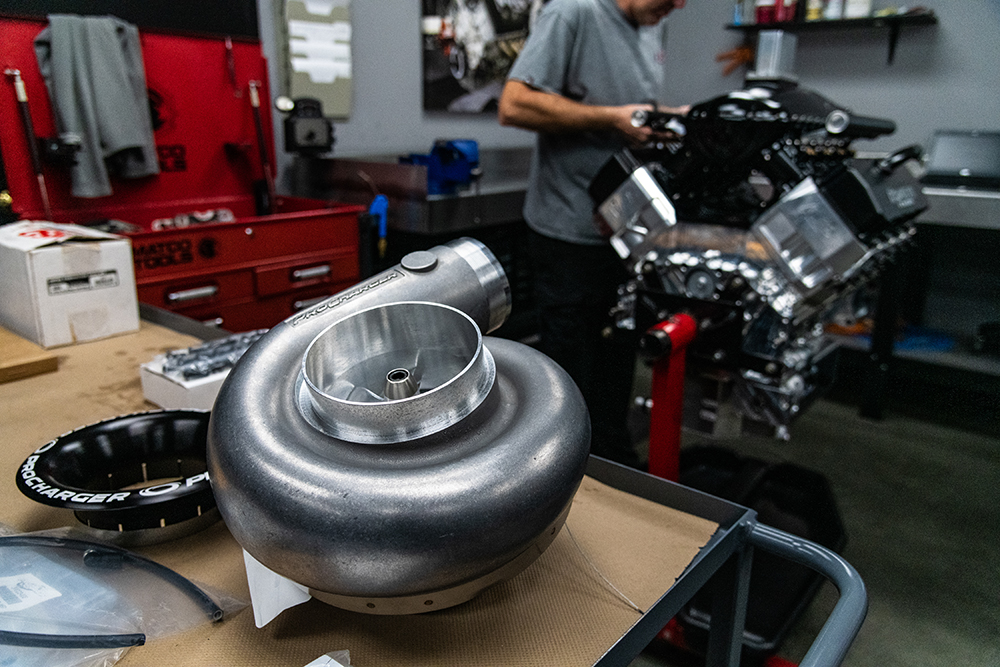 BUILDING IT RIGHT
Racers swear by Proline's engines for both their winning performance and reliability.
"Packages we've sold up to seven years ago are still out there running," said Dillard. "And when customers have bought new packages, we'd sell their used stuff and start a new relationship."
A Proline package includes tuning and racing support. The shop also sells full engine and fuel/induction packages developed with its immediate next-door neighbor, FuelTech USA.
"One of our selling points is if you buy a complete engine package from us, we can help you with the entire car," said Patton. "Some people try doing everything themselves and spend the whole year trying to be competitive. Going through us can cost more, but the path to being successful is a good bit shorter."
Ryan Martin, who campaigns the Fireball Camaro SS in no prep, agreed. "As far as I'm concerned, there's not a better engine facility," he said. "What they give you is great customer service and a good motor you can beat on as much as you need to. As long as you do the routine maintenance, it'll always stay together."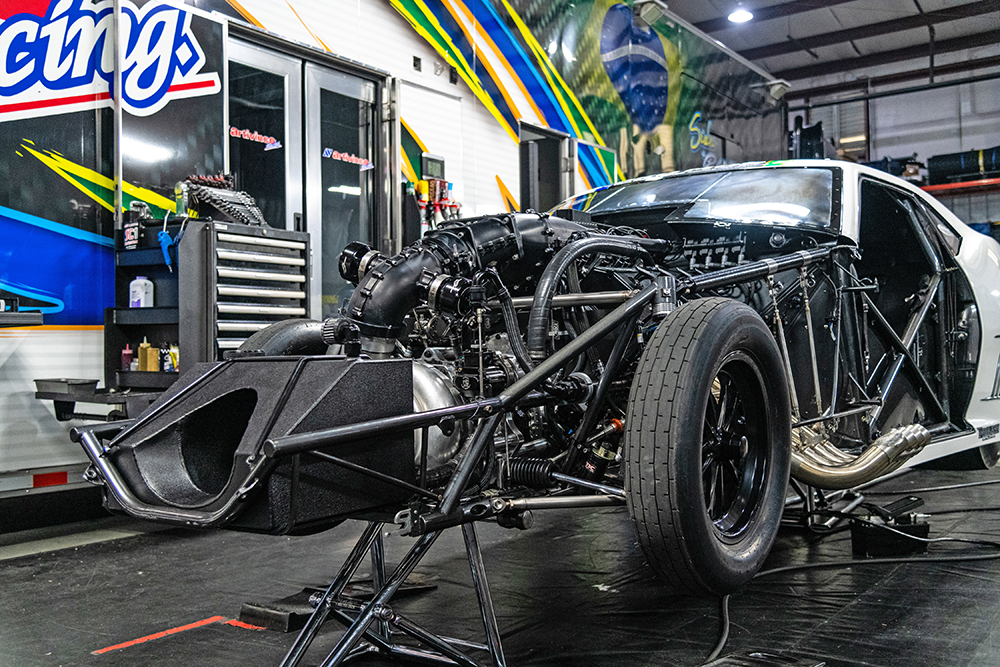 DEVELOPING TRUST
How Proline has built strong bonds of trust with its customers is a testament to how Dillard and lead tuner Petty manage a group of seven tuners.
"Steve allowed me to put these other tuners under him, which allowed us to build this," Dillard said. "It's a never-ending process to keep that trust. You don't just get it started and walk away. Egos run deep in the racing world. You can get into trouble quickly."
Building trust with customers, Dillard added, requires going above and beyond on service. "We put our egos to the side, because it's all about the customers," he said. "Most are still with us a decade later. We take a lot of pride in that."
Proline moved into its current 24,000-square-foot facility just after PRI's 2011 profile and has essentially filled the space. Half is used to house three to four tractor trailers for international customers, for which Proline manages their race teams. One of Proline's international clients is Jose Gonzalez, who started in 2012 with a 1969 Camaro, followed by several other cars with different engine packages. For this season, he's campaigning two Pro Mod cars: a 1969 Camaro and a new-style Camaro.
"My time is very limited," Gonzalez explained. "I can do five to seven races a year, sometimes with just eight or nine days' notice. They always make sure I'm prepared and that everything works flawlessly. I've won a PDRA championship with them and a few NHRA races. In terms of engine building, Doug is always working to make things better and to last longer. I don't think there's anyone better in the business that I would trust with my racing."
Ken Quartuccio started his relationship with Proline in a turbo C7 Corvette five years ago. His current car is a Jerry Bickel Race Cars 1967 Mustang Pro Mod with Proline's new raised-cam turbo Hemi. Before its first race last season, the car lit up the Internet with a 4,800-horsepower pull on FuelTech's hub dyno. Then, at his second race, the Duck X No Mercy 11 in mid-October, Quartuccio set the drag radial turbo record: 3.56 seconds at 216 mph (in the eighth-mile). 
"I've been racing 30 years and never had a company this good," Quartuccio stated.
DIVERSIFYING, ITALIAN STYLE
Nearly a decade ago, Proline branched into building twin-turbo motors for Lamborghini specialist Underground Racing in Charlotte, North Carolina. About 90 percent have been the V10s, which are also used in some Audi models; and they've also done some V12s.
"It's mostly street, but some race stuff, too—twin turbos on pump gas," said Patton, who has done all of the 350-plus builds and rebuilds himself, with full support from the Proline machine shop. One of Underground's Lamborghini Huracáns set a standing half-mile record for street cars at 259.6 mph.
"The Lamborghini work helps us diversify the business, but in a completely different realm," said Dillard. "It's steady work. Underground has done a great job refining the package. It helps to work with a good company like that."
SOCIAL REACH
Proline employs a vigorous social media strategy to generate buzz by touting its customers' successes. It's a team effort. Debbie O'Rourke, who was a drag racer for 20 years in Australia and then worked in corporate information technology, does much of the writing, while Bud Hodge handles graphic design and branding.
"Eric and Doug were visionary," O'Rourke said of the co-owners. "They saw that the online presence would become critical earlier than our competitors. Our main strategy is to support our customers. Nothing speaks larger than their success."
O'Rourke and Hodge do much of the on-site work, including taking photos and making videos of customers. They publish on Proline's website, Prolineracing.net, as well as Facebook, Instagram, and the Proline YouTube channel. Encouraged by strong engagement from followers, they plan to increase video content in 2021. At the same time, they've established a WhatsApp community for Proline racers to communicate directly with each other.
COMING NEXT
Looking ahead over the next 12 months, Proline is working with AJPE on a completely new engine platform with a Roots-type blower. The project stems from a package they put together for the NHRA, and Dillard expects to have a "very competitive combo" at the first race in Gainesville in March 2021.
"We're known for stepping into the stuff that's more difficult," he said. "When we took on the ProCharger, it was not a viable combo in Pro Mod and small-tire stuff. We saw it as an opportunity, and it was worth the effort. It's been a big part of our business for the last two years."
What's more, the Roots project fits the company's mission to continually challenge its people to delve into new classes and technology. "It keeps them excited about their work," said Patton. "We expect it to be very good for the company."
As for Proline's overall direction, Dillard avoids the word "growth." Rather, he prefers to talk about adding more avenues at a controllable pace. "Our job is to give the customers a great experience at the race track, and the only way to do that is to have enough people for the support," he said. "We will not exceed a client base that we can't support with our group of people."
Sours: https://www.performanceracing.com/magazine/featured/01-01-2021/business-profile-proline-racing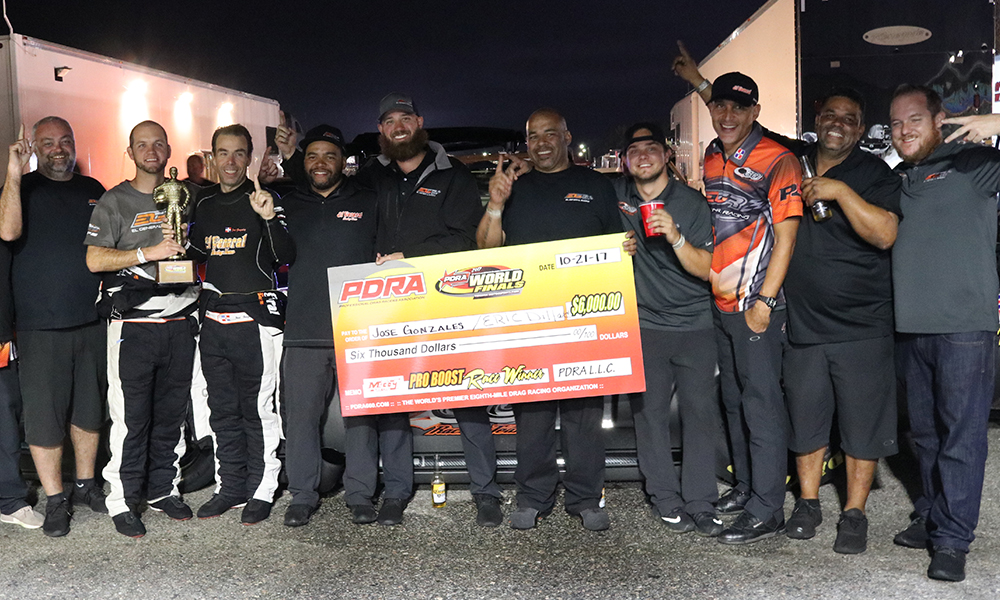 Today we'd like to introduce you to Eric Dillard.
Eric Dillard and Doug Patton started Proline Racing in 2005. Forming a business partnership, they took over a small local race engine shop where they were both currently employed. The business had a very solid reputation at the time but it was struggling financially and on the brink of shutting down. Eric and Doug spent the next couple of years working out of the financial burden and growing the business's already good reputation by producing competitive turbocharged race engines that were very successful in the more local drag racing events throughout the southeast and the east coast.
Along with their engine consultant and in-house tuner Steve Petty and a staff of over 20 employees, they have continued to grow the business into an international operation that produces race engines for customers around the world. Their customer's cars have set records and won races and championships in the United States and several countries, including Australia, Sweden, Bahrain and others.
Has it been a smooth road?
The early days were long and challenging but it was worth the effort. Eric was very young and still living at home with his parents in the beginning so it was a possibility to work long hours and go with very limited pay so that money could be kept in the business.
Doug was also in a position to work long hours and go with limited pay in order to get through the lean times. Currently, with running any small business, the challenges of collecting money and growing business and revenues are always there, but that is just part of it.
Success requires all areas of the business to function well, from the selling of the engines to the building of the engines to the support of the products and the race teams and finally, to the success on the race track.
So, as you know, we're impressed with Proline Racing – tell our readers more, for example what you're most proud of as a company and what sets you apart from others.
Proline Racing is the industry leader in turbo/EFI (electronic fuel injection) drag race technology. Their custom built engines have set the standard in outlaw drag racing.
Proline also specializes in EFI combinations and can select and order every part needed to turn your combination into a complete turn-key race car.
With competitive engines and success on the racetrack being key goals, strong customer support and service are also a key focus for the business. Proline is very proud to be known for their honest, timely and straightforward dealings with their customers and vendors.
Let's touch on your thoughts about our city – what do you like the most and least?
The Atlanta area is a great location for our business. The great access to air travel and major interstates make it a perfect location for our worldwide business. The Atlanta traffic can create minor challenges at times and is something you just have to plan around.
Contact Info:
Getting in touch: VoyageATL is built on recommendations from the community; it's how we uncover hidden gems, so if you know someone who deserves recognition please let us know here.
Sours: http://voyageatl.com/interview/meet-eric-dillard-proline-racing-nw-atlanta-ball-ground-ga/
Pro-Line Racing
For other uses, see Proline (disambiguation).
Pro-Line Racing is a manufacturer of wheels, tires, accessories and bodies for 1/10-scale on- and offroad radio-controlled cars.
The company was founded in 1983 in Beaumont, California, United States and is headquartered there. It quickly established a name for itself as a producer of quality products by capturing seven offroad national championships in 1992.
In 1993, tires swept both the 2WD and the 4WD classes at the IFMAR Offroad Championships, the company's second and third World Championship titles. 1995 saw Pro-Line win its fourth and fifth IFMAR World Championships at Japan's Yatabe Arena.
That same year, Pro-Line Racing purchased independent body manufacturer PROTOform Race Bodies, retaining founder Dale Epp to expand the company's market share. That partnership continues today and has placed Pro-Line Racing near the very top of the R/C body market.
Their marketing strategy has expanded in recent years to include PLUGZ, a series of custom Class II and Class III trailer hitch receiver covers for full-sized vehicles as well as So Real 1/24-scale diecast static car models.
External links[edit]
Sours: https://en.wikipedia.org/wiki/Pro-Line_Racing
Proline Racing Cements Status as Partner for CTECH World Doorslammer Nationals presented by JEGS
The CTECH World Doorslammer Nationals presented by JEGS presents the ultimate proving grounds for the stars in the Pro Mod ranks, a situation that has historically brought out the best in Proline Racing customers.
The builders and tuners of record-setting turbocharged and ProCharger-powered engines will again have a strong presence at the race, which takes place March 5-7 at Orlando Speed World Dragway. Along with a standout customer list, Proline Racing will also be a sponsor of the CTECH World Doorslammer Nationals presented by JEGS, a marquee race that puts the spotlight on the stars in Pro Stock and Pro Mod.
"We are very excited about this event and being able to support it again. The race was spectacular last year, and everyone is really looking forward to it again this year," said ProlineRacing co-owner Eric Dillard. "It's a lot of hard work to get the cars ready and you put in a lot of work over the winter. In a race like this, you get to enjoy the fruits of your labor. All of our guys are working to get engines and race cars, ready and everyone is heavily involved, so it's exciting when you get to an event like this."
Proline Racing serves customers in a variety of series and classes, and has thrived in the Pro Mod ranks, offering engines, components and EFI packages for a number of standout teams. Their customers have set a number of records and won several championships with Proline power, and customer Justin Bond set a notable mark at last year's race.
Debuting a new car and ProCharger combination, Bond set a new quarter-mile ET record for centrifugal superchargers with his impressive blast of 5.623-seconds at 253.14 mph.
It was one of many highlights of last year's inaugural race in Orlando and race promoters are thrilled to welcome Proline Racing as a premier partner in 2021.
"For me, we're thrilled to have Eric, (co-owner) Doug (Patton) and the whole team at Proline Racing involved with the World Doorslammer Nationals," Drag Illustrated Founder and Editorial Director Wes Buck said. "They're a fantastic fit for an event like this. They're responsible for records, firsts and so much success when it comes to doorslammer racing.
"They've had tremendous success in the Pro Mod ranks and this marks a fantastic event to showcase their customers, and the chance to come out early in the season and compete at a high level at a race with high stakes. They want their customers to win these big races and I'm excited to deliver the opportunity to run wild at this race."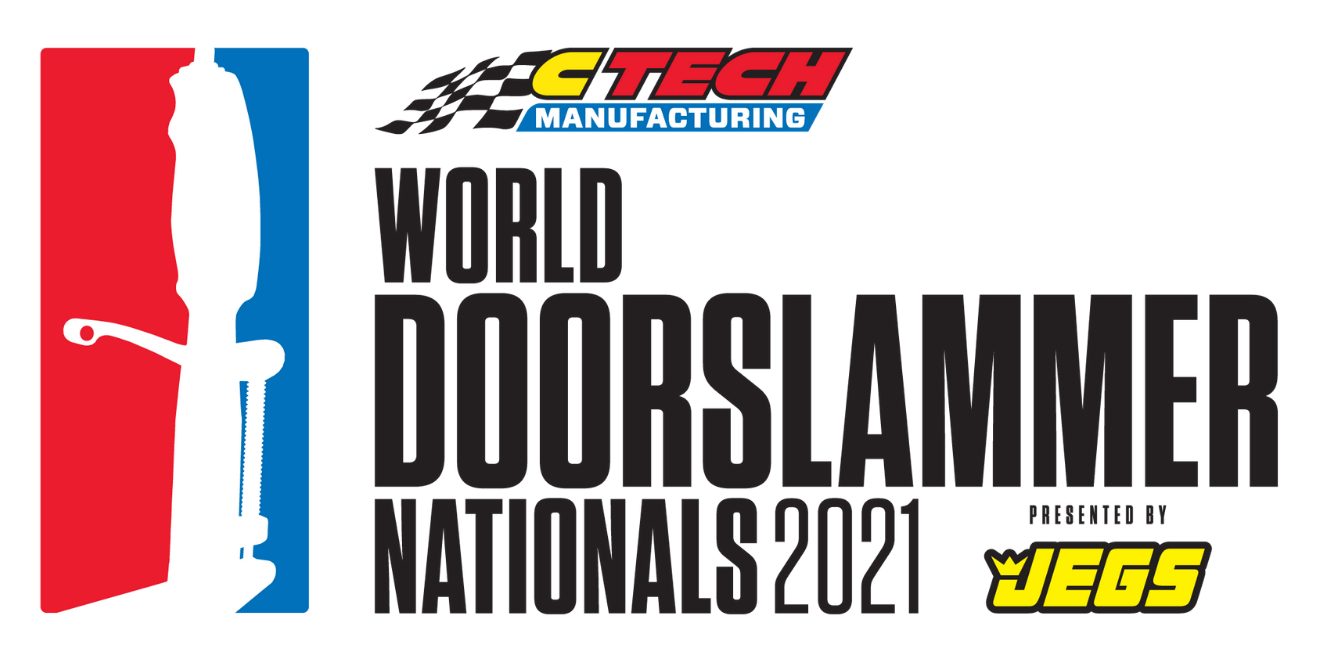 Proline Racing expects to have a number of top-tier drivers at the event, which marks the opening race of the 2021 Pro Mod season. Dillard also praised the atmosphere of the inaugural event and after a productive off-season, their customers are eager to compete against the top names in Pro Mod for a chance at the $50,000 prize.
"This is the first race of the year for quarter-mile Pro Mod racing and there's just that excitement and anticipation of the season to come," Dillard said. "Justin came in and ran that 5.62 last year, and that was just really cool. We are just excited to get to Orlando and race at this event."
For more information about Proline Racing, visit www.prolineracing.net.
Comments

Related
Sours: https://dragillustrated.com/proline-racing-cements-status-as-partner-for-ctech-world-doorslammer-nationals-presented-by-jegs/
Racing proline
.
.
You will also like:
.
101
102
103
104
105